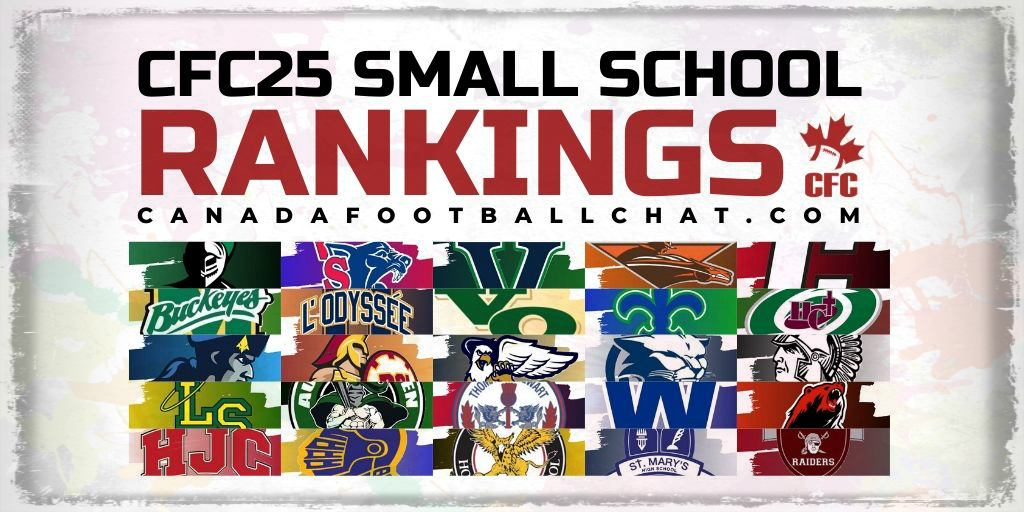 No. 1 Holy Trinity Academy Knights (11-0) – Tier 2 Alberta Provincial Champions
No. 2 Vernon Panthers (8-0, 2-0) – AA British Columbia Provincial Champions
No. 3 Collège Bourget Voltigeurs (8-3) – Juvenile 1b Bol d'Or Champions
No. 4 Yorkton Raider Gridders (9-0) – 5a Saskatchewan Provincial Champions
No. 5 Cochrane Cobras (10-0) – Tier 3 Alberta Provincial Champions
CFC25 RANKINGS Week 14
| | | | | | | | |
| --- | --- | --- | --- | --- | --- | --- | --- |
| 14 | wk | School/Team Mascot | City | Prov. | Conf. Rec. | Non-Conf. Rec. | RSLT – week 14 |
| 1 | 1 | Holy Trinity Academy Knights | Okotoks | AB | 11-0 Final | | season over – Tier 2 provincial champions |
| 2 | 2 | Vernon Panthers | Vernon | BC | 8-0 Final | 2-0 | W 43-14 v. Langley – AA provincial champions |
| 3 | 3 | Collège Bourget Voltigeurs | Rigaud | QC | 8-3 Final | | season over – Juv. 1b Bol d'Or champions |
| 4 | 4 | Yorkton Raider Gridders | Yorkton | SK | 9-0 Final | | season over – 5a provincial champions |
| 5 | 5 | Cochrane Cobras | Cochrane | AB | 10-0 Final | 0-2 | season over – Tier 3 provincial champions |
| 6 | 7 | Miles Mac Buckeyes | Winnipeg | MB | 9-1 Final | | season over – D2 provincial champions |
| 7 | 8 | L'Odyssee Olympiens | Moncton | NB | 10-0 Final | | season over – D2 provincial champions |
| 8 | 9 | Séminaire Saint-Joseph Vert et Or | Trois-Rivieres | QC | 9-1 Final | | season over |
| 9 | 10 | Bishop J. Mahoney Saints | Saskatoon | SK | 7-2 Final | 0-1 | season over |
| 10 | 6 | Holy Cross Hurricanes | Peterborough | ON | 8-2 Final | | L 31-21 v. CFC50 Korah (Northern Bowl – OFSAA) |
| 11 | 11 | É. sec. Saint-Stanislas Patriots | Saint-Jerome | QC | 6-3 Final | | season over |
| 12 | 12 | Portage Collegiate Trojans | Portage la Prairie | MB | 9-1 Final | | season over |
| 13 | 14 | Greenall Griffins | Balgonie | SK | 7-1 Final | | season over |
| 14 | 15 | Cardston Cougars | Cardston | AB | 8-1 Final | 0-2 | season over |
| 15 | 16 | Delhi District | Delhi | ON | 6-0 Final | | season over – Haldimand-Norfolk champions |
| 16 | 13 | Langley Saints | Langley | BC | 4-2 Final | 3-0 | L 43-14 v. Vernon (AA prov. final) |
| 17 | 18 | Austin O'Brien Crusaders | Edmonton | AB | 8-4 Final | | season over |
| 18 | 19 | Thomas A. Stewart Griffins | Peterborough | ON | 8-1 Final | | season over – AAA COSSA champions |
| 19 | 17 | Ballenas Whalers | Nanaimo | BC | 7-1 Final | 1-0 | season over |
| 20 | 20 | Balfour Bears | Regina | SK | 5-3 Final | | season over |
| 21 | 21 | HJ Cody Lakers | Sylvan Lake | AB | 8-1 Final | | season over |
| 22 | 22 | Lloydminster Barons | Lloydminster | AB | 9-2 Final | 0-1 | season over |
| 23 | 23 | Horton Griffins | Wolfville | NS | 5-3 Final | | season over – D2 provincial Champions |
| 24 | 24 | St. Mary's Mustangs | Owen Sound | ON | 7-1 Final | | season over |
| 25 | 25 | Holy Rosary Raiders | Lloydminster | AB | 7-4* Final | 1-0 | season over |
Previous ranking: Week 1, Week 2, Week 3, Week 4, Week 5, Week 6, Week 7, Week 8, Week 9, Week 10, Week 11, Week 12, Week 13
Who's getting ranked?
For the first time, Canadafootballchat.com (CFC) is pleased to bring you the national 'Small School' high school football rankings known as the CFC25.
The CFC25 rankings considers all conference and non-conference games (in Canada and the United States) while scrimmages are not evaluated (there is no such thing as an exhibition game – those are classified as non-conference games) and forfeit* wins are not considered towards overall record.
How is the CFC25 evaluated?
Leagues/teams included in rankings:
British Columbia: AA Varsity
Alberta: Tier 2-4
Saskatchewan: 12-man 3A rural, Saskatoon  – 5A, Regina – Stewart
Manitoba: Division 2 and 3 Varsity
Ontario: NSSAA – Haldimand-Norfolk, BAA – Bluewater, COSSAA – Kawartha, COSSAA – Bay of Quinte, LRFL – Lanark-Renfrew, LGSSAA – Brockville, EOFC – Cornwall
Quebec: Juvenile Division 1b
New Brunswick: 12-man D2E and D2W
Nova Scotia: Div. 2 Nova – Sydney Academy, Horton, Millwood, Avon View, Cole Harbour. Scotia – Sackville, Park View, J.L. Ilsley, Central Kings, West Kings (***NS league was re-aligned Oct. 1, 2019. These are now the Division 2 teams and will take into affect for week 7 ranking)
The CFC25 is a RELATIVE RANKING that considers small school leagues from all eight high school playing provinces (minimum one team represented from each province) and the strength of the league. Additional criteria used to determine the relative ranking are the ability to accomplish winning a championship, the impact players and performers on that team (ie. CFC100s, CDN All-Stars etc.), and a team's coaching and recent tradition.
The CFC Scouting Bureau consists of CFC Reporters, CFC Scouts, and selected local reporters and scouts who submit local ranking results on a weekly basis. The CFC25 is released every Tuesday (other than on Holidays) at 12 noon.
For all your recruiting and player news, we've got you covered with the most in-depth analysis and insider information you'll find in Canada.
As a CFC INSIDER member, you will have access to:
Advocating for football prospects one story at a time.