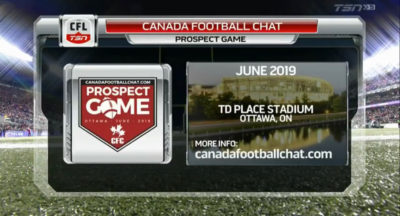 Did you miss the big announcement live on TSN? … We're taking amateur football to the national stage! Head over to our new independent site to learn more about the Canadafootballchat.com Prospect Game broadcast by TSN – We look forward to meeting the brightest talent from around the country on our road to TD Place Stadium.
Follow on twitter @CFCProspectGame
CFC High School Players of the Week (FINAL)
Canadafootballchat.com (CFC) will be recognizing the top Canadian born Varsity high school players of the week. If you have a player who you think we should recognize each week for their performance, please email us their full stat line each week by Tuesday at 5pm EST to the CFC Scouting Bureau.
Offensive Player
Name: CFC100 Thomas Hyett
Position: QC
School Team: Vernon, BC
Year: 2019
W 48-0 v. Clarence Fulton
16/24 for 278 yds / 4 TDs
Defensive Player
Name: Charles Malo Melançon
Position: LB
School Team: CFC50 Collège Notre-Dame
Year: 2021
L 8-24 v. CFC50 Curé-Antoine-Labelle
11 solos / 3 ast . / 1 sack / 1 TFL
Lineman
Name: CFC100 Erik Andersen
Position: OL
School Team: CFC50 A.B Lucas
Year: 2019
W 43-10 v. Parkside CI (TVRA semifinal)
Andersen has been a dominate force for the Lucas Vikings all year long as seen in his (and the OL) recent performance where his team had 350+ total yards and has allowed them to advance to the TVRA final championship this weekend. Andersen is one of the better offensive tackle prospects come out of the class of 2019.
Athlete
Name: CFC100 Jaden Severy
Position: ATH
School Team: CFC50 Terry Fox, BC
Year: 2019
W 84-8 v. Centennial
125 yds rushing / 3 rushing TDs / 1 catch for 43 yds / 1 TD reception / 1 INT for a TD
Honorable Mentions
CFC100 Keelan White (Handsworth, BC) – 

25 yds passing / 9 catches for 203 yds / 1 70 yd TD reception

CFC100 Broxx Comia (New Westminster, BC) – 

11 carries for 135 yds / 2 rushing TDs / 1 ast.

CFC100 Riley Felix (Auburn, NS) – 

6 receptions for 131 yds / 3 TDs

CFC100 Kody Gutek (Martensville, SK) – 

50 yds rushing / 11 tackles / 1 INT

Jeremy Lavallee (CFC50 Collège Jean-Eudes, QC) – 

17 carries for 182 yds / 2 TDs

Mitchel Tufts (Auburn, NS) – 

12 completions / 241 passing yds / 3 TDs / 38 yds rushing

Brian Harkness (CFC50 AB Lucas, ON) – 

12/15 for 234 yds passing / 3 passing TDs / 1 carry for 3 yds
CEGEP
CFC60 Charles-Lee Alaire Tardiff (Ch. Lennoxville, QC) – 

5 solos / 1 ast. / 2 sacks / 3 TFLs

Alexandre Dagobert (Vieux-Montreal, QC) – 

17 carries for 158 yds / 1 TD
Criteria
This will be based off player's individual and/or team performance using verified stats. The awards will include:
Offensive Player of the Week
Defensive Player of the Week
Lineman of the Week
Athlete of the Week
The offensive and defensive players will be judged on their individuals stats while the linemen will be selected via a) stats for the defensive linemen and b) overall offensive team performance and number of total yards gained for offensive linemen. (We will include Special Teams players in honourable mentions should they gain our attention.)
Candidates must be attending and enrolled in an accredited CFC50 eligible Canadian high school program. This will NOT include community players, Cégep players, or players who attend prep schools. Those performances may be mentioned in the honourable mentions if applicable.
For all your recruiting and player news, we've got you covered with the most in-depth analysis and insider information you'll find in Canada.
As a CFC INSIDER member, you will have access to:
Become a CFC Insider MEMBER today!
[button link="https://canadafootballchat.com/cfc-memberships/" icon="check" bg_color="#ac2a29″]SUBSCRIBE NOW[/button]
Advocating for football prospects one story at a time.