***UPDATED NOV 5th/14 @ 1:00PM
CanadaFootballChat.com brings you the CFC NATIONAL HIGH SCHOOL TOP 50 PLAYOFF SUMMARY powered by the Ontario Prospect Challenge (OPC). Each day, CFC will be your centre source for all national high school playoff action.
(NOTE:  THIS WILL BE UPDATED AS MORE INFORMATION IS MADE AVAILABLE – CHECK REGULARLY)
BRITISH COLUMBIA:
The British Columbia High School Football Association (BCHSFA) is entering their last week of regular season action.  Playoffs will commence the preceding week.
CLICK HERE FOR BRITISH COLUMBIA SCORES AND SCHEDULES
ALBERTA:
TIER I 
Northern Semi-Finals
CFC# 26 Bev Facey Falcons vs CFC # 43 Salisbury Sabres
Sat. Nov. 8 – 2:30 p.m., Clarke Stadium (Edmonton)
Following the Calgary lead the Division I Championship in Edmonton has been moved a week later into Provincials and will also serve one of the Northern Semi-Final.  This will not only ensure a tough first round game for the opponents but in this case add some fireworks to the proceedings as the most bitter rivals in the league, the Bev Facey Falcons and the Salisbury Sabres, face off in the big game.  Their regular season game was a nail biter, played for the last time at Strathcona Athletic Park in front of a packed house which saw the Falcons win 19-14.  Both Sherwood Park powerhouses, these teams bring proud winning traditions to this game and with advancing to the North Final on the line, this should be another nuthouse this Saturday at Clarke Stadium.   The winner hosts next weekend. 
CFC#24 Henry Wise Wood Warriors at  Notre Dame Cougars
Sat., Nov. 8 – 12:00 p.m., Great Chief Park (Red Deer)
Once again the Warriors of Henry Wise Wood owe the Warriors of Grande Prairie a debt.  Like last year, Grande Prairie's pullout from Provincials has once again opened the door for a third Calgary team to enter the fray and once again Henry Wise Wood benefits from that. Not that they will complain as they rode their third place finish in Calgary last year into the North side of the Provincial Tier I draw and annihilated their two opponents on their way to their first Tier I Final appearance since 1991.  Things didn't go so well from there but thus begins another year and this year they have the short trip to Red Deer for a date with the unranked Cougars of Notre Dame.  This isn't the Notre Dame the Warriors are used to lining up against but the Cougars showed well in the Central League this year before bowing to the eventual Champion Hunting Hills Lightning two weeks ago in the semis.  Theirs is an uphill climb for sure but in November you never know.
                                                        Southern Semi-Finals
CFC#31 Harry Ainlay Titans at CFC#34 Raymond Comets
Sat. Nov. 8 – 1:00 p.m., Don Steed Memorial Stadium (Raymond)
A long way to go for the Titans but that's what you get for finishing third in Edmonton.  Possessors of arguably one of the best defences in the Province, the Titans take it on the road this weekend for what will be a surreal experience.  A game hosted at Don Steed Memorial in Raymond is used to featuring a lot of involvement from the Ralph family with 10 Provincial Tier I Championships for the Comets in the past between the brothers Ralph, only this time most of them will be wearing blue.  It will be odd but the Titan coaching staff features Ralph brothers Brock and Jimmy plus cousin Connor Ralph, all who starred for the Comets back in the day.  Facing them is a Comet program on the rise lead by their former team mate Darryl Salmon.  Prodigal Son's galore coming home to Raymond this Saturday.
CFC#5 St. Francis Browns at CFC#1 Notre Dame Pride
Sat., Nov. 8 – 6:30 p.m., Hellard Field at Shouldice Park (Calgary)
As is the case in Edmonton Division I this South Semi-Final game this Saturday that also doubles as the Calgary Division I final.  It also is the rematch everyone has been waiting for.  The Browns have won more City Championships (24) than any other team and 62% of them since 1975.  However their task is still daunting as the #1 ranked Notre Dame Pride are the two time defending Provincial Tier I Champions and haven't lost a game since November of 2011.  The regular season game between these two powers was the closest anyone has come to the Pride in three years with Notre Dame hanging on to a 21-18 win.  Shouldice Park will be busy with six games at all levels of high school and bantam this Saturday but the best game might be the last game so I wouldn't be late for this one.  The winners host next week.
Source: Alberta School Athletic Association
CLICK HERE FOR ALBERTA SCORES AND SCHEDULES
SASKATCHEWAN:
Regina 4A:
One of the biggest showdowns takes place this Thursday night in Regina between two #CFC50 teams.   While this will mark the third time CFC#10 LeBoldus Golden Suns will battle CFC#10 Campbell Tartans, it is still expected to be a thrilling game.  Both teams split the two regular season games and the margins of victory in both games were seven and 10 points. Moreover, the stakes are much higher as both teams are vying for the Regina 4A City Championship.
There are CFC 100 players who will be front and centre in this game.  CFC 100 defensive back Payton Hall will lead the Tartans while Chan DeCiman and Kade Belyk will try to create more offensive magic for the Golden Suns. Regina fans are about to be witnessed to another great chapter in this storied rivalry for the third time this season….it never gets old or stale in Regina.
CLICK HERE FOR REGINA 4A CITY FINAL PREVIEW
Saskatoon 4A:
Under Friday Night Lights, CFC#18 Holy Cross Crusaders will meet Centennial Chargers to settle the Saskatoon 4A City Championship.
While the Crusaders lost many starters from last year, the team has held their own and shown no signs of being affected so far this season. Pivot Tyler Hermann, running back Josh Ewanchina, receiver Anthony Ferwerda and offensive guard Austin Tyson will lead the charge for the Crusaders.
Once again, this will be one of the most highly anticipated high school games of the 4A season.  It promises to be just as epic as the game that they played weeks ago where the Crusaders only escaped with a three point victory.
CLICK HERE FOR SASKATCHEWAN SCORES AND SCHEDULES
MANITOBA:
Another epic final between two #CFC50 teams to decide a Provincial Championship.
This must see game of the year in Manitoba high school football has all the elements of drama, intrigue and suspense wrapped up in one.
CFC#15  Oak Park Raiders will host the defending provincial champions CFC#9 St. Paul's Crusaders.
CFC 100 running back Brady Oliveira will lead the Raiders while Drake Lesperance will guide the Crusaders.  
During their regular season clash, the Crusaders  escaped with a three point win.  This time around, expect this final to be the same, tight tug of war and special teams could determine the outcome of this one.
CLICK HERE FOR MANITOBA SCORES
ONTARIO:
National Capital:
The Kingston 'AAA' Championship Final will be contested on Saturday as the Frontenac Falcons will host Regiopolis-Notre Dame Panthers.
Yesterday, CFC#29 St. Joan of Arc Knights entertained Bear Creek Kodiaks in one of two Simcoe 'AAA' Semi-FInals while Innisdale Invaders and Collingwood Fighting Owls dueled in the other.  At press time, results were not known.
Also, three Ottawa Tier 1 semi-finals took place yesterday including CFC#44 St. Peter Knights in one of the battles. At press time, results were not known.
CLICK HERE FOR NATIONAL CAPITAL SCORES AND SCHEDULES
Metro:
CFC#30 Upper Canada College Blues and St.Michael's Kerry College Blues will meet in the CISAA Final on Wednesday. All eyes will be on CFC#100 linebacker Philippe Archambault.
CLICK HERE FOR CISAA CHAMPIONSHIP PREVIEW
The Toronto Catholic Semi-Finals take place this week involving CFC#46 Chaminade Gryphons, Don Bosco Eagles and Father Henry Carr Crusaders.
Toronto Tier 1 Quarterfinals will be front and center on Friday.  New kids on the Block Etobicoke Collegiate Rams will battle Downsview Mustangs while Sir Wilfrid Laurier Blue Devils will visit Sir John A MacDonald Black Scots  In the other matchups. East York Goliaths will take on the challenge of CFC#45 Northern Red Knights and Richview Saints will host Leaside Lancers.
CLICK HERE FOR SIR WILFRID LAURIER VS SIR JOHN A PREVIEW
On Wednesday, the Durham Region quarterfinals take place where Holy Trinity Titans and St Mary Monarchs are headed for a collision course.  St. Stephen Royals and Donald A Wilson Gators will meet in another matchup.
CLICK HERE FOR HOLY TRINITY TITANS VS ST MARY MONARCHS QUARTERFINAL PREVIEW
CLICK HERE FOR METRO SCORES AND SCHEDULES
Golden Horseshoe:
Corpus Christi Longhorns will visit the Holy Trinity Titans in one of two Halton Tier 1 semi-finals.   The other Halton semi-final has CFC#17 Assumption Crusaders will host the Notre Dame Fighting Irish.
It's also semi-final time in Hamilton-Wentworth Catholic Division.  Bishop Ryan Celtics will visit CFC#19 St. Thomas More Knights in one game. St. Jean de Brebeuf Braves will take on the task of facing CFC#8 Cardinal Newman Cardinals in the other matchup. Both games are on Friday.
In the NIagara 'AAA' playoffs, CFC#47 AN Myer Marauders will entertain Blessed Trinity Thunder while Lakeshore Catholic Gators battle CFC#21 St. Paul Patriots.
CLICK HERE FOR GOLDEN HORSESHOE SCORES AND SCHEDULES
Northern:
CFC # 39 Superior Heights Steelhawks defeated Korah Colts 38-9 in the Sault Ste Marie Final.
Sudbury playoffs were in full swing on Monday as St Charles Cardinals visited Lively Hawks while St Benedict Bears travelled to battle Lo-Ellen Park Knights.  At press time, results were not known.
CLICK HERE FOR NORTHERN SCORES AND SCHEDULES
Western:
Under Friday Night Lights, Our Lady of Lourdes Crusaders and St. James Lions will battle in the Guelph District 10 Final.
Newman/Wilson Division Semi-Finals are also beginning in the Windsor and Essex County Secondary School Athletic Association (WCSSAA) where CFC#3 WF Herman Green Griffins will host Cardinal Carter Cougars. CFC#27 Holy Names Knights will entertain Kennedy Clippers in another contest.
London Catholic Tiers 1 and 2 semi-finals also take place.  CFC 100 Nicholas Pinelli will lead the CFC#20 AB Lucas Vikings into their game against South Central Lions while CFC #25 Catholic Central Crusaders will host John Paul II Jaguars.  Both games are Friday afternoon contests.
CFC 100 pivot Liam Putt will lead CFC #14 Assumption Lions into Brantford Final against the Brantford Colts this Saturday in an afternoon matinee.
CLICK HERE FOR WESTERN SCORES AND SCHEDULE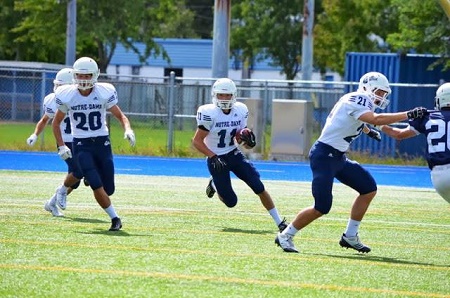 QUEBEC:
After pulling off a major upset the previous week, CFC#36 College Jean-Eudes Eagles move on to battle CFC#7 Cure Antoine Labelle Wolves in one of the semi-final matchups this Saturday at 1:00pm. The Wolves earned the sole bye and enjoyed a week away from the postseason action.
The Eagles will be led by Benjamin DeTilly who tallied a major and amassed 143 yards on nine receptions in last week's quarterfinal victory.  Gabriel Drapeau-Zgoralski, Francois Laramee and Julien Boudreau-Plouffe will lead the Eagles offensive attack.
Youssef Kaced will be a menace on the Eagles defense.  Last week, he registered 11 tackles.
CFC#6 College Notre Dame Cactus will host CFC#42 Academie Les Estacades on Saturday evening for their semi-final.  Kickoff is 6:00pm The Cactus is led by offensive beast Francois Rocheleau.
Les Estacades' offensive attack will be led by Alexis Daigneault who scored a touchdown and rushed for 95 yards on 15 carries in last week's win.  On defense, Uriel-Emmanuel Kalenga is an unstoppable beast as he registered 10.5 tackles in the previous game.
CLICK HERE FOR RSEQ JUVENILE DIVISION 1 SCORES
NOVA SCOTIA:
CFC#35  Citadel Phoenix and Charles P Allen Cheetahs will battle for the NSSAFFL Provincial Tier 1 Championship Sunday afternoon at Huskies Stadium.  Kickoff is 1:00pm.
One player that will be showcased in this game is CFC 100 offensive lineman Jon Harvey.
Simon Richardson will guide the Phoenix offense in executing their game plan.  He will look to create some offensive magic with running back Tyler Martin and receiver Ian Farrell.
The Cheetahs will counter with offensive gun Will Chamberlain.  Special teams is where the Cheetahs will have an edge as Greg Hutchins brings consistency and accuracy.
NEW BRUNSWICK:
CFC#40 Saint John Greyhounds will host Moncton Purple Knights on Saturday for the NBHSFL 12-Man Championship.
Advocating for football prospects one story at a time.