AUS:
Offensive Player of the Week
Name: Chris Reid
University: Mount Allison University
Position: Running Back
Hometown: Brampton, Ont.
Year of eligibility: First
Academic program: BA
Height and weight: 5'6", 180lbs
Running back Chris Reid of the Mount Allison Mounties is the Atlantic University Sport football offensive player of the week for the week ending Oct. 5, 2014.
Reid, a 5-foot-6, first-year arts student from Brampton, Ont., had 246 rushing yards on 38 carries in Saturday's 38-0 victory over the Saint Mary's Huskies.
He also posted a rushing touchdown in the win as the CIS No. 8-ranked Mounties improved to 5-0.
Defensive Player of the Week
Name: Paolo Edwards
University: St. Francis University
Position: Defensive back
Hometown: Hamilton, Ont.
Year of eligibility: Second
Academic program: BA
Height and weight: 5'9", 180lbs
Defensive back Paolo Edwards of the St. Francis Xavier X-Men is the Atlantic University Sport football defensive player of the week.
A third-year arts student in his second year of eligibility, Edwards had two interceptions, including one which he returned for a 48-yard touchdown in Saturday's 37-20 homecoming victory over the Acadia Axemen.
The Hamilton, Ont. native's stats also included three pass break-ups and 3.5 tackles (three solo and one assisted).

Special Teams Player of the Week
Name: Randy Roseway
University: St. Francis University
Position: Punt returner
Hometown: Ottawa, Ont.
Year of eligibility: Third
Academic program: BA
Height and weight: 6'0", 170lbs
Punt returner Randy Roseway of the St. Francis Xavier X-Men is the Atlantic University Sport football special teams player of the week.
A fourth-year arts student in his third year of eligibility, Roseway posted an 81-yard punt return for a touchdown late in the third quarter to help secure StFX's eventual 37-20 victory over Acadia Saturday afternoon in Antigonish.
The Ottawa, Ont. native had five total punt returns in the win for 118 yards, along with a kickoff return for seven yards.
Roseway also contributed two rushes for 17 yards and three receptions for 37 yards on offense.
RSEQ:
Montréal, October 6, 2014 – Quarterback Gabriel Cousineau of the Montreal Carabins, defensive end Vincent Desloges of the Laval Rouge et Or and kicker Louis-Philippe Simoneau of the Montreal Carabins have been named the RSEQ university football players of the week for the period ending October 5, 2014:
OFFENSIVE PLAYER OF THE WEEK:
Gabriel Cousineau
Position: Quarterback
Team: Carabins
School: Université de Montréal
City: Montreal, QC
Age: 23
Height : 6'00
Weight : 210
Eligibility Year : 4
Last team : Montmorency Nomads

Carabins quarterback Gabriel Cousineau completed 22 of his 33 passes for 343 yards, marking the fifth highest single-game total in team history. The Management major also threw a pair of touchdown passes in the opening half to give Montreal a 17-16 halftime lead. He also did not throw any interceptions. Cousineau also set a team record for the longest pass play in school history by connecting with receiver Mikhail Davidson on a 105-yard touchdown pass on the Carabins' first play of the game on offence. The play was also the fourth-longest passing play in RSEQ history.
DEFENSIVE PLAYER OF THE WEEK:
Vincent Desloges
Position: Defensive end
Team: Rouge et Or
School: Université Laval
City: St-Augustin de Desmaures, QC
Age: 23
Height: 6'01
Weight: 235
Eligibility Year: 5
Last team: CNDF Notre-Dame

Rouge et Or defensive end Vincent Desloges led the way for Laval with five tackles (4 solo) including three quarterback sacks for a combined loss of 23 yards. He also knocked down a pass in Laval's win over the Concordia Stingers to take over sole possession of first place in the RSEQ.
SPECIAL TEAMS PLAYER OF THE WEEK:
Louis-Philippe Simoneau
Position : K
Team : Carabins
School: Montreal
Hometown : La Présentation, QC
Age : 19
Height : 6'1
Weight : 240
Eligibility Year : 1
Last team : Cegep Garneau Elans

Carabins kicker Louis-Philippe Simoneau made good on a 29-yard field goal in the second quarter to give Montreal a 10-9 lead. In the fourth quarter with the Carabins up 17-16, he connected on a 39-yarder to provide his team some breathing room. The Industrial Relations major was 2-for-3 on the day, having also attempted a 45-yarder at the end of the first half.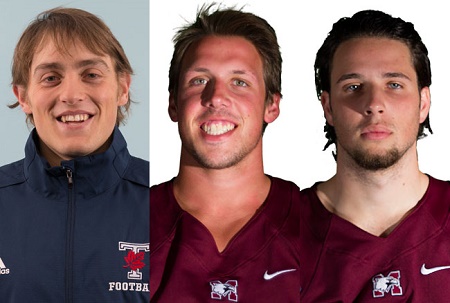 OUA:
HAMILTON – The following athletes have been named Ontario University Athletics (OUA) Players of the Week for the period ending October 6th, 2014.
OFFENCE: Simon Nassar (Toronto, Ont.) – 4th yr. – Toronto Varsity Blues

University of Toronto Varsity Blues quarterback Simon Nassar set a single-game CIS record with 49 completions in Saturday afternoon's game at Carleton.
The fourth-year pivot from Toronto was spectacular, going 49-of-62 for 548 yards, three touchdowns and no interceptions. He easily shattered the previous CIS mark of 41 completions set in 1981 by Varsity Blues legend Dan Feraday and tied in 2012 by current Sherbrooke standout Jérémi Roch.
Nassar's 548 yards through the air rank sixth on the CIS all-time list, while his 62 attempts are good for seventh place. His 548 passing yards – the highest total in the country this season – are two better than Feraday's old U of T record, also set on Oct. 17, 1981 against Windsor.
Nassar also rushed six times for 45 yards on Saturday, accumulating 593 all-purpose yards. He currently leads the CIS in completions (139), attempts (208) and passing yards (1717), while ranking second in the OUA with 286.2 yards per game.
DEFENCE: Nick Shorthill (Nobleton, Ont.) – 4th yr. – McMaster Marauders
Shortill was a dominating presence for the McMaster defence and led his team to a 32-29 victory in a match-up of the nation's third and fourth ranked teams.
The fourth-year linebacker had seven solo tackles, seven assisted tackles, two tackles for a loss, 1.5 sacks and one fumble recovery.  He was a constant disruptive force as the McMaster defense attacked the vaunted Mustang offense and handed Western its first loss of the season.
SPECIAL TEAMS: Tyler Crapigna (Nepean, Ont.) – 5th yr. – McMaster Marauders
It was a memorable day for the McMaster kicker set an OUA record in his team's biggest win of the season.
Crapigna was a perfect 3-for-3 on field goals attempts, splitting the uprights from 32, 20, and 14 yards in the Marauders upset road win.
The three field goals give Crapigna 79 in his career, breaking former Western Mustang Lirim Hajrullahu's career record of 77. He will now set his sights on the CIS record of 82 set in 2012 by William Dion of Sherbrooke.
Also making a special teams impact with his arm as well as his leg, Crapigna helped McMaster execute a fake punt play in the second quarter that drew a pass interference penalty and gave McMaster a crucial first down. In the second half, he completed a 12-yard pass on a fake punt to keep another Marauder drive alive.
CANADA WEST:
NEW WESTMINSTER, BC – Week 5 of the 2014 Canada West football season saw the Alberta Golden Bears prove they are legitimate playoff contenders with a 38-31 upset victory over #10 Manitoba Bisons, while the Saskatchewan Huskies churned out a 31-25 statement win over the UBC Thunderbirds.  Also, the Calgary Dinos reinstated their dominance by beating the Regina Rams, 59-7.
Alberta's Ed Ilnicki and UBC's Marcus Davis are honoured as the Canada West Football Players of the Week for their noteworthy performances.  This is Davis' second consecutive week as the Special Teams top performer.
OFFENCE: #4 Ed Ilnicki, Running Back (Alberta Golden Bears) 
University of Alberta Golden Bears sophomore running back Ed Ilnicki is the Canada West football Offensive Player of the Week following his performance against the Manitoba Bisons on October 4, 2014.
Ilnicki rushed 33 times on Saturday against the Bisons, and racked up an impressive 192 yards as well as three touchdowns to lead the unranked Golden Bears to a 38-31 victory over the #10-ranked Manitoba Bisons.
The Spruce Grove native, and student in the Alberta School of Business, scored rushing touchdowns in the second, third and fourth quarters of the game, and now leads Canada West in rushing TD's with seven on the season. He is also third in Canada West total rushing yards, with 402, and is averaging 5.6 yards per carry.
His first TD came in the second quarter when he capped off a drive by steamrolling four yards into the end zone to make the score 21-10 for the Bears. He then notched his second on Alberta's first possession of the second quarter, which increased the Bears lead to 28-10, and then put the game out of reach when he powered in from 12 yards out early in the fourth quarter to make the score 26-24.
The Bears will enjoy a bye weekend this week, as will all Canada West teams, before returning to action on October 18th at home against the #2-ranked Calgary Dinos.
SPECIAL TEAMS: #5 Marcus Davis, Kick Returner (UBC Thunderbirds) 
The first-year player from Victoria had another breakout game, racking up 335 all-purpose yards, including a 107-yard kickoff return for a touchdown in a 31-25 loss to the Saskatchewan Huskies Saturday night.
Davis added another 73 yards on nine punt returns, 52 yards on two receptions, and 12 rushing yards, including a touchdown. He now has four touchdowns on the season, two on the ground, one receiving, and one return touchdown.
He leads the Canada West in all-purpose yards with 921 yards (102 rush, 124 receiving, 328 punt return, 367 kickoff return), averaging 184.2 yards per game.
UBC will have a bye this week, but will be back in action on October 18th when they play host to the Regina Rams at 2:00 pm at Thunderbird Stadium.
Advocating for football prospects one story at a time.