Football Quebec has announced the coaching staff for their provincial under-18 team that will participate in this year's Football Canada Cup tournament in Moncton, New Brunswick.
Brad Collinson will serve as head coach of Team Quebec for a second straight year.  Collinson brings a wealth of coaching and playing experience to the position.  Collinson has previously served an assistant coach with the under-19 provincial team from 2007 to 2009.  He was part of the winning Football Canada Cup squad in 2008.
Currently, he is an assistant coach with the Laval Rouge et Or.  Previous to the Rouge et Or, Collinson was an offensive coach with the Concordia Stingers until his departure in 2010.
As a player, Collinson played for the CFL's Montreal Alouettes during the 2003 and 2004 seasons.  Previous to the Alouettes, he enjoyed a CIS stint with the Stingers for three seasons (2001-2003).  Collinson served as captain for the team in both 2001 and 2002. In 1999, he suited up for the NCAA's Tennessee-Martin Skyhawks.  Before the Skyhawks, he played at the CEGEP level for Division 1 team, the Vanier Cheetahs for three seasons.  During his time with the Cheetahs, Collinson was a captain for two seasons (1997 and 1998). He began his football career with the St. Bruno Barons and played with the team for five seasons from 1990, 1995 inclusively.
Additionally, Collinson was a player in the Program of Excellence through Football Quebec.  He was a member of the under-16 provincial team that participated in the Federation Cup tournaments in 1994 and 1995 as well as being a top 50 selection on the provincial under-19 team from 1996 to 1998.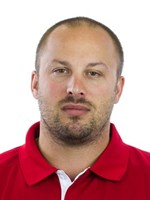 Pat Boies will be Team Quebec's offensive coordinator while Luc Pelland will serve as defensive coordinator.  In 2012, Boies  served in the same role with the McGill Redmen and the Canadian U20 National Team.  Moreover, he spent six seasons coaching CEGEP's Division 1 squad, FX Garneau Elans (including four seasons as head coach).  During his tenure with the Elans, the team won a Bol D'Or championship title in 2011 as well as another one in 2008 at the collegiate AAA level. Other coaching stints include defensive coordinator for Beauce-Appalaches in 2002 and Cannes Iron Masks (France).
Boies had a successful playing career in the CIS as a member of the Laval Rouge et Or.  During his time there, he captained the Rouge et Or to their first Vanier Cup in 1999 and was selected as a second team All-Canadian defensive back. Not only will Boies serve as offensive coordinator but he will also be quarterbacks coach.
Since 2007, Pelland has served as linebackers coach with the Concordia Stingers and a few months ago he was appointed Defensive Coordinator of the Stingers.  Previous to the Stingers, he was the defensive coordinator of CEGEP Division 1 team Vanier Cheetahs.  During his time there, the Cheetahs won a Bol D'Or championship in 2006. Pelland's other coaching stints include linebacker coach with the Chateauguay Raiders (2003 and 2004) and head coach of the Thonon-les-Bains in France (1995 and 1996).  Pelland has coached the under-19 provincial team to two national titles.  Since 2010, he has worked with the under-18 squad and instructed the team to a Football Canada Cup gold medal at the 2011 tournament in Lethbridge, Alberta.
As a player, Pelland played at the CEGEP level for the John Abbott Islanders and CIS level for the Stingers as a linebacker.  He is a two time Academic All-Canadian (1992 and 1993) and an All-Canadian (1993 and 1994).  In 1994, Pelland was selected QUFL Defensive Player of the Year.  He has previously attended both the Ottawa Roughriders and Montreal Alouettes training camps. Not only will Pelland be the defensive coordinator, but he will also serve as linebackers coach.
Positional Coaches:
Defensive Line: Ronald Hilaire, Montreal Carabins
Offensive Line:  Matiheu Pronovost, Sherbrooke Vert et Or
Defensive Backs: Spiro Feradourous, Concordia Stingers
Receivers Coach:  Charles-Antoine Sinotte, McGill Redmen
Photo credits:
-Collinson and Pelland: Football Quebec Website
-Boies:  McGill Redmen Athletics Website
(twitter: http://twitter.com/vohra_ameeta)
Advocating for football prospects one story at a time.