Joshua Pilon has been playing with the Smiths Falls Minor Football Association (SMFA) since he was nine. He has also has been playing with his high school team, the Smiths Falls District Collegiate Institute (SFDCI) Redhawks, since Grade 9.
In the past, he participated in the Capital QBS and also attended Laurier WLU Football Camp, as well as taken part in the HESN EFC3 combine.
In 2015, Joshua was selected for the Ontario Prospect Challenge East Freshman team, and is participating in this year's Fox 40 Prospect Challenge.
"My goals for the CFCFPC are to put forth maximum effort to help the team be successful," said Joshua. "To learn as many plays and skills from my coaches and fellow players as I can." He also hopes to learn to enjoy the privilege and honour of being selected to participate, as well as to gain experience and exposure to achieve his goal of post-secondary football.
This season, he was invited to and registered for the Gauntlet Showcase and to the Top Prospects Canada in March. The Renegade is also registered for the HESN EFC4 combine in April and is a Myers Riders prospect for the Ontario Varsity Football League (OVFL).
During the off-season, he plays hockey with the Smith Falls Minor Hockey Association (SFMHA), works out, and takes strength and conditioning courses at school. "I have a home gym that I use on a regular basis," added the Renegade. "I attend football conditioning camps with Capital QBS and WLU."
Joshua also participates in combines and scrimmages with his friends. Moreover, he plays Madden on PS4 to keep his mind sharp and in football mode, along with watching all types of football, like the CFL and NFL.
On the field, his idol is the Dallas Cowboy's linebacker, Sean Lee. "He takes charge on the field and that is why his nickname is 'The General,'" commented Joshua. "He has an aggressive play style and is a very good cover linebacker."
"As a captain for the Cowboys, he represents that 'C' in a very professional way on and off the field."
The Renegade loves football because it is a fun, rough and physical sport.
"I enjoy the camaraderie I have with my teammates," explained Joshua. "I enjoy meeting and playing with new teammates and learning everything I can from my coaches."
He also likes that it is a team sport that involves strategy and positional thinking.
"I love the constant challenge of football, of learning new skills and improving myself to become a better player," added the Renegade.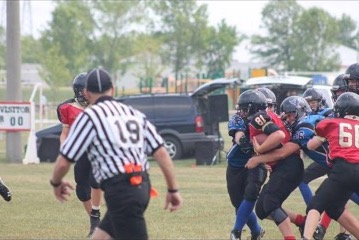 Joshua Pilon 
Positions: Defensive end, defensive tackle, linebacker, offensive guard, tight end and running back
Height/Weight: 5'10", 205lbs
Teams: SFMFA Renegades and SFDCI Redhawks (high school)
Class: 2019
Register now for the 2016-2017 Fox 40 Prospect Challenge (formerly OPC)
CENTRAL CANADA…REGISTER NOW 
WEST COAST….REGISTER NOW
Advocating for football prospects one story at a time.