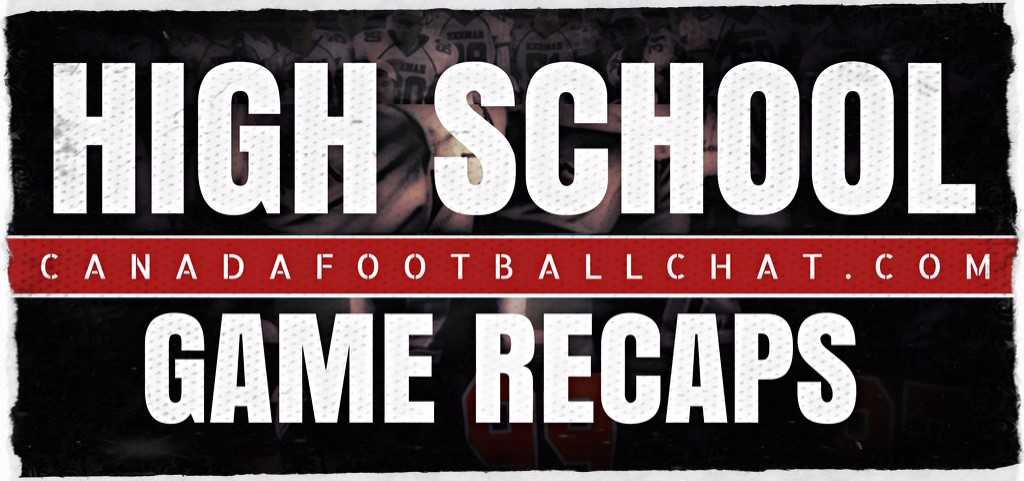 As we draw closer and closer to the end of the regular season we not only start locking down teams who are making the playoffs but we can start to see where the teams will finish for what spot. This week provided some exciting games and a few upsets which may have changed that playoff picture a little. But don't erase those brackets just yet we still have 2 weeks of the season left.
GET REGISTERED! GET COACHED! GET RANKED!
[button link="https://canadafootballchat.com/cfc-tryout-showcase/" bg_color="#ac2a29″]CLICK HERE TO REGISTER[/button]
(6-1) Séminaire Saint-François Blizzard  35             (1-6)  É. sec. Armand-Corbeil Scorpions  7
You can tell the season is starting to change. With fall colours coming in the temperatures also begin to fall. Thus, the game plan changes from High flying deep passing to more ball security shorter passes and runs. If a QB tries to force things in, you get what we had in this game 6 Ints.  Blizzard QB's Frederic Doucet, went 14 for 24 111 yards 1 touch down and 3 ints, then QB Hugues Picard took over under center having 5 completions for 8 attempts and 1 td. The Blizzard defence had a heck of a day 3 sacks 3 ints 11 tackles for a loss. Christophe Labbe was in on 6 of those tackles for a loss and Nathan Alex Essomba stepped up with 1 sack 2 ints and 1 was for a pick 6. Scorpions offence struggled on the day QB William Dubois completed only 13 passes for 32 attempts 113 yards 1 td but 3 INTS. Right now, the Scorpions are on the edge of the playoffs the need to win at least 1 of the last 2 remaining games and need Antoine Cure Labelle to lose both games in order to have a mathematical chance at taking the last spot.
Blizzard are sitting up near the top of the division, in second, if they want to seal up second place they need to win out.
(4-3) Collège Notre-Dame Cactus  33           (5-2) É. sec. du Triolet Harfangs  37
This was an exciting game, and possibly the game of the week for Division 1. Cactus QB went 18 for 25 racking up 287 yards and 1 TD distributing the ball around in the air and on the ground. Mathieu Lafleur may have been kept off the scoreboard, but definitely made an impact with 4 catches for 148 yards RB Merton Theagene had 13 carriers 90 yards and 2 tds Cactus capped off the scoring with Rec Gaberiel Tache and TB Paul Kervins. Defensive stand out was Charles Malo Malancon who had 11 solo/assisted tackles and 1 sack,. Harfangs not only spread the ball around between 7 receivers and 5 different ball carriers they had 3 QB's registered on the stat sheet. Samuel Goulet Menard was almost perfect on the day 7 for 8 140 yards and 2 Tds, Running Back Dion Alexy had 13 carries for 53 yards and 2tds. Receiver Xavier Fraser also found open spaces with 3 catches 109 yards and 1 td.
The Cactus and Harfangs have locked horns in the middle of the standings these two teams could very well see each other again if there are no big shockers in the next two weeks.
(6-1) Collège Charles-Lemoyne Dynamiques 22      (0-7)Académie Saint-Louis Arsenal  0
Arsenal struggled. When you lose the turnover game you typically lose the game. And well that's what the Dynamiques did. Creating turnover after turnovers, 3 ints, and 3 fumble recoveries. QB Noah Gravel went 12 for 22 200 yards and 1 td to Receiver Nickolas Roy 103 yards and 1 td. Linebacker Jean Christophe Cloutier not only had 10 tackles 1 int and 1 tackle for a loss, he had 3 offensive carries 6 yards and 1 major. Arsenal are completely out of the playoff picture and have nothing to lose. So the next two weeks they can be another victim or be the spoiler. Never underestimate a team that has nothing to lose. Dynamique have locked into the playoffs just were we aren't sure yet.
(1-6) É. sec. Roger-Comtois Patriotes 21                  (3-4) Collège Jean-Eudes Aigles 23
The Aigles squeaked this one out and in doing so have secured themselves in playoff picture QB Charles Foisey had a good day 18 for 22 218 yards and 1 TD, but it wasn't the big plays in the air that put the game away for the Aigles, the run game totalled 178 yards and 2 tds. The Patriotes just would not lay down and kept coming fighting for every yard QB Jonathan Tremblay went 18 for 35 199 yards 3tds and 1 int, spreading the ball between 7 receivers. The Patriotes had a decent game play. They just came up short had they pulled this one out it may have put them in that playoff picture. If Patriotes pull out a win in the next two weeks and get a little help, they might slide into the final spot. They are fighting for their playoff lives starting now.
(7-0) Saint-Jean-Eudes Condors  45             (2-6)  É. sec. Curé-Antoine-Labelle Les Loups 14
Les Loups are struggling this season and unfortunately ran into the undefeated Condors who have pretty much locked up the top seed and all important playoff bye week. The Loups are on the edge of the playoff picture they will need a better performance this coming week than they had against the Condors. The Condors, well, 7-0, they basically steam rolled over Les Loups well Running back Mathieu Roy was the steam roller. 19 carrier for a whopping 238 yards and 4 touchdowns Condors didn't even need Qb Edouard Vachon's 9 for 15 116 yards and 1 td toss.
Condors prep this week to face off against the Dynamiques. Despite the playoffs around the corner, they will be focused for the task at hand.
[button link="https://canadafootballchat.com/cfc-tryout-showcase/" bg_color="#ac2a29″]CLICK HERE TO REGISTER[/button]
D1B
(1-5) Académie les Estacades  Estacades 14  (2-4) Polyvalente Deux-Montagnes Centurions 36
The town of Deux Montagnes Qc was treated to a rare evening of Centurion domination. QB Liam Mcgonigal threw for 185 yards and 1 td but the domination was in the trenches the Centurion Oline did a great job , preventing a single sack and single tackle for a loss, the had the big push and opened up the gaps for running backs William Boisseau 10 carries 107 yards 1 td, and Nathan Bergeron 6 carries 51 yards 1 td . Centurions defence was also fired up having 3 sacks 7 tackles for a loss. Estacades simply could not get things rolling – until later in the game. Cedric Tremblay threw the sole offensive score for the Estacades, 5 for 10 100 yards 1 TD. Defensive player, Phillippe Gauthier, added to the score board with a scoop and score. Centurions are currently sitting in the final playoff spot for D1B in two weeks the Centurions and Estacades face off against each other Right now Centurions control their fate.
(4-2) Collège de Lévis Commandeurs 28  (1-5)  É. sec. Pointe-Lévy Corsaires 0
They story here is simple. The Commandeurs basically shut down the Corsaires. Only allowing 140 yards of total offence and in doing so controlled the clock and ran the ball. Thomas Cloutier on threw 9 times 4 completions for 55 yards, Nathan Lacasse having 45 of those 55 yards. But it was the run game that did the job. Olivier Boutin 25 carries 167 yards and 2 tds. The run game played such a roll the Commandeurs ran the ball 54 times for a total 339 yards and 4 tds.
When you run the ball that much, you control time of possession and the game. Commandeurs have set them selves up nicely for the playoffs winning out right sets them up for home field in the playoffs and maybe just maybe second place. While the team with the smallest roster in the division has a mathematical chance to make the playoff it is very slim.
(4-2) É. sec. Saint-Stanislas Patriotes 17   (4-2)  Collège Bourget Voltigeurs  10
If you had the chance to see this game, you witnessed a heck of a game – IF you're a fan of defensive battles. Voltigeurs struggled most of the first half, but found the endzone just before the halftime buzzer went off. QB Simon Boudreault went 20 for 27 195 yards 1 td and 2 ints the Voltigeurs receivers were all held to under 100 yards for the first time this year. And running back Jayden Josiah Theodore carriers the load for 27 carries 113 yards for an average of 4.2 yards per carry well below his 8+ yard average.
Defensively, the Voltigeurs did the job holding the Patriotes to 239 yards creating a couple turnovers, but unfortunately could not keep them off the scoreboard. Remy Dumas caught one of the 2 tds while Jeremi Auger carried the ball for 25 carries 110 yards and 1 td. Sealing the scoring up was FG Kicker Mathis Varin kicking a 25-yard field goal.
Now the big story of this game the Patriotes defence. It seems they have found their ways. For other than 2 minutes in the second quarter, this defence kept the Voltigeurs off the scoreboard. And in the second half, shut down the Voltigeurs offence doing what they do and that's creating turnovers. Led by the Varin brothers, Zachary Varin had 13 solo tackles 6 assisted tackles while brother Mathis had 4 solo tackles 8 assisted and 1 int. And the end of the day, the Patriote's defence had 7 sacks 2 ints 3 fumble recoveries and 6 tackles for a loss. Make no mistake, the defence pulled this one out for the Patriotes.
Currently right now the Patriotes hold second place which is a playoff bye. But make no mistake, these two teams face off against each other again the last game of the season Winner will take that playoff bye spot.
(6-0)  Séminaire Saint-Joseph Vert Et Or 23            (2-4) Collège Laval Mauraders 12
The green and gold continue to roll maintaining their undefeated record this season. QB Simon Brunelle went 10 for 15 155 yards while running backs Adam Lefebvre and Xavier Gallardetz scored the green and gold touchdowns. But it was the special teams and field goals that sealed game. The Green and Gold, Adam Lefebvre, went 3 for 3. The Green and Gold defense came out strong – 3 sacks, 1 int, 4 tackles for a loss, and 5 knock down passes. Marauders did not go quietly. QB Esteban Bedoya tossed a td to Bradly Edouard while RB Charles Andre Harvey scored the other major. Unfortunately, Marauders were not able to capitalize on an conversions and time ran out for them.
Green and Gold have pretty much sealed up the bye week. Barring any complete meltdowns, the Green and Gold should come home with the Regular Season Championship Banner.
College Laval are now sitting in 5 position they can't take their foot off the gas pedal. If they do they could find themselves missing the playoffs, Upsets have happened.
[button link="https://canadafootballchat.com/cfc-tryout-showcase/" bg_color="#ac2a29″]CLICK HERE TO REGISTER[/button]
Advocating for football prospects one story at a time.