ST. JOAN OF ARC KNIGHTS (4-0)                                AT                                    ST. PETER'S PANTHERS (2-2)
It's hard to believe, but we are now less than two weeks away from the beginning of the Simcoe County playoffs. With that, Week 5 concludes with an intriguing CSASC matchup between the undefeated St. Joan of Arc Knights and the 2-2 St. Peter's Panthers this afternoon in Barrie.
It's intriguing because, so far this season, the Knights have run roughshod over their four opponents. They really haven't given up a whole lot of anything in terms of points thus far – just 6 – four games in. That's right – 6 
So when you consider that alone, without even looking at the opponent, it's easy to surmise that the Knights are probably the favourite to win this game – and that assumption isn't at all off base. But when you look at the St. Peter's side of things, it might not be as easy for the Knights as one may expect.
The Panthers, in their two wins over the Patrick Fogarty Flames and St. Joseph's Jaguars. have not allowed a single point. They won those two contest by a combined score of 49-0. The problem, for the Panthers, is the games they have lost. They've only scored a total of 7 points in their two losses, including a 26-0 loss to St. Thomas Aquinas.
We know this season has been the epitome of an up-and-down year for the Panthers, and they know they're in tough against a dynamic Knights' offence and a stalwart defence.
JOA is the biggest challenge of the year for every team," said Head Coach Shane Gatrell. "They are excellent on both sides of the ball and they have a coaching staff that prepares their players for every situation."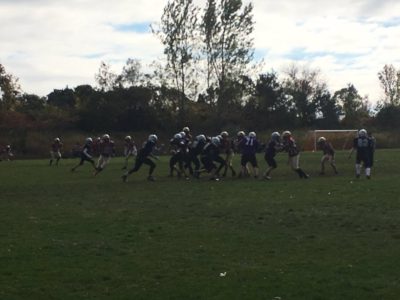 The Knights have clearly been paying attention to what the Panthers have been doing, and they don't expect it to be a cakewalk. They also plan to use this game as a tune-up for the animal that is playoff football.
"We expect a lot of hard nosed football this week," said cornerback Kayden Peters. "We plan to head into playoff with lots of momentum and focusing on the goal to still be playing while everyone else is handing their equipment in."
It's been a busy week of practice for both teams, and the Panthers have added some new wrinkles ahead of their toughest test of the season.
"We have implemented some new looks," Gatrell said, "but we are still in the position of improving our base fronts and looks."
From a Knights' perspective, they preach the concept of never taking anyone lightly, and that starts with consistent preparation, week in and week out, regardless of the opponent on the schedule.
"This week was no different than any other week," said defensive back Jordan Travis, another key member of the Knights' defence. "We prepare for every team like they are the best team in the country and we work our tails off every day to get better."
The Panthers have had a bit of a bumpy ride this season, but considering they didn't even know whether they'd have a season as late as mid-September, they are pretty pleased with where they are sitting four games in.
"We have had injuries to key players, which has set us back," he said. If you asked me at the start of the year if we would have a grade 10 under centre I would have said no way. We are 2-2 and I am proud of how we show up for our games, but we need to improve with our commitment to practice in order to reach our potential."
Joan of Arc, on the other hand, is in a spot they expected and hoped to be coming into the season. And frankly, it's a position they are quite used to being in over recent years. That said, they believe they can get even stronger.
"We, as a team, are exactly where we expected. At JOA our expectations are high throughout the whole season and our goal is to play when the weather is bad and only great teams remain and we are on track for that," Travis said. "We still haven't hit our peak performance yet."
Clearly, being 4-0 and having given up an one touchdown all season long, there have been many bright spots so far for the Knights. Much of that comes from their ability to be almost uncannily consistent on both sides of the ball.
"We've had tons of success on offence as they continue to perform both on the ground and in the air week in and week out as well as the defensive side of the ball not letting anything go over our heads and making hard hitting plays every single down," Peters said.
However, they're not immune to failure. Along with a core of veteran players aiming to take them to the promise land, the Knights also have a slew of young talent who will be the next in line to maintain the Knights' dynasty. They had a tough go of it at first, Peters said, but he's seen continuous improvement throughout the season.
"The biggest hurdle we've had to overcome this season is just having a young and still developing team. It's been hard for some of the guys to get in the groove at first," he pointed out, "but now everyone has got the hang of things and i have full confidence that they will continue to progress and impress throughout their football careers."
One thing the Panthers have struggled with is consistent commitment and getting players out to practice. Despite that, St. Pete's has been able to ride the play of their best players too offset some of their undoings.
"Our success has come from our core players that have bought in and are committed," he said. "I won't use the word failure, but our downfall has come from lack of commitment by the majority of the players."
The Knights, as we've mentioned, come into most games as the favourites to take the victory. However, nothing is ever easy, and that is why they have to stick to playing their brand – their style – of football, and not allow the opponent to dictate the flow of the game.
"Our keys to victory are to play a very structurally sound football game and execute our game plan," Travis said. If we can achieve this goal we can beat any opponent that crosses our path
As for what the Panthers have to do to pull of the stunning upset, it comes down to keeping a lethal Knights offence off the field for as much of the game as possible: "Run the ball and keep our offence on the field as much as possible," Gatrell said.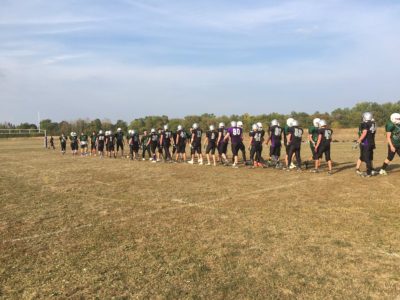 The playoffs are two weeks away, but Gatrell is not even almost letting his players look forward, imploring them to stay focussed on the here and now.
"We haven't earned the right to look forward," he said. "Still lots of work to do in the present."
The Knights are a team that plays their regular season for the playoffs. They obviously play to win, but they use the regular season as a way to work out all the kinks, and make sure they are as crisp as the air that comes with November football.
"Our goal is always [to make the] playoffs and we treat every game as if it was a playoff game so when we get there we are ready," Travis said. "Our team is really revving up for these last few weeks until playoffs so we are 100% ready, mentally and physically."
The Panthers are a Varsity team, meaning Grade 9's and 10's are included on the roster. The coaching staff is very impressed with their strong work ethic and drive to better their games on a daily basis.
"Improvements have come form our younger players, and how our grade 10 players have stepped up when called upon," Gatrell said. "I am very proud of my core players and how they are dedicated to improving themselves and the team."
As big of a deal as some have liked to make about the Panthers' season being salvaged at the 11th hour, they are not focussed on that. They haven't done anything yet, their Head Coach says, and this game is a crucial one in shaping the legacy that is the 2017 St. Peter's football season.
"I would not consider our season a success; we haven't reached our goals yet," Gatrell said. "How we play the rest of the season, especially this week, will determine how the season will be viewed. The fact that we even have a team is in the rear-view mirror at this point, we made it happen and now we have to earn our respect on the field."
Over the last several years, the Knights have become the force of Simcoe County football and one of the forces of high school football in Ontario. That is a distinction that is not lost on their players, and one they take very, very seriously.
"It means a lot to us as players [to have a legacy]," Peters said. "Every season we are comfortable setting our goals high and working hard to meet them. This is my fifth year with the Knights' football program and I've loved every single season.
"It's all about working towards a goal as a team and staying focused. As long as we continue do do that i have no doubts that our legacy will continue."
Although, when you are as good as the Knights are, and have been for many years, there is a propensity to get tunnel vision. In fact, Peters believes the team did that last year, and it cost them their season.
This year, he says, will be different.
"…There's definitely a tendency to get complacent," the third-year senior admitted. "Just look at last year as an example; we went in thinking OFSAA was a given but our egos got the best of us and we missed out.
"It was a huge eye opener for us all and I think its helped us stay focused on our goals this year and I don't think we plan on taking our foot of the throttle any time soon."
Game time is 1:00 this afternoon from St. Peter's Catholic Secondary School in Barrie.
Photos courtesy of: Twitter/@JOAFootball_; Twitter/@SMCDSB_PET; Barrie Examiner
Advocating for football prospects one story at a time.