Every week canadafootballchat.com (CFC) will be getting the scoop on what went down in high school football and what's coming up the following week. If you have a game recap or upcoming preview, please submit it to [email protected]. CFC50 teams will not be featured in the high school roundup.
CLICK HERE FOR #CFC50 GOTW RECAP (West/Atlantic)
Sisler Spartans (0), Dakota Lancers (42)
The Dakota Lancers keep on rolling and surprising the WHSFL with their shutout over Sisler, 42-0. Dakota will play in their first Anavets Bowl game.
Work before play! Clearing the field so we can practice in preparation for Thursday's Anavets Bowl…Go Lancers 7:30 IGF! #enjoythisweek pic.twitter.com/mHYxn7nJAK

— Dakota Collegiate (@dciLRSD) November 6, 2017
This week in the Anavets Bowl…
On Thursday, the Dakota Lancers will take on the St. Paul's Crusaders at Investors Group Fieldl. Kickoff is at 7:30.
CTV Bowl (AA)
Oak Park Raiders (12), Kelvin Clippers (11)
The Oak Park Raiders hand the Kelvin Clippers their first loss of the season 12-11 to move on to the CTV Bowl. Oak Park dropped down a division for the playoffs and beat an old foe from the Potter Division to make it to the bowl game.
On tap this week in the CTV Bowl Finals…
On Thursday at 5:00 the Oak Park Raiders and Vincent Massey Vikings clash at Investors Group Field.
CanadInns Bowl (A)
Crocus Plains Plainsmen (9), Daniel MacIntyre Maroons (45)
The Daniel MacIntyre Maroons have a chance to win their first championship since 1978 (when they won the Centennial Trophy) after earning the right to play in the final by beating Crocus Plains, 45-9.
Congratulations DMCI Maroons!! Final score 45 – 9! @footballdmci @dmcintyre pic.twitter.com/eT46zsBrNa

— Sandra Voyer (@Miss_San_dra) November 3, 2017
Portage Trojans (12), Kildonan East Reivers (40)
The Kildonan East Reivers jumped out to an early 34 point lead during their thumping of the Portage Collegiate Trojans, 40-12. In two games back after injury, Kildonan East's Michael Goldenstein has hauled in 10 catches for 3 touchdowns.
Coming up this week in the CanadInns Bowl…
On Wednesday, the Kildonan East Reivers and Daniel MacIntyre Maroons battle at 7:30.
Practice is still a go tomorrow Reivers!
3:00 PM Rain, Snow, or Shine! https://t.co/tdRyaS0weC

— KEC Reivers Football (@Reiver_Football) November 5, 2017
WHSFL Bowl
Fort Frances Muskies (15), St. Norbert Celtics (24)
The St. Norbert Celtics shut-down the Currie Division rushing champ Sekina Sheibler during their 24-15 win over the Fort Frances Muskies. St. Norbert started the season 0-3, but won 4 straight to earn a high seed in the playoffs.
Just got word the football team lost 24-15 ending the season. Tough one fellas but you fought hard all season

— Muskie Sports (@Muskiesports) November 3, 2017
Churchill Bulldogs (30), West Kildonan Wolverines (34)
The West Kildonan Wolverines topped the Churchill Bulldogs 34-30 to make their way into the WHSFL Bowl.
Wolverine win 34-30 over Churchill! Off to the WHSFL Bowl! #onemoretogo

— Wolverine Football (@Wolverine_FB) November 3, 2017
This week in the WHSFL Bowl…..
The St. Norbert Celtics and West Kildonan Wolverines will meetup for the WHSFL Bowl on Wednesday at Investors Group Field. Kickoff is at 5:00pm.
The Fox 40 Prospect Challenge (FPC) is a series of elite showcase games that feature the best tackle football players from across Canada aged 10-19 years. Tournaments are played in Central Canada (ON) and the West Coast (BC).
CLICK HERE FOR #CFCFPC FACEBOOK PAGE – CENTRAL
CLICK HERE FOR #CFCFPC FACEBOOK PAGE – WEST COAST
GET REGISTERED! GET COACHED! GET RANKED!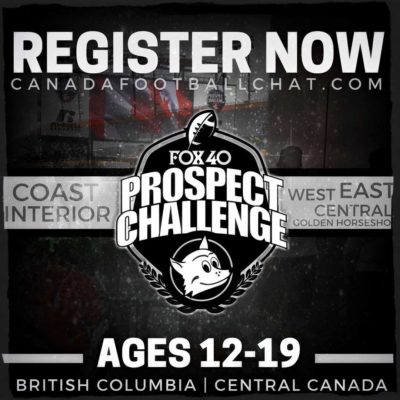 Advocating for football prospects one story at a time.