The St. Paul's Crusaders open up their 2017 season with a game against the Sisler Spartans on Friday, at St. Paul's.
In their last tune up before the regular season, the Crusaders competed well, made some plays, made a few mistakes, but reacted well to Garden City's good plays. "Exhibition games are a great opportunity to get people on the field who may have never played football before or played that position before or, given the annual rate of turnover in high school football, players who have never played together before, a chance to experience game tempo," mentioned head coach Stacy Dainard.
St.Paul's had one major injury during preseason. Returning defensive-back Lachlan Roche is out for the season with a shoulder injury.
In order to prepare for this week's game St.Paul's has watched game film, they've spent time correcting errors and have continued to improve their overall game.
The Crusaders haven't picked their starting quarterback heading Friday's game against Sisler and will use two. Dainard explained, "As both of our Quarterbacks are young and have shown, in practice and against Garden City, a number of good things, both will play in our week 1 game."
Keys for the St. Paul's Crusaders against Sisler and all year are: strong defense, a consistently productive offense and good physical play. "We are looking forward to the challenge of playing a tough, physical Sisler team," replied Dainard.
The Sisler Spartans had a good and competitive preseason. The Spartans did well against the Clansmen, and then had two tough games with Oak Park and Dakota, where Sisler split the series 1-1. Head coach Sean Esselmont mentioned, "We have a few kinks to work out but overall we've been very proud of our team. This is a special group of kids who won the JV title in grade 10 and have played together for a long time starting back at the North Winnipeg Nomads."
There was one major surprise for Sisler in preseason. While sitting 2016's league leading rusher Brayden Desjarlais, rookie Malachi Alexander was able to get his first taste of football. Alexander carried the ball for 175 yards on 27 carries, and scored 4 touchdowns. "We are excited to have so much talent at the running back position," added Esselmont.
This year's combination of Brayden Desjarlais and Malachi Alexander will be fun to watch. Tyler Koniuck could have a big game running and throwing the ball. On the offensive line, center Zane Dear has been great for the Spartans in camp. Esselmont said of Dear, "This kid has next level potential although it might be as a FB. He's very smart, athletic and a great blocker."
On defense Sisler has a hyper athletic secondary led by junior Austin Balan and senior Tyler Smith, plus they boast a defensive line that has been solid throughout camp. Easton Montour is the captain of the defense. Easton is an exceptional football player who plays on all sides of the ball (linebacker, money back and long snapper). "He (Easton) can do it all and I'm sure will be playing university football next year," responded Esselmont.
For the Sisler Spartans to be victorious on Friday night they'll have to stay disciplined. "Stacy Dainard of Saint Paul's always puts forth a very disciplined football team and we will need to match that discipline to win this game," said Esselmont. "If our kids are disciplined and execute their jobs we will be successful as this group of kids possess all the physical tools to get the job done."
Game time is 5 p.m at St. Paul's. We at CFC think that this game could go down to the wire, but the Crusaders prevail and start the season 1-0.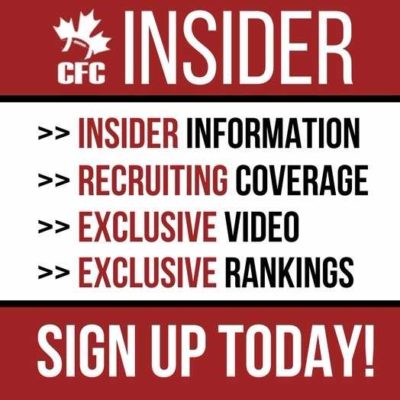 Advocating for football prospects one story at a time.