Every week canadafootballchat.com (CFC) will be getting the scoop on what went down in high school football and what's coming up the following week. If you have a game recap or upcoming preview, please submit it to [email protected].
*CFC50 teams will not be featured here. You can read about it in the CFC50 West/Atlantic recap.
AA semifinal #1
Vernon (25), Abbotsford (28)
There was a point in the game where we thought that the Vernon Panthers had this one in the bag, but with just under a minute left in the game, Abby took the lead, 28-25, and managed to hold on for the win.
CFC100 Samwel Uko had 4 rushing touchdowns, just another day at the office for him, but he worked for every last one as he ran for over 200 yards.
Vernon would be in the driver's seat for most of the game. It wasn't until the final minutes of the game that Abby would stage a comeback. With just over 6 minutes left in the game, Vernon would bring the score to 25-21 after a pair of scoring touchdowns.
Abby would go to work and manage to eat off a huge chunk of time with their running game and scored the last touchdown to get them the W and on to the final round of playoffs. This will be the second time that Abbotsford has appeared in the finals. They were defeated by Carson Graham in 2015 and were in the AAA conference in 2016.
They are now back to the AA Provincial championship set to be played on Saturday, Dec. 2 at BC place at 4pm against the Windsor Dukes.
AA semifinal #2
GW Graham (7), Windsor (47)
The Windsor Dukes will be going back to the Dome this weekend for the AA Subway Bowl finals with their tremendous win over the GW Graham Grizzlies, 47-7.
The Dukes were down 7-6 at the end of the first quarter, but would quickly right the ship as they would take the lead going into the half with a score of 28-7.
In a stellar performance, quarterback Ryan Baker for the Dukes completed 9/16 for 199 yards passing and 2 passing touchdowns. He also ran for 163 yards on 20 carries and 4 rushing touchdowns.
Teammate Julien Perri had 128 yards on 5 catches and 2 touchdown receptions. Ben McMichael would add to the total with a 50-yard interception return for a touchdown.
"Baker, McMichael, Perri and Ryan Werbowski rushed for over 280 yards on the day on 38 attempts. The offensive line (Colby LaLonde, Christian Capuno, Samson White-Bear George, Mitch Townsend and Jeremy Sinclair) was integral in the rushing success," said head coach Jim Schuman for the Dukes.
Graham would only have one score courtesy of Von Richardson on a touchdown run.
The Dukes head to the AA Provincial championship set to be played on Saturday, Dec. 2 at BC place at 4pm against Abbotsford.
Tier II Final
Spectrum (21), Eric Hamber (28)
AAA Playoff Bracket
AA Playoff Bracket
The Fox 40 Prospect Challenge (FPC) is a series of elite showcase games that feature the best tackle football players from across Canada aged 12-19 years. Tournaments are played in Central Canada (ON) and the West Coast (BC).
For more information CLICK HERE
CLICK HERE FOR #FPC FACEBOOK PAGE – CENTRAL
CLICK HERE FOR #FPC FACEBOOK PAGE – WEST COAST
GET REGISTERED! GET COACHED! GET RANKED!
[button type="link" link="https://www.canadafootballchat.com/fpc-tryout-signup/" size="btn-lg" variation="btn-success" block="btn-block"]"I'm In" – Click Here to Register for Fox PC 2017-18[/button]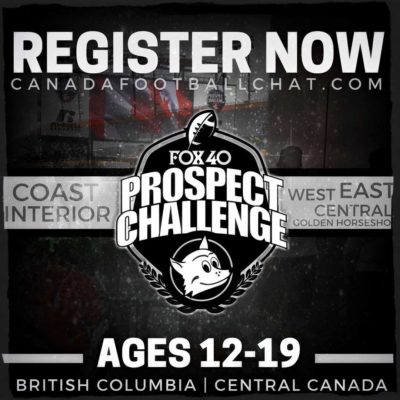 Advocating for football prospects one story at a time.