Every week canadafootballchat.com (CFC) will be getting the scoop on what went down in high school football and what's coming up the following week. If you have a game recap or upcoming preview, please submit it to [email protected]. CFC50 teams will not be featured in the high school roundup.
SEMIFINALS
Moncton High 51-0 Bernice MacNaughton
Moncton High approached this game as though it were the final, a game the team seemed feverish about returning too. The Knights pounded the Highlanders as relentlessly and steadily as the sky drenched the thin crowd.
The Highlanders fought back, but were as unsuccessful at moving the ball as they were stopping it. BMH LB Hoon Choi remained poised throughout the game, netting a high volume of tackles
MHS defenders DB Ben George and HB David Daniel Pendelton stalked the secondary, playing with an intensity not seen yet this year.
MHS' ran it's prototypical mis direction offence, seeing RB Kyle Lewis and QB Chris Cameron-Kogler get the majority of the teams carries, running behind a cohesive and disciplined offensive line.
10 Man results
Kennebecasis 17-16 St. Stephen
St.Malachys 90-13 Oromocto
Preview
MHS Purple Knights vs TRHS Titans
The Knights lost to Tantramar back in September, but will be fielding a team that has improved since, something the Titans have also done.
Moncton hasn't been to the final since 2014 when they won the Provincial title, something the Titans did successfully the last two years.
Both programs will bring an A game from coaches, players and thousands of purple and red clad fans intent on watching their team bring home the coveted Ed Skiffington Trophy.
The Fox 40 Prospect Challenge (FPC) is a series of elite showcase games that feature the best tackle football players from across Canada aged 10-19 years. Tournaments are played in Central Canada (ON) and the West Coast (BC).
CLICK HERE FOR #CFCFPC FACEBOOK PAGE – CENTRAL
CLICK HERE FOR #CFCFPC FACEBOOK PAGE – WEST COAST
GET REGISTERED! GET COACHED! GET RANKED!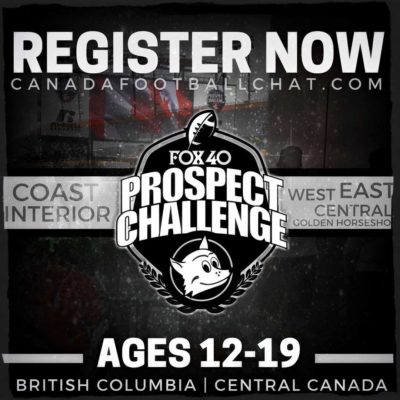 Advocating for football prospects one story at a time.