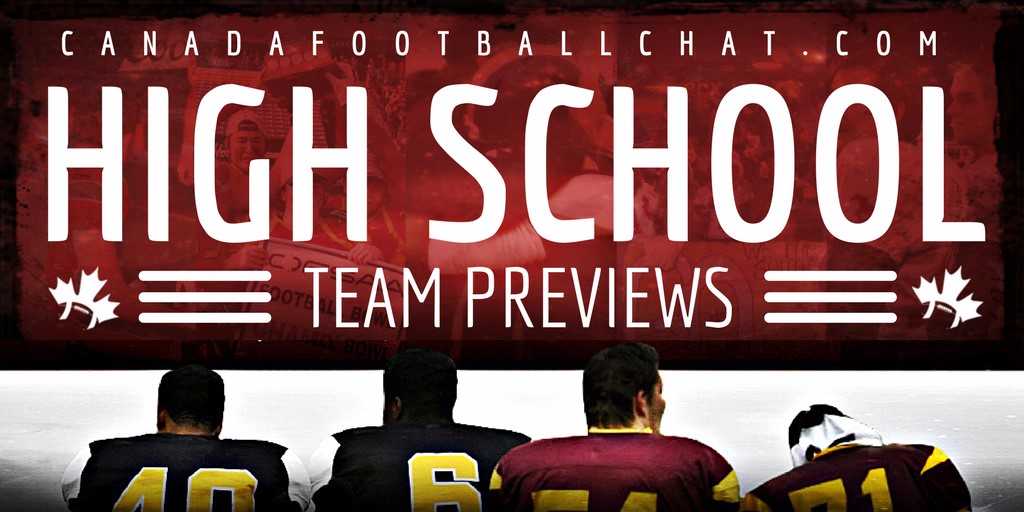 Leading up to the start of the high school season, we will be posting high school/Cégep team previews from June to September as part of our comprehensive season coverage. Canadafootballchat.com (CFC) has tapped into our network of coaches to produce team previews for the 2017 season. The #CFCteampreviews highlight top returning players, team strengths, and toughest opponents.
CFC also will bring you the national high school football rankings known as the #CFC50. Last year's final rankings were the most controversial to date…and we heard about it. Whether you agree or disagree, we love hearing from you. For an explanation of how the rankings are computed, please scroll to the bottom of the page.
Kelvin Clippers (WHSFL – Kas Vidruk AA, Winnipeg, MB)
In 2017 the Kelvin Clippers changed divisions from 'AAA' to 'AA'. Last season the Clippers went 1-7 in the 'AAA' Division, and lost in the 'AA' final to Steinbach.
"Last year taught us that we have to play certain players in positions that help the team more than themselves," explained Jon Romu head coach of the Clippers.
This year's goal for the Clippers is to be as competitive as possible. Kelvin has graduated their entire offensive line and they've rebuilt the line with rookies.
Jon Romu and the rest of his staff at Kelvin will be stressing to their players to make the most out of the reps that you are given.
Kelvin has a number of players that stand out on their team. Neil Santos at defensive back is small but extremely talented. Neil is a game changer and is always dangerous to throw his way because he reads the play so well.
Isaiah Letander at defensive tackle/full back is a very big and athletic grade 11 who plays both ways and is by far Kelvin's intimidating and dominating player.
Seby Gottfredsen plays middle linebacker/outside linebacker. Seby is the leader of the defense. No one works harder than Seby on the Clippers. Seby has a good chance to lead the league in tackles.
Tayvian Daniels suits up at safety/slot. Tayvian is very athletic and flies around on defense looking to hit. Tayvian has very strong hands, and is Kelvin's game changer on offense.
Mohammed Irondast plays linebacker/running back. Mohammed is athletic, has a high motor, brings a big play aspect to defense and is a north-south runner out of the backfield. Mohammed also has great hands for a running back, and has a nose for the ball on defense.
The new starting quarterback this year for the Clippers is Daniel Moroz. In week 2 Daniel was named CTV's Offensive Player of the Week for his performance against Portage. In the game against Portage, Moroz set a new 'AAA'/'AA' record when he passed for 424 yards on 18 attempts with 5 touchdowns, and one two point convert. Romu said of his starter, "Grade 10 first time quarterback leading this team, he's smart with great athletic talent that is only developing with every game."
Kelvin's x-factor this season is Trey Garlinski. Trey is a very gifted and smart football player. He joined the team late and has potential to be a lead back and a complete shut-down corner, as well as the most dangerous returner in the league.
"All the teams in the top two divisions are super competitive, all games and teams will be tough opponents it's hard to select just one," said Romu.
With Kelvin not being the biggest school or most talented, Jon Romu would describe his team as a dedicated bunch. Romu concluded, "We have never been the biggest or most talented but every single player works to the best of their ability and is why they are successful."
Kelvin Clippers (WHSFL – Kas Vidruk AA, Winnipeg, MB)
Head Coach: Jon Romu is in his 17th year
#CFC50 Ranking: n/a
2016 Record: 1-7 in AAA, lost in AA final
Key Losses: Ronnie Brooks, Justin James, Jun Ho, Mack Omichinski, Eric Matthews, Silas Trachilis
Key returning players: Seby Gottfredsen, Mohammed Irandost, Brock Gates, Tayvian Daniels, Neil Santos, Sam Chin
"X" Factor: Trey Garlinksi

If you would like your high school team previewed, please contact

[email protected]

.
CLICK HERE FOR 2016 FINAL CFC50 RANKINGS
How is the #CFC50 evaluated?
The #CFC50 rankings considers all conference and non-conference games (in Canada and the United States) while scrimmages are not evaluated (there is no such thing as an exhibition game – those are non-conference games, forfeits are not considered in overall record).
Leagues included in rankings: British Columbia AAA Varsity, Alberta Tier One, Saskatchewan 12-man 4A, Manitoba AAA Varsity, Ontario OFSAA Bowl AAA qualified teams, Quebec Juvenile Division 1, New Brunswick 12-man, Nova Scotia Tier 1.
The #CFC50 is a relative ranking that considers top tier leagues from all eight high school playing provinces (minimum one team represented from each province). The CFC Scouting Bureau consists of CFC Reporters, CFC Scouts, and also selected local reporters and scouts who submit local ranking results on a weekly basis. This is the eighth year that Canadafootballchat.com has ranked the top high school teams in Canada.
Advocating for football prospects one story at a time.