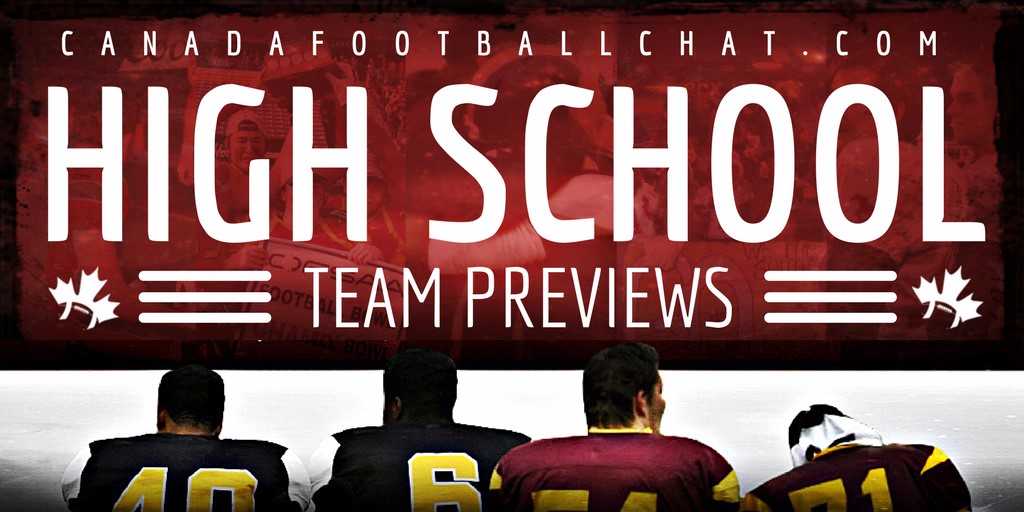 Leading up to the start of the high school season, we will be posting high school team previews from June to September as part of our comprehensive season coverage. Canadafootballchat.com (CFC) has tapped into our network of coaches to produce high school team previews for the 2017 season. The previews highlight top returning players, team strengths, and toughest opponents.
CFC also will bring you the national high school football rankings known as the #CFC50. Last year's final rankings were the most controversial to date…and we heard about it. Whether you agree or disagree, we love hearing from you. For an explanation of how the rankings are computed, please scroll to the bottom of the page.
WJ Mouat Hawks (BCHSFA-AAA Eastern Conference, Abbotsford, BC)
Talk about hitting the ground running. The Hawks won't have any time to ease into the 2017 season with their first two opponents in the British Columbia High School Football Association – AAA Eastern conference.
They open with playing the 2016 AAA Provincial Champions, the Terry Fox Ravens followed up by the Lord Tweedsmuir Panthers who are no slouches either. According to head coach, Travis Bell, who is entering his third season as head coach with the Hawks, he believes that these are the two toughest opponents in their division.
"We start the season off with, who I believe, are the two toughest opponents in our division, Terry Fox and Lord Tweedsmuir," Coach Bell explained. "They have athletes galore that we will do our best to contain."
Last season, the Hawks finished the regular season, 3-4 and lost in the first round of the playoffs to CFC50 ranked Mount Douglas.
Statistically, they racked up 1451 passing yards, 13 passing TD's to 13 INT, 1597 rushing yards, 13 rushing TD's, and 1282 receiving yards on 83 receptions. On defense they recorded 226 tackles, 10 sacks, and 3 INT (BCHSFB).
That being said, this year is going to be a bit different from last in that they lost 21 seniors. The grade 11's will be heavily leaned on for leadership and performance if they are to stay with the pack this next season. Coach Bell is not worried, though, in his young team. He believes that they will rise above the challenges and do well.
"There will be some learning on the fly, but we hope that we are a resilient bunch, willing to put things in perspective, and view the larger picture," coach says. "I have faith that we will be playing our best ball in October."
Historically, WJ Mouat uses systems to accommodate their athletic strengths. For example, Coach Bell says, "If we have a notably strong running back, like Maleek Irons (Ohio University), we make that our key. If we have quarterbacks and receivers, we are more willing to pass the ball."
They are currently going to insert a wing-based offense to make the most of their athletic, but "undersized" linemen.
It will be up to pivot, Ezra Garcia to step up to the plate and lead this young team. Garcia is athletic and has a high football IQ according to Coach Bell. He will also be the "X-factor" on this team as he will be needed on both sides of the ball to be a solid contributor and leader. 
Garcia says, "I am very excited for the upcoming season as it will be my grade 12 year, I love the game and have been playing since I was 6. I am looking forward to all the memories I will make with my teammates and coaches, from the pre-game meals to the locker room pump-ups, but most importantly, I am looking forward to putting on my Mouat jersey and going out onto the field under the lights on Friday nights and playing in front of our home crowd."
He goes on to say that he has high expectations for himself and his team this season. Improving on his campaign from last year, Garcia is looking to put up big numbers each and every week.
"I expect big things from myself by putting up big numbers game in and game out, no matter who we play," he says. "I expect the team to be able to compete with any team we go up against this year regardless of the situation. There is going to be adversity that's for sure, but where's the fun without it?"
Garcia says that he looking most to play against Mission. "The game that I am looking forward to the most is against Mission. Our games against them are always fun and they are a very tough and competitive team," he explains. "I am especially excited for this game as I am looking for revenge, both teams will have the same players they did two years ago when Mission beat us by a field goal on the last play of the game, so it would be nice to get them back this year."
While Mouat loses CFC100 Nelson Lokombo, Chavis Spencer, Cam'ron Lobban, Gary Ghag, Alex Howman, Balraj Mangat, Austin Lal, and Dylan Manocha, they have some key returners and players to watch on both offense and defense. 
Offensive lineman, Ethan Erickson has "unlimited" potential due to his athleticism and strength. "Expectations are high for him and hoping for his continued maturity," says Coach Bell. Another offensive player to keep your eyes on is running back, Amani Dyck.
Defensively, look for defensive back Nathan Hauserman who Coach Bell describes as the fastest kid in the school and has huge potential. Defensive linemen, Armaan Dhaliwal and Jermaine Finn-Turner, will be relied on heavily to anchor the Hawks defense. Armaan is a student of the game while Coach Bell will need Turner's leadership skills this year on defense.
Turner says he is looking forward to getting another chance to make it all the way. He agrees with his coach about Terry Fox being their toughest competition.
"I think we will need to to have people come out and be committed," Turner says. While he goes on to say that he wants to become a better player in general, he also wants to represent the Hawks to the best of his ability. He'll get his chance this year. 
For this young team, the Hawks will have to get caught up to speed pretty quickly, but what better way to do it by playing the very best in BC your opening weekend. Competition begets competition. It will be a great measuring stick for the remainder of the Hawk's season.
WJ Mouat Hawks (BCHSFA-AAA Eastern Conference, Abbotsford, BC)
Head Coach: Travis Bell (3rd Season)
#CFC50 Ranking: n/a
2016 Record: 3-4
Key Returnees: Ezra Garcia, Eddie Escobal, Nathan Frenette, Jermaine Finn-Turner, Blake Gervais
Key Losses: CFC100 Nelson Lokombo, Chavis Spencer, Camron Lobban, Gary Ghag, Alex Howman, Balraj Mangat, Austin Lal, Dylan Manocha
Number of returning starters – Offense: 3
Number of returning starters – Defense: 2
"X" Factor: Ezra Garcia (QB)
If you would like your high school team previewed, please contact 

[email protected]

.
CLICK HERE FOR 2016 FINAL CFC50 RANKINGS
How is the #CFC50 evaluated?
The #CFC50 rankings considers all conference and non-conference games (in Canada and the United States) while scrimmages are not evaluated (there is no such thing as an exhibition game – those are non-conference games).
Leagues included in rankings: British Columbia AAA Varsity, Alberta Tier One, Saskatchewan 12-man 4A, Manitoba AAA Varsity, Ontario OFSAA Bowl AAA qualified teams, Quebec Juvenile Division 1, New Brunswick 12-man, Nova Scotia Tier 1.
The #CFC50 is a relative ranking that considers top tier leagues from all eight high school playing provinces (minimum one team represented from each province).  The CFC Scouting Bureau consists of CFC Reporters, CFC Scouts, and also selected local reporters and scouts who submit local ranking results on a weekly basis.  This is the eighth year that Canadafootballchat.com has ranked the top high school teams in Canada.
Join the conversation online #CFC50

Advocating for football prospects one story at a time.