It has been one of the most memorable yet special weeks in JJ Molson's life.
Yesterday, Molson announced on twitter that he has verbally committed to NCAA Division 1 (FBS) PAC-12 team, UCLA Bruins for the 2016 season.
I am thrilled to announce that I have committed to UCLA. I want to thank my family, friends, and coaches ! #gobruins pic.twitter.com/3NVhpysZdk

— JJ Molson (@jj_molson) June 11, 2015
For the 6'1, 190 pound kicker from Montreal, Quebec, the Bruins were always his top choice.
This past Tuesday, Molson took in an official visit to University of Alabama Crimson Tide where he had the honour of showcasing his kicking abilities in front of Head Coach Nick Saban.
Molson made quite an impression on the legendary head coach.
"He offered me right after I finished my kicking session," recalled the Montreal kicker.  "They told me that they needed to know soon whether I was going to commit, because if I didn't commit, they did not want to lose their other options."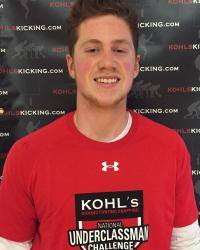 However one hour after the Crimson Tide offered him, Molson's ultimate gridiron dream came true. The Bruins contacted him and gave him an offer – one that he could not refuse.
"I committed right away to UCLA over the phone," said Molson, who was also offered by Arkansas State.  "The coaches were ecstatic."
Ultimately, there was one major factor that played a role in his decision to opt for the Bruins.
"The biggest thing about UCLA is that I have a lot of family in California," explained Molson of his decision.  "My uncle lives 30 minutes away from the campus."
"We have a house down in Palm Desert, so it is very convenient for my parents and grandparents to come down and visit me."
For the Montreal kicker, the Bruins were natural fit and he is looking forward to soaking in a special experience once he joins the team in 2016.
"I've already felt a strong connection with the staff and some of the players," elaborated Molson.  "I know UCLA is the perfect fit for me and I am so excited to play in the Rose Bowl on Saturday nights in front of 92 000 people."
To prepare for his future with the Bruins, Molson will continue his regular training regimen.
Molson has previously suited up for Selwyn House Gryphons and Team Quebec's under-18 squad.  This fall, he will play his final season with CEGEP Division 2 team, John Abbott College Islanders.
Now that the decision made regarding where he will continue his gridiron career, the kicker can now concentrate on achieving more immediate goals.
"There is relief I am 100 percent committed to UCLA," commented Molson.  "Now, I can solely focus on my training for this upcoming season and winning a championship with John Abbott football."
With his gridiron dream realized, it is not lost on him the individuals who have encouraged and motivated him to get to this juncture in his career.
"I have to thank my family and friends and teammates from all their support as well as all my coaches," expressed Molson.
(twitter: http://twitter.com/vohra_ameeta)
Advocating for football prospects one story at a time.