It's not always about the top teams or the competitive aspect when it's comes to choosing a National Game of the Week on CanadaFootballChat.com.
With this past weekend's tragic death of Sir John A MacDonald Flames player Jadon Robinson, the thoughts of a province and nation are with the football program through this difficult time.
As the Flames are trying to cope with the loss, the team are in the midst of preparing for their Nova Scotia Student Athletic Federation Football League (NSSAFFL) Provincial Tier 1 Semi-Final against Charles P Allen Cheetahs.
The game is scheduled for Sunday evening at Burnside Turf.  Kickoff is 5:00pm.
Coming to grips with this tragic loss, it has been cathartic for the both the Flames players and coaching staff to get onto the field for practice this week.
"This game has become more than just about football for our program," commented Flames Head Coach Paul Moore.  "This has been a very emotional week with the sudden passing of our brother Jadon Robinson."
"Our team is filled with love for this young man, and we have heavy hearts. However, football has been a great outlet for our players."
With the tremendous outpouring of support for the Flames, it has motivated and fueled the team in their preparations this week.
"We have practiced very well this week," offered Moore.  "We are prepared and hungry to play."
"There has been an out pouring of support from other teams, parents, former players and the football community during this tough time. Sir John A is very thankful for everything that has been done. It's a true testament of the brotherhood that football creates."
Even though the Cheetahs are fierce rivals of the Flames, they too have offered their support.
"Our condolences go out to the Family and the SJA community for the tragic loss of a young athlete and gentleman, Jadon Robinson," commented Cheetahs Defensive Coordinator Greg Bayne.  "Our thoughts and prayers are with his family, friends, teammates and coaches."
As for the semi-final showdown itself, it involves two of the top squads in Nova Scotia that have a lot history between them. Therefore, the Cheetahs know every time a game against Flames is on the horizon, they must ensure they are at peak performance level.
"Our teams have always been very competitive and both well-established programs with great community support," elaborated Bayne.  "We match up well and our players and coaches know that we have to be prepared and execute at a very high level on game day to be successful."
During the regular season series, each team ended up with a win – the Cheetahs edged the Flames 15-14 in Week 1 and then the Flames returning the favour and scoring a 20-10 win.
While the Cheetahs were the only team to hand top ranked Citadel Phoenix a loss in 2014, the team knows that they are about to step into a heavyweight bout with the Flames.
"Although we have split wins this season, we certainly feel SJA got the better of us given the results of our last game," recalled Bayne.  "They have great athletes on both sides of the ball."
"Sir John A brings an aggressive attacking defense coupled with a balanced attack on offense.  We know we are in for a real battle a hard fought grudge match that will take four quarters of all-out effort!"
Offensively, quarterback Duncan Patterson as well as Micah Goode and Adam Henneberry are expected to step up and provide veteran leadership on game day. Additionally, a trio of offensive threats will play significant roles in the offence's game execution plan – Michael Forsey, Kirk Whitman and Daniel Speilman.
As for the Cheetahs defence, Tristian Hyde, Kyle Bevan and Tim Ellis, Brian Gough and Mitchell Broussard will anchor the unit as well as be the ones to watch for on Sunday.
Overall, the Cheetahs have to win key offensive and defensive battles as well as matchups throughout the game for them to win the semi-final.
"Offensively, we want to come out and have success early with a balanced attack," offered Bayne.  "Ball security on offense with strong special teams play will be important to win the field position battle."
"Winning the fight in the trenches will have a huge impact on the outcome of this game. Our defense will need to stay in this game with strong fundamental play getting off of blocks and tackling."
As for the Flames, their offence will be dictated by the magical connection between pivot Chris Duplisea and running back Adam Bennett.  So far this fall, Bennett has amassed over 1300 rushing yards and 10 touchdowns.
"Adam has put together an MVP type season," added Moore of the Flames running back.  "He is our work horse, and is very talented."
A lot of the Flames offensive success will hinge on the battle at the line of scrimmage.
"Our offensive line, led by Morgan Larson will need to play physical and as a unit to give Adam room," assessed Moore.
Defensively, a trio of players in free safety Adam Duplisea as well as linebacker Liam Bennett and Donald Blue will anchor the unit.
"They will need to be physical in the run and game and play good fundamental defense," added Moore.
Two other components of the Flames defence have to deliver season best performances – the defensive line and secondary.
"Our defensive line led by Anderson Recker will need to create havoc in the backfield and pressure on the quarterback," evaluated Moore.  "The secondary will need to play very well vs a good quarterback at CPA with Josh Pinfold, Robert Hemming and Zak Dalloul leading the way."
Ultimately, Moore concedes that the Flames need to work together to achieve success in all three facets of the game.
"It will take execution from our whole team, offense, defense and special teams to be successful on Sunday," explained the Flames Head Coach.  "We will need to run the ball tough and effectively and play great defense."
"We are confident, motivated and determined team for this game."
However, not far from the Flames' thoughts are of their fallen teammate, Robinson, whose towering presence was larger than life itself.  Heading into this heavyweight bout against one of their chief rivals, the Flames are playing in memory of a player who selflessly gave his time, dedication to his team and wanted nothing more than to push them for greatness on the field.
"We will be playing with our hearts on our sleeves for Big J," expressed Moore.  "The young men of our team have shown great poise and strength during this very emotional week."
"I am so proud of these players, coaches and management. The passing of Jadon is so tragic, but it has brought a love for each other to the surface. This team loves each other, and are ready to sacrifice for each other on Sunday. We will be playing for Jadon, he will be with us."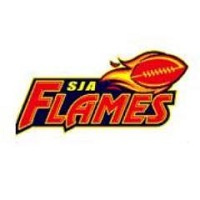 SIR JOHN A MACDONALD FLAMES:
2015 RECORD: 5-3
HEAD COACH: Paul Moore
PLAYERS TO WATCH: Adam Bennett (running back), Chris Duplisea (quarterback), Morgan Larson (offensive line), Adam Duplisea (free safety), Liam Bennett (linebacker), Donald Blue (linebacker), Anderson Recker (defensive line),  Josh Pinfold (defensive back), Robert Hemming (defensive back), Zak Dalloul (defensive back)
CHARLES P ALLEN CHEETAHS:
2015 RECORD: 5-3
HEAD COACH: Michael McPherson
PLAYERS TO WATCH: Duncan Patterson (quarterback), Micah Goode (offence), Adam Henneberry (offence), Michael Forsey (offence), Kirk Whitman (offence), Daniel Speilman (offence), Tristian Hyde(defence), Kyle Bevan (defence) Tim Ellis (defence), Brian Gough (defence), Mitchell Broussard (defence)
(twitter: http://twitter.com/vohra_ameeta)
Advocating for football prospects one story at a time.