***UPDATED SEPT 26/2014 @ 08:00****
CanadaFootballChat.com brings you the National High School Previews and Predictions.  Each week, we will preview the must see games of the week province to province and provide a prediction of the outcome.
BRITISH COLUMBIA:
CFC #15 Vancouver College Fighting Irish @ CFC #9 Mount Douglas Rams
Friday, September 26, 5 PM, Goudy Field
In this weekend's featured match-up, two of the top-ranked teams will go head-to-head when the Vancouver College Fighting Irish (0-0) head to Victoria to face the Mt. Douglas Rams (1-0) at Goudy Field.

The Rams have been looking like strong contenders once again for this year's Subway Bowl Triple A championship and, if their regular season opener was any indication – a 36-7 win over Notre Dame last week – then they certainly look poised for a run at a fourth straight title despite losing some top talent to graduation. Led by new starting quarterback Joe Clarke, the Triple A player of the week, the Rams will look to continue to impress with their offensive abilities against Vancouver College. Wide receiver Gavin Cobb, who scored two touchdowns in last week's game, will also be a player to watch.

For the Fighting Irish, tailback Ovie Odjegba will be a player to keep an eye on. He recently broke a school record for longest touchdown score from scrimmage on a 90-yard run in a game against St. Thomas More. On defence, Matt Legge and Ethan Alban will be key players for the team, as they recorded 13 and 11 tackles respectively against O'Dea (Seattle) in a recent game.
Source:  BC High School Football
ALBERTA:
Olds Spartans at Rundle College Cobras
Thursday, September 25, 5:30 p.m., Rundle College Field, Calgary
In the tradition of the barnstorming teams of the 1920's the league-less Olds Spartans continue their tour of Alberta taking on all comers as the last remaining Independent team in Alberta.  Last week's 16-3 loss to Bishop Carroll was their first of the season as they mainly spend their weeks taking on Calgary teams with BYE's and doing quite well including a Week #2 49-0 shellacking of Lord Beaverbrook – a school with five times their population.  This is a good football team and what makes this game special is that for the first time this year they will not only be taking on a school from the same Tier as them but also a team they will have to compete against at some point to advance to Provincials out of Region 2.  Rundle, Cochrane, and Olds are the three big dogs in the hunt for the two Provincial spots accorded to Region 2 so this week's game will tell us a lot.
PREDICTION: Rundle Cobras 35, Olds Spartans 10
SASKATCHEWAN:
CFC#18 Campbell Tartans @ Balfour Redmen
Friday September 26th, 2014, 7:30PM
Two rivals meet in another classic matchup under Friday Night Lights in Regina.  CFC#18 Campbell Tartans will have the one player that all eyes will be on the entire evening – CFC100 defensive back Payton Hall.  However, both teams have a number of players who will dictate their respective successes.
For the Tartans, running back and 2013 League Most Outstanding Offensive Player Dryden Kalesnikoff will be the catalyst for the team's offensive unit's game execution.  Wide receiver/kicker – 2013 RIFL Schwann Conference All –Star Kris Calcutt,  linebacker Tanner Smith, Defensive lineman  – 2013 RIFL Schwann Conference All-Star Braxton Turnbull, Receiver – 2013 RIFL Schwann Conference All-Star Lee Brown, running back Avery Pierce, offensive lineman Kelsey Wyonzek as well as pivots Brayden Wagg  and Mason Mullaney will be the others to watch for.
As for the Redmen, running back Ryan Schienbein, receiver Riley Orchard, quarterback Mark Grain, linebacker Jon Stricker (linebacker), defensive back Jon Martin and defensive lineman Randy Orchard will be expected to provide leadership and continue to the team's success.
These two teams met exactly a year ago and the Tartans came out on top 34-20.
Back in August, Redmen Head Coach Darcy Olynyk knew that the Tartans will be a tough opponent during this fall season.
"Campbell and LeBoldus are always the contenders and we want to emulate their success and compete with them and give them good games every time we play," commented the Redmen Head Coach.
PREDICTION: Campbell Tartans 32, Balfour Redmen 18
MANITOBA:
CFC#14 St Paul's Crusaders @ Murdoch McKay Clansmen
Friday September 25th, 2014, 5:00PM
In a rematch of the 2013 Provincial  'AAA' Championship Final, defending champions and CFC#14 St.Paul's Crusaders will battle the Murdoch McKay Clansmen.  The Clansmen would like nothing more than to unseat the defending provincial champions on home turf. However, the Crusaders have other ideas in mind.
Last year, the Crusaders walloped the Clansmen 56-8.  If the Clansmen have anything to say about it, this time around they won't be giving up 56 points.
PREDICTION: St. Paul's Crusaders 27, Murdoch McKay Clansmen 12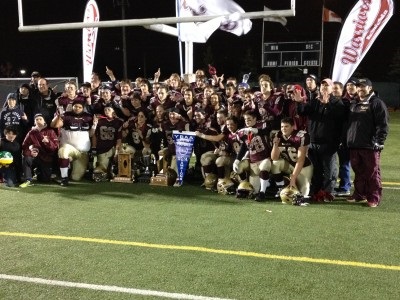 ONTARIO:
*****BONUS*****
CFC#8 Huron Heights Warriors versus Bill Crothers Colts
Wednesday September 24th, 2014
It's deja vu for archrivals CFC#8 Huron Heights Warriors and Bill Crothers Colts as both teams meet for their opening game of the 2014 YRAA campaign.  However, it wasn't too long ago these two rivals last met – November 16th, 2013 in the YRAA Championship Final. The Warriors came out on top in that affair 43-7 en route to an OFSAA Bowl victory.
The Warriors offense will be led by quarterbacks Luke Griese and 2013 Junior MVP Colin Grant.  Additionally, fullback Gregg Anderson and offensive lineman Mike DelTin will led the unit.  On defense, cornerback Graeme Shreeve and halfback Graham Legrow will be key to the Warriors success.
Both teams are fired up and the atmosphere alone will make this an exciting must see game.
PREDICTION:  Huron Heights Warriors 35, Bill Crothers Colts 14
CFC#17 Holy Names Knights @ CFC#4 WF Herman Green Griffins
A classic, yet timeless rivalry, CFC#4 Herman Green Griffins will host CFC#17 Holy Names Knights.  If last year is any indication, this may be a hard one to predict the outcome.
Last year, the Griffins and Knights met twice – each team winning one game (Knights won regular season game 34-7, Griffins won Championship Final 40-14.
However, the Green Griffins will not their key offensive weapon.  CFC 100 running back Marcus Kentner broke his foot and is out 6-8 weeks. That is a disappointing blow for the Green Griffins and no doubt about it, it will bring a new dimension to this key game.
PREDICTION: WF Herman Green Griffins 24, Holy Names Knights 20
CFC#27 St. Roch Ravens @ St. Marguerite d'Youville Panthers
Friday September 26th, 2014, 2:00PM
Historically, this is one match up in the Peel Region that many have pencilled in on their calendars.  CFC#27 St. Roch Ravens will travel to face rivals St. Marquerite d'Youville Panthers.
After last year's loss to Panthers by a one point margin (17-16), the Ravens want to get that out of their system.  The team will come in fuelled by that loss and motivated to come out on top this time around.
The Panthers are going to have to find a way to stop a potent offense and dangerous special teams.  Punt returner Jamal Nkrumah had two punt return touchdowns from 92 and 87 yards while Malcolm Miller, Neil Harris and Diondre Taylor combined to rush for over 350 yards and four touchdowns last week.  Kyle Gouveia will led the offensive game execution for the Ravens.
It will be an electric atmosphere as is always the case anytime these two rivals meet.
PREDICTION: St.Roch Ravens 27, St. Marguerite d'Youville Panthers 22
Sir Frederick Banting Broncos @ CFC#26 AB Lucas Vikings
Thursday September 25th, 2014, 12:00PM
As CFC#26 AB Lucas Vikings Head Coach Michael Hayes said back in August to CFC, each game in TVRA Central Tier Division will be hard fought and competition will be fierce.  Thursday's contest is no exception as the team hosts Sir Frederick Banting Broncos.
The Vikings offense will be led by quarterback Tristan Arndt while all eyes will be on CFC 100 lineman Nick Pinelli.
As for the Broncos, the players to watch for are defensive lineman Kevin Mackey and offensive lineman Avry Oneil.
This is rematch of the London Tier 1 Championship Final, which the Vikings won 38-15
PREDICTION: AB Lucas Vikings 40, Sir Frederick Banting Broncos 20
QUEBEC:
Triolet Harfangs @ CFC#24 Saint-Jean Eudes Condors
Saturday September 27th, 2014, 7:00PM, Saint-Jean Eudes
This is an unpredictable yet exciting matchup between two 2-2 squads.  What makes this even more interesting is the Triolet Harfangs moved up this year to RSEQ Juvenile 1 after making it all the way to the 1B Championship Final this year so this is a new team for the Condors to battle against.
For the CFC#24 Saint-Jean Eudes Condors, running back William Valliere-Olivier will lead the offense.  Last week, he tallied two majors and rushed for 138 yards on 17 carries in the team's victory over CFC#31 College Jean Eudes Eagles.
However, the Harfangs will look to veteran offensive trio running back Jean-Simon Gouin-Verrette as well as offensive linemen Vaso Cabrilo and Zachary Martel.
PREDICTION: Saint Jean Eudes Condors 28, Triolet Harfangs 25
NOVA SCOTIA:
Citadel Phoenix at CFC#46 Charles P Allen Cheetahs
Friday September 26th, 2014 7:00PM @ CPA Turf
Just when we thought last week's game of the week in Nova Scotia was going to be full of explosive fireworks, the province yet again gets treated to another highly anticipated game of the season.  Under Friday Night Lights, CFC#46 Charles P Allen Cheetahs hope that momentum is on their side as they face the Citadel Phoenix. Last week, the Cheetahs handed the defending provincial champions, Sir John A MacDonald Flames their first defeat of the 2014 season and hope luck is on their side again.
However, the Phoenix have some unfinished business. The last time these two teams met, the Phoenix came into that 2013 contest winning a historical fifth straight provincial championship and riding a consecutive winning game streak which dated back to 2008.
The Cheetahs snapped that streak last year and held the Phoenix off the scoresheet winning that game 14-4.
"CP Allen stopped our winning streak last year and deserved that win," commented Phoenix Offensive Coordinator Jon Dyer of that 2013 contest.
While the Phoenix are downplaying this game, make no mistake about it the team want to take care of business this time around. To be successful on Friday,  the team will have to stop running back Will Chamberlain, bypass Matt Bayne, Brad Bevan and the rest of the solid Cheetahs defensive unit.
One Achilles Heel for the Phoenix in the 2013 season was their offense.  If the team's offensive unit can click on all cylinders and pivot David Luke can continue to create magic with offensive guns Tyler Martin and Ian Farrell, then they will get the "W'.  The Phoenix have a tradition of solid defense – credit to the architect, Phoenix Co-Head Coach and Defensive Coordinator Jeff Lawley.
Get a seat for this game early, looks like another sellout is about to happen at CPA Turf for the second week in a row.  Nova Scotia Football is about to be witness to another fantastic game.
(Photo credit:  Joe Chrvala)
PREDICTION: Citadel Phoenix 17, Charles P Allen Cheetahs 14
NEW BRUNSWICK:
CFC#48 Tantramar Titans @ Moncton Purple Knights
Friday September 26th, 2014, 8:00PM
Anytime these two squads battle it out, its an entertaining game which could go either way depending on who gets the lucky bounces going their way. Just over a year ago, the Moncton Purple Knights defeated the CFC#48 Tantramar Titans 30-6.
This is 2014 so that means a new season and something says the Titans will play spoiler in Purple Knight territory. Purple Knights players to watch for are offensive lineman Brendan Hallett and defensive back Rory Kelly.
PREDICTION: Tantramar Titans 24, Moncton Purple Knights 16
Advocating for football prospects one story at a time.