***UPDATED OCTOBER 02/14 @ 8:00EST*****
CanadaFootballChat.com brings you the National High School Previews and Predictions.  Each week, we will preview the must see games of the week province to province and provide a prediction of the outcome.
BRITISH COLUMBIA:
CFC # 19 St Thomas More Knights @ Mt. Boucherie Bears
Friday October 3rd, 5PM (APPLE BOWL)
In this week's game of the week, the CFC # 19 St. Thomas More Knights (2-0) will look to continue their regular season win streak when they go head-to-head against the Mt. Boucherie Bears (1-1).

The Knights have been looking strong these past few weeks, recording shutouts against their last two opponents. Last week, in their 53-0 win against Rutland, the Knights showed off their offensive firepower led by quarterback Terrell Jana, who rushed for 102 yards and one score while also recording 160 passing yards and throwing for three touchdowns. Other players from the Knights who stood out in last week's game were Noel Jordan Stewart and Matt Smiegel, who both rushed for scores.

The Bears' defense forced several turnovers in last week's 44-26 win against Centennial and playing well on that side of the ball will be a key factor if they are to have any chance of knocking off the Knights, a team well-known for its offensive power. Several defensive players to note from this team are cornerback Mackenzie Johnson, who intercepted and returned the ball 45 yards for a score in last week's game, and linebacker Zac Callaghan, who recorded an interception and returned the ball 35 yards in the Bears' victory over the Centaurs.
Photo credit:  Gary Kahrmann, PNG
Source:  British Columbia High School Football
PREDICTION:  St.Thomas More Knights 35 Mt Boucherie Bears 14
ALBERTA:
CFC#37 Salisbury Sabres vs. CFC#42 Bev Facey Falcons
Thursday, October 2, 5:00 p.m., Strathcona Athletic Park, Calgary
One last blast for Strathcona Athletic Park this Thursday before the big games get moved to the new Emerald Hills Stadium in Sherwood Park next year. And what a way to go out!  There is nothing better in the Edmonton area for high school football than the Sabre/Falcon clash when both teams are ranked, and really there is not much to choose between them right now.  They can both put up the points but have also lost one game each to ranked opponents.  The Sabres feature a more veteran line-up with 3rd year QB Reggie Shoeppe leading the way, while the Falcons counter with wunderkind Grade 10 tailback Chuba Hubbard and a relatively young supporting cast.  Parking will be an issue.  Getting in will be an issue.  Don't be late for this one!
Source:  Alberta Schools Athletic Association
PREDICTION: Salisbury Sabres 14, Bev Facey Falcons 10
SASKATCHEWAN:
CFC#16 Campbell Tartans @ CFC#3 Dr. Martin Leboldus Golden Suns
Two rivals are set to renew their rivalry under Friday Night Lights in Regina.  CFC#16 Campbell Tartans will visit CFC#3 LeBoldus Golden Suns in the hopes of wrangling away a victory.  There are CFC 100 players who will be front and centre in this game.  CFC 100 defensive back Payton Hall will lead the Tartans while Chan DeCiman and Kade Belyk will try to create more offensive magic for the Golden Suns. Regina fans are about to be witnessed to another great chapter in this storied rivalry
CLICK HERE TO SEE SASK TIPSTER'S PREVIEWS & PREDICTIONS
PREDICTION: LeBoldus Golden Suns 27, Campbell Tartans 21
Friday October 3rd, 7:30pm,
MANITOBA:
Murdoch MacKay Clansmen @ Dakota Lancers
Friday October 3rd, 4:30pm
Two 2-2 squads will square off in what should be an exciting game under Friday Night Lights, which is a rematch of the 2013 'AAA' Provincial Semi-Finals.  Last year's championship finalists Murdoch McKay Clansmen will battle Dakota Lancers.  The Lancers want nothing more than to seek redemption in front of the home crowd after a disappointing 29-22 loss to the Clansmen in the 2013 semi-final.One player that will be showcased in this matchup is CFC 100 and recent Manitoba Bisons commit, Lancers defensive end Derek Dufault.
PREDICTION:  Dakota Lancers 28, Murdoch MacKay Clansmen 24
ONTARIO:
CFC#45 Don Bosco Eagles @ Chaminade Gryphons
Friday October 3rd, 5:00pm [HOMECOMING]
Another chapter in an an epic rivalry will take place at Chaminade. The Gryphons will celebrate Homecoming by hosting CFC#45 Don Bosco Eagles.  The last time these two teams met was in the Toronto Catholic Finals last November when the Eagles came away with a 34-15 win over the Gryphons.  However, last year the Gryphons also scored a 14-11 victory over the Eagles.  Homecoming brings a special atmosphere, so the Gryphons hope to get caught up in it and use that as motivation to defeat the Eagles.
It is our annual Homecoming game that is very well attended, we usually get in upwards of 2000 spectators for the game and I think this year will be no different with the rivalry between the two schools," commented Gryphons Head Coach Pat Diodati.  "It promises to be a great night of high school football in the GTA."
PREDICTION: Chaminade Gryphons 17, Don Bosco Eagles 13
CFC#36 Blessed Trinity Thunder @ CFC#47 St.Paul Patriots
Thursday October 2nd, 3:00pm
Another classic showdown in Niagara, CFC#36 Blessed Trinity Thunder will visit CFC#47 St. Paul Patriots.  Last time these two rivals duked it out was October 23, 2013 when the Saints pulled out a 14-2 victory over the Thunderbolts.  Last season, the Saints won both matchups against the Thunder.  The Saints have to find a way to stop Thunder running back Austin Whetton to have success in this game.
PREDICTION: Blessed Trinity Thunder 18, St. Paul Patriots 11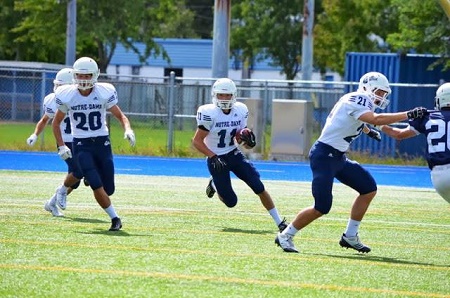 QUEBEC:
CFC#11 Notre-Dame Cactus @ CFC#24 Saint-Jean Eudes Condors
Friday October 3rd, 7:00pm, Saint-Jean Eudes
Two CFC 50 teams will square off under Friday Night Lights as CFC#11 Notre-Dame Cactus visits CFC#24 Saint-Jean Eudes Condors. In 2013, the Cactus defeated the Condors 38-28 so this game is sure to be just as close this time around.
Francois Rocheleau will lead the Cactus after tallying three majors (two rushing, one receiving), rushing for 143 yards on 16 carries and adding 4 PAT's in a 39-0 shutout victory over Academie Saint-Louis Arsenal last week. On defense, Andriy Nikulich, Bruno Legace and Karl Chemali will anchor the unit after solid performances last week.
As for the Condor, Alexandre Beliveau will be a main target – last week he tallied a major and rushed for 149 yards on 19 carries in a victory against Triolet Harfangs 54-13.  Pivot Victor Loungnarath is also coming off an impressive performance as he completed nine passes in 12 attempts for 111 yards, two passing touchdowns and a rushing major.
PREDICTION: Notre-Dame Cactus 27, Saint Jean Eudes Condors 17
NOVA SCOTIA:
Sir John A MacDonald Flames @ Prince Andrew Panthers
Monday October 6th, 7:00pm Burnside Turf
A match up of the 2013 NSSAFFL Provincial Tier 1 and 2 Champions.  Sir John A MacDonald Flames will visit Prince Andrew Panthers. Both teams are coming off wins and have players that will dictate their successes.  Thomas Hoyt is coming off  two touchdowns and racked up 102 yards on eight reception performance in a 35-0 win over the Horton Griffins.  Watch for the offensive connection between Hoyt and pivot Seth Lane throughout the game.  The defense will be anchored by  Robie Holland, Josh DeGruchy and Nick Bennett.
As for the Panthers, Ben Deturbide will be the one to watch on defense while Nick Green will be the offensive catalyst for the team.
PREDICTION: Sir John A MacDonald 30, Prince Andrew Panthers 20
NEW BRUNSWICK:
Harrison Trimble Trojans @ Riverview Royals
Friday October 3rd, 4:00pm, Riverview
Another battle of two .500 teams, the Riverview Royals will host the Harrison Trimble Trojans.  Last season, the Royals thumped the Trojans 63-7.  However, this is a new season and new players.  Linebacker Dylan Roach will anchor the Trojans defense.
PREDICTION: Riverview Royals 26, Harrison Trimble Trojans 24
Advocating for football prospects one story at a time.