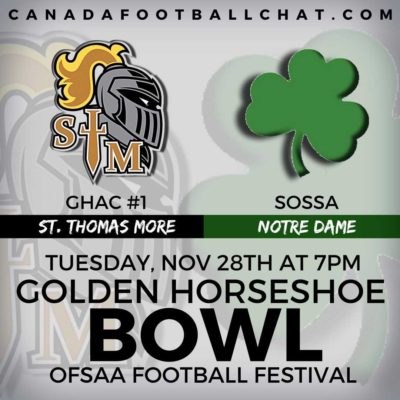 St Thomas More Knights v.s Notre Dame Fighting Irish
Local fans should be clearing their schedules to make sure their at Tim Hortons Field on Tuesday night, because the region's finest will be on full display with a fantastic CFC50 top ten matchup between St. Thomas More and Notre Dame in the Golden Horseshoe Bowl.
The Fox 40 Prospect Challenge (FPC) is a series of elite showcase games that feature the best tackle football players from across Canada aged 12-19 years. Tournaments are played in Central Canada (ON) and the West Coast (BC).
For more information CLICK HERE
CLICK HERE FOR #FPC FACEBOOK PAGE – CENTRAL (ON)
CLICK HERE FOR #FPC FACEBOOK PAGE – WEST COAST (BC)
GET REGISTERED! GET COACHED! GET RANKED!
[button type="link" link="https://www.canadafootballchat.com/fpc-tryout-signup/" size="btn-lg" variation="btn-success" block="btn-block"]"I'm In" – Click Here to Register for Fox PC 2017-18[/button]
Advocating for football prospects one story at a time.