Each and every week, Sask Tipster brings you the week's preview and predictions for Saskatchewan High School Football. Here are this week's previews and predictions for games in Regina, Saskatoon and Moose Jaw leagues:
REGINA INTERCOLLEGIATE FOOTBALL LEAGUE (RIFL):
CFC # 3 LeBoldus Golden Suns (3-0) vs. Riffel Royals (1-1)
The top dogs in Saskatchewan, CFC#3 LeBoldus Golden Suns are looking to build upon their strong start in this 2014 campaign. Don't expect anything different than another dominant performance. Riffel is coming off a decisive 42-20 victory versus Sheldon, but will face a much tougher, bigger, faster and more disciplined opponent this week. Yes, Sheldon looked good on both sides of the ball last week, but CFC 100 Golden Suns quarterback Chan De Ciman is expected to move the ball downfield at ease by using both his elusiveness on the ground as well as his strong arm. LeBoldus is full of weapons and can easily switch from the run to the pass to keep Riffel on their heels. Expect a dominant performance where the starters, including star RB Jamal Hooker, will look to get off the field early in the 2nd half.
PREDICTION: LeBoldus Golden Suns 49 – Riffel Royals 7
CFC#18 Campbell Tartans (2-0) vs. Balfour Redmen (1-1)
CFC#18 Campbell Tartans are led by CFC 100 senior free safety Payton Hall. Keep your eyes on Hall's ability to recognize plays. He closes to the ball quickly and creates nightmares for the opposing teams' offense. Campbell also has the edge in the kicking game and on offense, as kicker, punter and receiver Kris Calcutt has shown the ability to play against anyone and everyone on defense. He has big play potential and has been difficult to keep off the stats sheet. Balfour is coming off a bye week and has had plenty of time to prepare for this game. To win this one, they will need a very strong performance from QB Austin Halstead. If they come out one dimensional with the run, the Campbell defense will have no problem posting impressive numbers.
PREDICTION:  Campbell Tartans 35, Balfour Redmen 7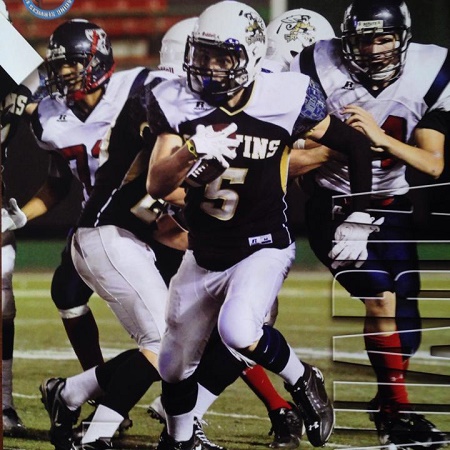 Sheldon-Williams Spartans (1-1-1) vs. Greenall Griffins (2-1)
Can AAA teams compete with AAAA teams? You bet! Greenall has proven so earlier this season and will be looking to do it again against Sheldon-Williams. Led by receiver, returner and all-around phenomenal athlete Tanner Zaharia, the big plays in this game will be key for Greenall. Don't count Sheldon-Williams out, as they aren't scared to play their big boys both ways and have proven to be able to win the battle at the line of scrimmage. This is the game of the week.
PREDICTION:  Greenall Griffins 21, Sheldon-Williams Spartans 20
SASKATOON SECONDARY SCHOOL ATHLETIC DIRECTORATE (SSSAD):
CFC#32 Holy Cross Crusaders (3-0) vs. St. Joseph Guardians (3-0)
Two good teams face each other in what should be a fun matchup to watch. The three-time defending champions, CFC#32 Holy Cross Crusaders, have lost many starters from last year including their QB. But 1st year starter Tyler Hermann has been picking up the role in great fashion. The pivot has helped the Crusaders put up a massive 164 points in 3 games this year. The offense is anchored around RB Josh Ewanchina and REC Anthony Ferwerda. Expect Ewanchina to rack up a lot of yards in this one, especially if they use him behind offensive guard Austin Tyson, who leads the Crusaders' offensive line. The Guardians are off to a strong start already amassing 3 wins (their total number of wins in the entire 2013 campaign). This team is on the rise and there is no better test for them than this week's challenge. The exciting battle will be in the trenches – can Eric Martins (DL) cause enough havoc to disrupt Ewanchina and Hermann? We'll find out. Expect Sam Hodson or Dawson Dunlop to be matched-up versus Ferwerda, as they are the key defensive backs for the Guardians.
PREDICTION:  Holy Cross Crusaders 38, St Joseph Guardians 19
MOOSE JAW HIGH SCHOOL FOOTBALL LEAGUE (MJHSFL):
Moose Jaw Vanier (0-2) vs. Moose Jaw Peacock (2-0)
On paper it would be easy to say that Moose Jaw Peacock are favourites for this game – and they are. However,  don't count Moose Jaw Vanier out just yet. They saw their 28-7 lead over Swift Current evaporate, but they are capable of scoring and capitalizing on opportunities. If they can put an entire game together, they have a real chance of coming away with the win. On the other hand, Moose Jaw Peacock have already shown the ability to play in close games, by winning their season opener with a goal line stand. CFC 100 and Peacock's QB Sawyer Buettner should have enough tricks up his sleeve to escape away with this win. But count on this one to be closer than it should.
PREDICTION: Moose Jaw Vanier 23 – Moose Jaw Peacock 28
Advocating for football prospects one story at a time.