CFC#36 College Jean-Eudes Eagles pulled off a major upset to get the RSEQ Juvenile Playoffs rolling this past weekend.
Charles-Olivier Lavigne completed 25 passes in 33 attempts as the Eagles got past  CFC#37  Seminaire Saint-Francois Blizzard 33-30 to advance to the semi-finals  (NOTE:  The Blizzard were CFC#6 one week ago)
Benjamin DeTilly tallied a major and amassed 143 yards on nine receptions.  Gabriel Drapeau-Zgoralski, Francois Laramee and Julien Boudreau-Plouffe each scored a touchdown in the win.
Youssef Kaced led the Eagles defense with 11 tackles.  Jeffrey Therassan and Maxime Barbeau-Di Meo each caught an interception. Jeremie Lavallee caught a sack.
The Eagles move on to battle CFC#7 Cure Antoine Labelle Wolves in one of the semi-final matchups this Saturday at 1:00pm.
Here are the rest of the results from RSEQ Juvenile Division 1 semi-final action: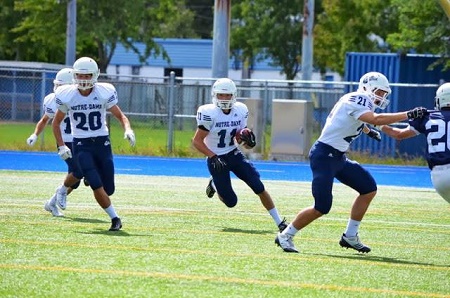 CFC#6 COLLEGE NOTRE DAME CACTUS 38, TRIOLET HARFANGS 6:
Stats not available at press time
CFC#42 ACADEMIE LES ESTACADES 21, SAINT-JEAN EUDES CONDORS 19:
At Saint Jean Eudes, the visiting CFC#42 Academie Les Estacades moved on the semi-final round after narrowly escaping with a 21-19 win over the hosts Condors.
Alexis Daigneault scored a touchdown and rushed for 95 yards on 15 carries.  Melvin Piche also tallied a major while Simon Torres caught an interception and ran into the end zone for another score.
On defense, Uriel-Emmanuel Kalenga was a beast as he registered 10.5 tackles.  Kelsey Fontaine recorded two sacks while Lucas Iaonne added one.
Les Estacades will visit CFC#6 College Notre Dame Cactus on Saturday evening for their semi-final.  Kickoff is 6:00pm
Advocating for football prospects one story at a time.