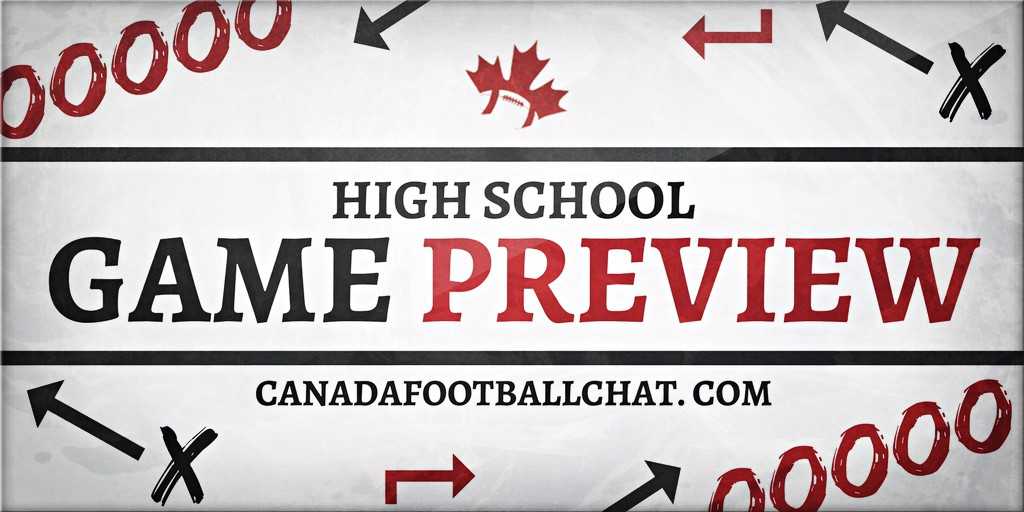 The Juvenile division 1 and 1B football divisions are now in full swing in the RSEQ in Quebec.
DIVISION 1
Armand Corbeil vs Triolet
Armand-Corbeil Scorpions have made the jump to the D1 and is on a learning curve coming up short in week one and suffering their worst loss in a few years. Armand-Corbeil looks to get on the right track this week against Triolet. If they are to get on that train, veteran QB Mathew Landry needs to find his receivers in the endzone.  Scorpions have a solid program, they need to show they can handle the step up.
The 1-1 Triolet look to QB Yanik Daigle to lead the way. On offence and Emerik Charron to lead the defence. Triolet look to show the scorpions they are a tough team despite being a middle of the pack team in the division. NO one want to lose to the new kid on the block
Armand Corbeil should take this one.
CFC50 Séminaire Saint-François vs CFC50 Collège Charles-Lemoyne
Someone will feel the first loss of the year. We don't think it will be SSF.  Leading the way for the Blizzard, is RB Thomas Desrosiers where in two games he has had 30 carriers for 243 yards and 3 touchdowns, but the story with SSF is the defence. Pressure is the name of the game – 4 sacks, 17 tackles for loss…they will hunt you down.
If CCL is to step up as a premier team in this division this is their chance. QB Kaelan Trepanier has upped his game passing for 359 yards and 4 touchdowns in 2 games. He has the luxury of a well balanced offence and RB Noah Gravel has capitalized on 39 carries for 237 yards and 2 touchdowns.
Expect this game to burn the house down and be right to the wire but SSF should come out victorious.
Academie Saint-Louis vs CFC50 Cure-Antoine-Labelle
It will be very easy to get stuck in the middle of this division – bottle necked. Every point allowed and not allowed could come down to the final standings – which could be way too early to say. Saint-Louis wants to break the winless record and in doing so will, keep them in the middle of this pack. Cure-Antoine-Labelle definitely doesn't want to be stuck in the bottle neck and needs to get some separation.
Roger-Comtois vs CFC50 Saint-Jean-Eudes
Honestly there is not much to say here. Saint-Jean-Eudes is just too strong of a program for Roger-Comtois. We don't expect much of a match up here. SJE blew out Armand-Corbeil last week and will likely do the same this week. If Roger-Comtois could be the David versus Goliath if they are to pull out a win. They need maximum effort from every player on the team not just a few key players.
CFC50 College Notre Dame vs CFC50 College Jean Eudes
This is a very even match up however the edge has to be given to College Jean Eudes and their defence. its stingy defence that doesn't want to give an inch let alone a point but stiffer competition is coming. Notre Dame came up just short versus SJE and their offence is primed and ready. This is the coin toss flip choice of the week.
DIVISION 1B
For the first time teams in this division are being ranked on the CFC25  "SMALL SCHOOL" RANKINGS week 1 provided a few shockers. Here we are in week two so lets see how they match up.
CFC25 College De Levis vs CFC25 College Bourget
Both teams are coming of a good win last week . However Bourget first time in D1b hit the ground and the new CFC25 Small School rankings running. Bourget exploded on the scene last week QB Simon Boudreault threw for 341 yards and 2 tds. Though the challenge will be more difficult this week CDL feels they have something to prove and are playing with a chip on their shoulder. Now will that chip be knocked off or not?
Flip the coin here folks as it will be anyone's game and a shootout.
CFC25 Seminare Saint-Joseph vs Poly Deux Montagnes
SSJ had a hard fought game last week squeaking out a victory by two points. SSJ has always been a strong program which makes no surprise when they cracked the top 5 in the CFC25 Small School rankings. They need to stay focused and stay strong if they are to hand PDM another loss.
The win-less Deux Montagnes Centurions, despite this team not having a win since the 2016 season, they are a well balanced football team. Size and speed on both sides of the ball. Once this team gets things roiling watch out.  To go out on a limb and call PDM winning this game is a long shot, so better stay close…. SSJ Vert et OR.
College Laval vs Academie les Estacades
College Laval defeated PDM last week by a marginal score, Estacades offence lite up the score board against CDL , It looks like they will do the same this week. In order to stay in this game the Laval offence better have QB Victor Charland light it up. Coming off a 220 yard 2 td game he will need to be at his best and keep his offence on target .
As much of a shoot out this is going to be expect Estacades to come out with a win.
E. Sec Pointe Levy  vs CFC25 E.Sec Saint Stanislas
St. Stanislas came up short last week call it what you will untimely fumble, bad holding calls this is all part of the game and came out on the short end of the stick. However The run attack of St. Stanislas is one to be reckoned with, having such depth in the backfield it's a pick your poison, Jeremi Auger ,Wembi Leba racked up over 300 yards combined (would have been over 400 but errors cost them) . Don't expect St. Stanislas to come out head down over last weeks loss. Last year they lost the first game and didn't look back winning the championship.
If Pointe Levy has a chance to win this game they need to control the ball and clock and keep it out of the high power St. Stanislas offence. Expect Mikael Aubin to get a majority of the carriers .
Expect St. Stanislas to literally RUN away with this one.
Advocating for football prospects one story at a time.