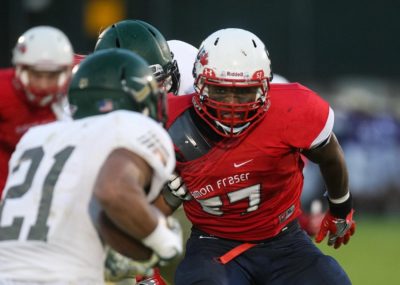 Burnaby, BC – Simon Fraser University linebacker Jordan Herdman has accepted an invitation to attend rookie mini-camp with the NFL Kansas City Chiefs in order to showcase his skills in an effort to secure an NFL contract.
 Herdman went undrafted through seven rounds of the NFL Draft that concluded Saturday. The two-time Great Northwest Athletic Conference Defensive Player of the Year is one of the top players available for the CFL Draft which will take place on May 7, 2017.
 Following his senior season, Herdman was the first SFU player to participate in the Reese's Senior Bowl. He was an AFCA Division II All-America Second Team and nominated for the Cliff Harris award as the best defensive player in NCAA Division II Football.
 The 6-2, 235-pound linebacker re-wrote the Great Northwest Athletic Conference record book during his career, claiming the all-time marks in tackles (428) and assisted tackles (223). Herdman also holds the GNAC single game records with 26 tackles and 17 solo stops.
 Herdman was GNAC Defensive Player of the Year in 2014 and 2015.
 In 2016, Herdman ranked ninth in Division II with an average of 11.3 tackles per game. Finishing with a conference-leading 113 total tackles (56 solo, 57 assisted), Herdman fell three solo tackles shy of equaling the GNAC career record of 208.
 Herdman was First Team All-Conference and West Region three straight years and he was named to the GNAC All-Academic Team with a 3.90 GPA as a biomedical physiology major three straight years.
 Following his spectacular 2015 junior season, Herdman was named to the 2015 Don Hansen NCAA Division II All-America Second Team. Herdman led the conference and ranked fifth in Division II with an average of 14.8 tackles per game. He also led the league and was third nationally with eight solo tackles per game. Herdman collected 15 or more tackles in four of the Clan's games.
 Jordan has a twin brother, Justin, who is an outside linebacker at SFU. Justin is two minutes younger than Jordan. Both brothers are planning to attend medical school after trying professional football.
 Jordan's and Justin's father, James Reed, is a former NFL and CFL player.
Source: Steve Frost, SFU Clan
Advocating for football prospects one story at a time.