In less than a span of a week, #CFC100 Sage Doxtater has received his third NCAA Division 1 offer.
On Monday night, the 6'7, 305 pound offensive lineman from Glencoe, Ontario announced on twitter that he was offered by Football Championship Subdivision (FCS) team, Stony Brook Seawolves, who compete in the Colonial Athletic Association (CAA):
Honoured to receive my 3rd offer from Stony Brook!

— Sage Doxtater (@DoxtaterSage92) November 30, 2015
Last Tuesday, Doxtater received his second offer from FBS team, New Mexico Aggies.  Back in June, FBS team Illinois State Redbirds gave the offensive lineman his first offer.
In a previous interview with CFC, Doxtater said there was interest from multiple NCAA schools including Oregon, Florida State and Eastern Michigan, Florida, Central Florida, Toledo, Buffalo, West Virginia, Wake Forest, UCONN, Nevada, North Dakota, Ball State and Texas Tech.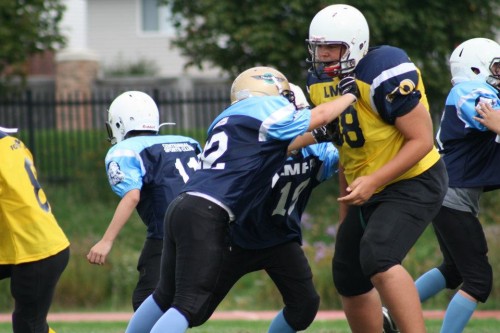 Recently, the Ontario standout completed his season with Canada Prep Academy Raiders.  Previously, he has suited up for the London Jr. Mustangs of the Ontario Varsity Football League (OVFL) where he was selected as a league All-Star in 2014. Furthermore, he played in the London Minor Football Association (LMFA).
Doxtater was a participant in the 2015 Ontario Prospect Challenge (OPC). He is also ranked on the #CFC100 CLASS 2016 RANKINGS.
The countdown has begun for the #CFC100 recruit as he told the site the make a decision by the fall as he will be graduating in January 2016 and move on to university/college football soon after.
Advocating for football prospects one story at a time.