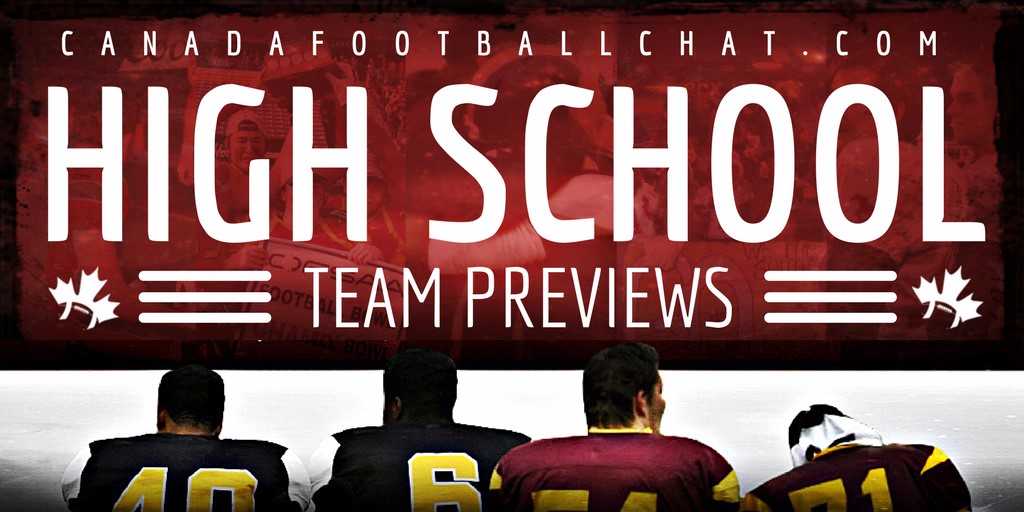 Leading up to the start of the high school season, we will be posting high school/Cégep team previews from June to September as part of our comprehensive season coverage. Canadafootballchat.com (CFC) has tapped into our network of coaches to produce team previews for the 2017 season. The #CFCteampreviews highlight top returning players, team strengths, and toughest opponents.
CFC also will bring you the national high school football rankings known as the #CFC50. Last year's final rankings were the most controversial to date…and we heard about it. Whether you agree or disagree, we love hearing from you. For an explanation of how the rankings are computed, please scroll to the bottom of the page.
The 2016 season was a tough one to say the least for Les Condors du Cégep Beauce-Appalaches, who had a 0-9 record, but the team is ready to put the dreary season behind them and focus on making the most out of the new year.
Guillaume Blouin, the team's third-year head coach, will be looking to keep his young team on track. He said that last year, the majority of the players were in the first year. The plan for this season? "We will start the games with much more confidence," he said. "Battle every game, be competitive every game and try and reach the playoffs."
Despite the winless season, Blouin was impressed with how the players conducted themselves. He described the team as hardworking. "Like the Beaucerons (dog breed), the players on our team are tireless workers who never give up. It doesn't matter the score on the board."
Although 29 players are returning, Les Condors will be without two of their top offensive linemen. Andy Genois will be suited up with the Laval Rouge et Or in 2017, while Julien Leblanc will be playing for the Sherbrooke Vert & Or. The team is seeking to replace them with Christopher Fortin and Samuel Faucher, who both won gold medals with Team Québec at this year's Football Canada Cup.
"Christopher Fortin (is a) big offensive tackle at 6'5, 270lbs. He is entering his first season at the collegial level and he already turns heads," Blouin said.
Rookie defensive back Alec Chiche-Desroches will be replacing their defensive back star, Murura Malinda. Blouin said that Chiche-Desroches greatly impressed the coaches during the winter practices and camps.
Two other names to keep an eye on the defense include defensive tackle Dominic Poulin and linebacker David Dallaire. Poulin, who was formerly a centre, was switched to the defense because "he will add muscle and speed on the defensive front," Blouin said.
As for Dallaire, Blouin said he is a "very physical linebacker who is excellent at stopping the ground game. He was very good last season in his recruiting season. We are very eager to see his development."
Offensively, receiver Nathan Bolduc will be looking to make some noise. Blouin described him as being very versatile with great hands. He also acts as the team's punter, which Blouin said he excels at and has precision in his kicks.
"Bolduc is dangerous because of his speed, but he also allows the team to gain precious points thanks to his place kicks," Blouin added. Over the summer, Bolduc participated in kicking clinics in the United States and Canada, which Blouin said will take his game to the next level.
Jeremy Desmeules will be entering 2017 as the starting quarterback. "He is a very intelligent and always calm player," Blouin said. "He passes with precision and he throws fast, therefore allowing a rhythmic and sustained aerial game."
Injuries are detrimental to any football team. Les Condors are familiar with this, having lost running back Vincent Houle last season. Blouin said the team waited long for him because he is both powerful and fast.
This season, Blouin is hoping to keep his team healthy, especially the offensive line. He said it is so the team can be as energetic as possible during the games.
"In the collégial D2 league, all teams are competitive," Blouin said. "All season is crucial in order to reach the playoffs. There are a lot of games."
Les Condors du Cégep Beauce-Appalaches (RSEQ Collégial Division 2)
Head Coach: Gyillaume Blouin (3rd year HC)
2016 Record: 0-9
Key Losses: OL Andy Genois, OL Julien Leblanc
"X" Factor: REC/P Nathan Bolduc
If you would like your high school/cégep team previewed, please contact 

[email protected]

.
CLICK HERE FOR 2016 FINAL CFC50 RANKINGS
How is the #CFC50 evaluated?
The #CFC50 rankings considers all conference and non-conference games (in Canada and the United States) while scrimmages are not evaluated (there is no such thing as an exhibition game – those are non-conference games).
Leagues included in rankings: British Columbia AAA Varsity, Alberta Tier One, Saskatchewan 12-man 4A, Manitoba AAA Varsity, Ontario OFSAA Bowl AAA qualified teams, Quebec Juvenile Division 1, New Brunswick 12-man, Nova Scotia Tier 1.
The #CFC50 is a relative ranking that considers top tier leagues from all eight high school playing provinces (minimum one team represented from each province).  The CFC Scouting Bureau consists of twenty-seven CFC Reporters, CFC Scouts, and also selected local reporters and scouts who submit local ranking results on a weekly basis.  This is the eight year that Canadafootballchat.com has ranked the top high school teams in Canada.
Advocating for football prospects one story at a time.