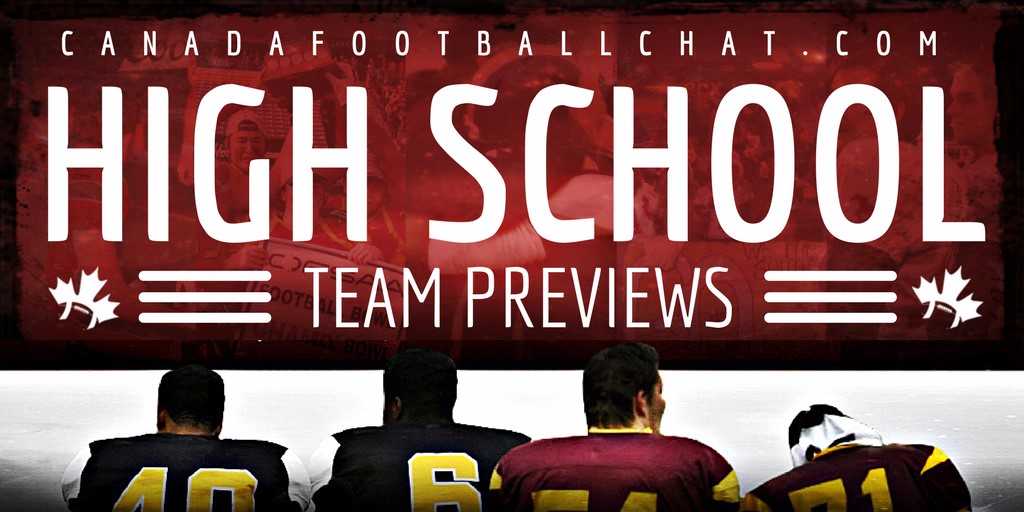 Leading up to the start of the high school season, we will be posting high school team previews from June to September as part of our comprehensive season coverage. Canadafootballchat.com (CFC) has tapped into our network of coaches to produce high school team previews for the 2017 season. The #CFCteampreviews highlight top returning players, team strengths, and toughest opponents.
CFC also will bring you the national high school football rankings known as the #CFC50. Last year's final rankings were the most controversial to date…and we heard about it. Whether you agree or disagree, we love hearing from you. For an explanation of how the rankings are computed, please scroll to the bottom of the page.
Valleyview Vikings (BCHSFA – AA Okanagan Conf., Kamloops, BC)
It may be an after thought or not even a thought when it comes to high school football across the country. But for some programs, the struggle is very real with barely surviving each year to field a team. For the Valleyview Vikings out of Kamloops, British Columbia, this is the reality of their football program.
"Our goal is to field a team that will complete all 9 games this season," says associate head coach, Giuseppe Liberatore. Liberatore is his fifth season with the vikings, but has been coaching for 31 years. This wealth of knowledge is a privilege for all the young players looking to work under this coaching staff as they amass 54 years of experience just from three of their coaches. 
However, with hockey being the star of the show with their own academy at Valleyview, and basketball now a year-round sport, football is not a popular option at the school.
"It is a constant struggle to field a team, and this year looks like to be one of the down years. We only have 14 players (Grade 9 to 12) at this time, although we have another 11 returning players who, at this time, have indicated they would rather not play next year," explains Coach Liberatore. "If we can convince these players to return, we may be able to field a team."
The Vikings lose all-conference lineman, Myles Everett and Jordan Smith, and only lost five players to graduation.
With seven players confirmed to be returning on offense and five on defense, coach is hopeful that they will be on the field come the fall. Playing in the varsity AA – Okanagan conference, they have some tough competition from the interior of BC.
"We expect our conference to be extremely competitive," he says. "Vernon Secondary is the team to beat as they are one of the best programes in the Province. Clarence Fulton is a team that may surprise people. I expect them to be a strong team that will compete for a playoff spot."
While running a Spread offense that emphasizes the run, they will be utilizing a Nickel package with either a 4-2 or 3-3 front on defense.
It will be up to quarterback Levi Mierau, who is a grade 10, to get this team together and put points on the board. Mierau was the backup last year on the JV team, but due to injuries and player departures, ended up as the varsity starter in their last game last season.
While Mierau is most looking forward to playing this year and going on trips with his team, he said that his personal expectations are to play the best he can and to "stretch" himself to improve each week. He also believes that Vernon Secondary will be the team that will give them fitz this season.
"I think our hardest opponent will probably be Vernon secondary because they are a good team up here and have beat us soundly in the past."
The team will also be waiting on returning running back, Evan Guizzo who was their team MVP and All-conference performer to be back, although he has not committed to the next season due to basketball commitments.

Offensive lineman, Dylan Campbell, another grade 12 player, will be relied heavily on to provide leadership on this young and developing team. This will be his third year on the varsity team and is looking forward to the season starting.
"I'm most looking forward to getting to start another season with my team and play to the best of our abilities and more importantly play some football," he says. "This up coming season, the team will be facing some teams we've never had the privilege of playing, so we're getting our practice in and we hope we can play hard and end with a good game."
Two other players on defense to keep your eyes on are "the twins", Cody and Kyle Watt. Both of these grade 12 safeties are leaders on both sides of the ball and will bring a "hard hitting style" to the safety position, according to coach.
"They are returning starters who will be playing on the Varsity for a 3rd year," he says. 
Kyle Watt says that he is also looking forward to having a great season, and making it to the playoffs.
"I'm looking forward to the season and getting back into pads and doing some hitting and going on road trips with the team," he says. "My team's toughest opponent will most likely be Vernon Secondary, they have a great defence and a great runningback." 
While Coach Liberatore doesn't mention any one player being the "X" factor for this team, he says that all players who have not yet come out to play are the "X" factors. They will gladly take any and all kids looking to get into a new sport, or come back to football.
That's the great thing about football, you don't need any pre-existing skill or knowledge to play. Just some great attitude, work ethic, and a willingness to be a part of what will be considered some of the best years of your life.  There is no other sport that can boast this.
And while the Vikings are struggling to convince others of this truth, "resilient" is how Coach Liberatore describes the athletes, and coaches that do buy in and that have made Valleyview their football family.
"It is always a struggle for us to field a team, yet we manage to do so."
Valleyview Vikings (BCHSFA – AA Okanagan Conf., Kamloops, BC)
Head Coach(s): Associate Head Coaches Giuseppe Liberatore (5 the year/3rd year – 31 years coaching experience);  Darren Watt (3rd Year/1st year – 8 years coaching experience); Dominic Dimaulo (6th Year/3rd Year – 15 years coaching experience)
#CFC50 Ranking: n/a
2016 Record: 2-4, 2 Ft
Key Returnees: Evan Guizzo, Cody and Kyle Watt, Dylan Campbell, Jagger Reid, Levi Mierau
Key Losses: All Conference lineman Myles Everett and Jordan Smith
Number of returning starters – Offense: 7
Number of returning starters – Defense: 5
"X" Factor: any and all players
If you would like your high school team previewed, please contact 

[email protected]

.
CLICK HERE FOR 2016 FINAL CFC50 RANKINGS
How is the #CFC50 evaluated?
The #CFC50 rankings considers all conference and non-conference games (in Canada and the United States) while scrimmages are not evaluated (there is no such thing as an exhibition game – those are non-conference games).
Leagues included in rankings: British Columbia AAA Varsity, Alberta Tier One, Saskatchewan 12-man 4A, Manitoba AAA Varsity, Ontario OFSAA Bowl AAA qualified teams, Quebec Juvenile Division 1, New Brunswick 12-man, Nova Scotia Tier 1.
The #CFC50 is a relative ranking that considers top tier leagues from all eight high school playing provinces (minimum one team represented from each province).  The CFC Scouting Bureau consists of CFC Reporters, CFC Scouts, and also selected local reporters and scouts who submit local ranking results on a weekly basis.  This is the eighth year that Canadafootballchat.com has ranked the top high school teams in Canada.
Join the conversation online #CFC50 #CFCteampreviews

Advocating for football prospects one story at a time.