Leading up to the start of the high school season, we will be posting high school/cegep team previews from June to September as part of our comprehensive season coverage. Canadafootballchat.com (CFC) has tapped into our network of coaches to produce high school team previews for the 2017 season. The #CFCteampreviews highlight top returning players, team strengths, and toughest opponents.
CFC also will bring you the national high school football rankings known as the #CFC50. Last year's final rankings were the most controversial to date…and we heard about it. Whether you agree or disagree, we love hearing from you. For an explanation of how the rankings are computed, please scroll to the bottom of the page.
The last time the Leo Hayes Lions played the Tantramar Titans was  November 2016, at home, in the final. Both teams came in 8-0, but the visiting Titans were the only team to finish the season 'perfect'.
On September 8, the Lions host the Titans, again with the same record, except this time 0-0.
Lions Head Coach Victor Sturgeon isn't preparing, nor talking of a 'rematch', instead he is preparing for the opener the same as any other game, one week at a time.
"I'm looking forward to week one, and then every game after that. It's high school, so teams change year to year. We want to get on the field and play some smart, physical ball, then improve week to week."
The opener will be Sturgeon's first as the team's head coach, after serving as the offensive coordinator the past seven seasons. Shane Rollins is inheriting an offense which last year produced over 3000 yards total offence, 1600 of which thru the air.
The Lion's camp will feature a QB competition between two former rivals: Sam Phillips and new transfer Jonah Rawlines. Phillips started the past two seasons as the Lions JV signal caller so is familiar with the program. However,Rollins also enters camp with two years JV QB experience with the areas other program; the Fredericton High Black Kats.
Both sophomores will have to show their ability to perform as a reliable passer, and will have the proven hands of three returning WR's: Scott Parry, Matt Lefleur and Damon Hempell. All three are described as prototypical WR's; tall, athletic and basketball players.
"Matt and Scott could be our top guys, we use Matt in a lot of different spots because he's so versatile. Scott came out of nowhere last year and had 35 TD's, he's taken to football, I'm excited to see how he develops."
This year the Lions are looking to run the ball more often to balance their aggressive aerial attack. One of the reasons for this shift in play calling was the loss of QB Hunter Sturgeon. Hunter ended 2016 with 27 TD passes and a 63% completion percentage, averaging 11 yards per attempt.
"Hunter was the best QB I've coached in 8 years so we had a good passing game, losing him hurts. We have the potential to have a good passing game this year, but breaking in a new QB you want to support him with a balanced running game."
Another loss the team suffered was Justin Copperthwate, who hurt the Titan's in the final with 180 receiving yards.
The addition of grade 11 Thomas Shepard will be a major boost for the teams desire to run the ball more. An explosively fast runner, Shepard is expected to carry the bulk of the run load for the team.
"Thomas is a home run threat when he touches the ball, he also plays DB and will be a big part of our kick return game"
Paving the way for Shepard and protecting the future passer will fall on the shoulders of returning Center Noah Trebble and 6'4, 290lbs Harley Burk. Burke who also plays DL is athletic enough for coach Sturgeon to slate as his potential LT, an essential piece of the teams passing game.
Defensively, the Lions plan on continuing their three four base with schemes adjusted to best utilize this years starters. Sturgeon plans on pressuring other teams in hopes of putting them in bad situations, ultimately crating turn overs.
"Defensively we want to be fundamentally sound, we have to make sure our guys know their jobs, and that they're in the right place to execute game plans"
Creating pressure up front on the DL will be Harley Burke and Dan Hovey. A senior, Hovey only came to football last year, but established himself as athletic and explosive. Having missed the playoffs to injury, coach Sturgeon is looking forward to seeing how much he will develop while healthy. player who missed the play offs due to injury. Hovey and Burke are replacing the void left by Brendan Seymour, and are expected to emerge as leaders among the linemen.
Alec Ferris, the Lions senior linebacker is expected to be the defensive leader. At 6'2 and 265lbs, Ferris is quick and vicious in collisions.
"Alec is a good physical specimen. He has a huge body and moves like a natural athlete, he's just starting to understand how good he can be, he has all the physical talent in the world, if he can improve his techniques, he can be one of the top players in the province"
The Lions secondary has four seniors returning from last season. Tyler Hanson and dual threats: Matt Le Fleur and Thomas Shepard are expected to play both ways. Austin Bateman who had some health issues in 2016 is returning healthy. Sturgeon hopes with Bateman's speed and athleticism that he will make an impact on the field.
Sturgeon also looks to the addition of Dominique Hall and Jake Hausman to round out his defensive unit.
The Lions special teams unit also suffered a key loss with the graduation of their kicker Alex Brown. Sturgeon has marked Will Hood as a potential replacement, but doesn't know if the JV specialist is playing in the fall. Center Noah Treble will also serve as the teams long snapper.
Despite the athletes, the Lions have to work with Coach Sturgeon believes the Lions program is beginning to build a reputation as a "hard nosed, physical, fast and explosive team with a tradition of our best players being our hardest workers both on and off the field".
While the Lions coaches were forecasting this seasons line up, players have been expected to be preparing as well. The Lions recently implemented an off season weight training program, which thus far has had a decent buy in from the players. Sturgeon knows that teaching his athletes how to put themselves in the best position throughout the game will give them an advantage, and he hopes he is building a culture where football IQ is as important as deep squats.
"We put a premium on teaching and having players study film to be prepared each week. By developing these good habits it helps them not just too see opponents tendencies, but it helps them understand what they are seeing on the field."
With the season quickly approaching, Sturgeon is confident that even with the key losses the remaining group forms a nucleus solid enough to be able to compete at a high level. Motivated, not vengeful about the loss to Tantramar, Sturgeon is aware his team didn't finish what they started last year, and is focused on finishing the job this season.
"Our goal is to be playing our best ball at the end of the year by improving from day one of camp. If you do that the results will take care of themselves and by the end of October we'll have a chance of being in the playoffs."
Leo Hayes Lions (NBHSFL – 12-man, Fredericton, NB)
Head Coach: Victor Sturgeon
#CFC50 Ranking: NR
2016 Record: 8-0 (lost to CFC50 Tantramar in the Finals)
Key Returnees: QB Sam Phillips, QB Jonah Rawlines, REC Scott Parry, REC Matt Lefleur, REC Damon Hempell, RB Thomas Shepard, OL Noah Trebble, DL Harley Burk, DL Dan Hovey, LB Alec Ferris, Tyler Hanson, Matt Le Fleur, Thomas Shepard, Austin Bateman, Dominique Hall, Jake Hausman, Will Hood
Key Losses: QB Hunter Sturgeon, Justin Copperthwate, K Alex Brown
Number of Returning Starters: n/a
"X" Factor: n/a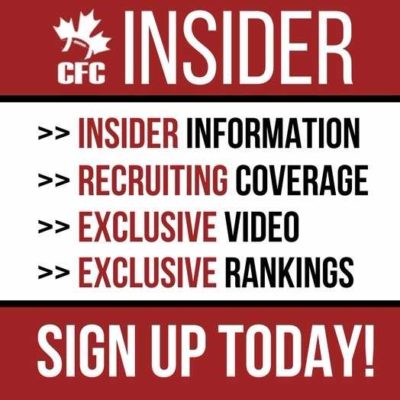 If you would like your high school team previewed, please contact 

[email protected]

.
CLICK HERE FOR 2016 FINAL CFC50 RANKINGS
How is the #CFC50 evaluated?
The #CFC50 rankings considers all conference and non-conference games (in Canada and the United States) while scrimmages are not evaluated (there is no such thing as an exhibition game – those are non-conference games).
Leagues included in rankings: British Columbia AAA Varsity, Alberta Tier One, Saskatchewan 12-man 4A, Manitoba AAA Varsity, Ontario OFSAA Bowl AAA qualified teams, Quebec Juvenile Division 1, New Brunswick 12-man, Nova Scotia Tier 1.
The #CFC50 is a relative ranking that considers top tier leagues from all eight high school playing provinces (minimum one team represented from each province). The CFC Scouting Bureau consists of CFC Reporters, CFC Scouts, and also selected local reporters and scouts who submit local ranking results on a weekly basis. This is the eighth year that Canadafootballchat.com has ranked the top high school teams in Canada.
Advocating for football prospects one story at a time.