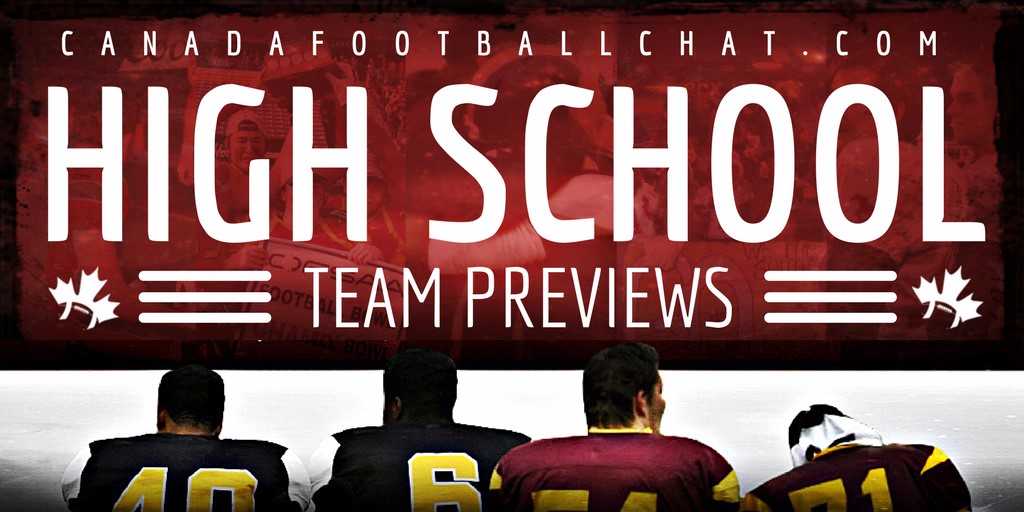 Leading up to the start of the high school season, we will be posting high school team previews from June to September as part of our comprehensive season coverage. Canadafootballchat.com (CFC) has tapped into our network of coaches to produce high school team previews for the 2017 season. The previews highlight top returning players, team strengths, and toughest opponents.
CFC also will bring you the national high school football rankings known as the #CFC50. Last year's final rankings were the most controversial to date… and we heard about it. Whether you agree or disagree, we love hearing from you. For an explanation of how the rankings are computed, please scroll to the bottom of the page.
Moncton Purple Knights (NBHSFL – 12 Man Division, Moncton, NB)
The last two seasons did not end the way Moncton High Purple Knights head coach, John Allenach, wanted. Aside from no new championship banners since the 2014, Coach Allenach is displeased with how his team competed against the Provinces top programs.
"We haven't played well against the top three teams the last two years. so we're being better prepared to compete with them. Historically they're the best in our Conference, and thru better preparation, and better game plans we're hoping to change the win loss column. With crystal focus, our kids will know what they're facing. You can't underestimate anyone, but with these teams there shouldn't be any surprises to how good they are"
Moncton High plays in New Brunswick's Eastern Conference, where indeed power house programs: Riverview Royals, Harrison Trimble Trojans and CFC50 ranked Tantramar Titans have reigned supreme the last two years.
To turn this tide and get wins against these programs, the Knight's coaching staff have been working with players on the finite things like footwork and technique. They feel that by focusing on the details and striving for excellence, that the bigger picture will present itself.
Not only do the Knights encourage this approach to football, but to all aspects of their players lives. From their studies or other responsibilities, players are reminded to focus on the details to achieve perfection. This has carried over to the schools "Purple Steel" program. Purple Steel is a voluntary activity, open to all student athletes that teaches traditional Olympic lifts.
The program was implemented 5 years ago after the Knights lost in a should have won final against the Fredericton Black Cats.
"The Cats deserved the win that day. With that loss we had to find a way to have the kids buy in more and be more invested, so created the purple steel program.
The program has recently enlisted the help of University de Moncton Kinesiology Professor, Dr. Michelle Johnson, who provides coaching on lifting form and technique. Not surprisingly the team has noticed the programs benefits by way of injury prevention and overall performance of all it's participants.
Coach Allenach is pleased with the progress he's seen in his team since the programs inception: "We demand a lot, we push them to prepare to play football, so over last many years, year five, the program is at a very commanding level, and the kids are improving through participation and commitment."
As with all great coaches, Allenach understands that the game is just as much about emotional preparation as physical, and with team meetings and film study has noticed a jump in his players football IQ.
"I'm finding now we're having really great, intelligent conversations with our players about football."
The Knights have no new surprises on offence as they plan on sticking with their mis-direction, wing-T style of play, a system which requires consistent execution of all 12 players on the field.
Thus far, the team has three prospective quarterbacks competing for the signal callers spot. Presently, Chris Kogler is pencilled in to start, with Nik Platis and Brady Newcomb also taking reps at the position.
Knights head coach Allenach is anticipating key roles for his offence from Ben George and Josh Le'Blanc. George is the teams kicker, and aside from a big toe, Coach Allenach also points out his potential as a receiver: "He has fantastic hands, and quietly does his job at a high level".
I reached out to George and asked him what he was looking forward to most this upcoming season and he said, "the thing I'm looking forward to the most is making a statement about Moncton high football. Getting other teams to fear playing against us, and making a name for ourselves." George is looking to get on the recruiting radar this next season and to be a leader and role model for him teammates.
Le'Blanc is a three year veteran at centre, a position he has started in since grade 9. Coach Allenach is excited about his potential this year.
"He's as solid as he's been. The last six months he's matured mentally and physically. He's turned the corner, he's going to be a very physical player."
With emphasis on his hand placement and footwork, Le'Blanc and other linemen will be leading the way for the teams sophomore running back, Kyle Lewis. A runner described by his coach as "a horse".
The 2017 season will be defensive coordinator, Neil Boyce's, second year at the defensive helm. The team viewed last season as a transition year for the players, and coaches to adopt the new defensive systems brought in by Coach Boyce.
"We updated our concepts and feel good about them. Conceptually our kids have a sound package. We're now all speaking the same language, last year some things didn't show up on the field, sometimes it takes time to get the chain on the bike," reflects Coach Allenach while discussing the new defensive scheme.
Coach Allenach is allowing last season and perhaps a portion of this to allow Coach Boyce to put 'his stamp on things" with a defence that is a focused, keyed in system that see's players rallying to the ball.
"I'm into what coach Boyce is selling," reflects Allenach. "I understand how we'll deal with the things we see in our conference, last year we had flaws, after the transition, we feel the kids understand their jobs more clearly."
To make the defence work, coaches are looking for impacts from some key players. Defensive tackle, Nathan Hilcz, is considered by his coaches as being in the top three interior linemen in the province. Keys to him fulfilling his potential, according to his coach, is to "keep him motivated to keep playing at a high level".
Coach Allenach will be looking to defensive end, Jerome Kapingla, to also impact the team's new system.
"Jerome is evolving as a student athlete, and his ability is changing as well. He's been humbled and realized he has to work on his weaknesses," Coach says.
In the secondary, look for big plays from halfback, David-Daniel Pendleton, who started for the team all last season in his freshman year.
Pendleton says he wants to represent the Knights with "pride and honour" and to be the best at his position. He also believes that THRS will be the team to go after.
"Tantramar High School will most likely be our toughest opponent. They are coming into the season being the reigning champions, " he explained. "Tantramar has talent on their roster, but so do we. This upcoming season will be a new one. We will not let their past prevent us from achieving our goals."
The Knights anticipate 52 returning players, and a healthy crop of rookies looking to make the team. Coach Allenach is determined that by cleaning up and perfecting the fundamentals of footwork and blocking his team will have a better chance of making a play off run.
The team lost several seniors this off season, but the loss of Cam Morley and Cole Estabrooks as versatile athletes and battle tested leaders will no doubt impact the team.
He believes the last two seasons his team faced good competition, but feels: "we dug a huge hole for our skilled athletes by not striving for excellence. We were complacent and when faced with good players and well coached teams, the poorer record was a result of that".
George feels that CFC50 Tantramar Regional will be the team to beat again this year.
"TRHS will be our toughest opponent to play, however I think our spring game against them was very successful," said George.
As Moncton High closes its doors to school for the summer, its players and coaches have begun thinking about September. Coach Allenach defines success for his team as "reaching your potential any given year," and he and his players are well aware this can only be achieved as a team, "by doing the work together to win".
Moncton Purple Knights (NBHSFL – 12 Man Division, Moncton, NB)
Head Coach: John Allenach
#CFC50 Ranking: n/a
2016 Record: 3-1-3 (did not make playoffs)
Key Returnees: Chris Kogler (QB), Ben George (K), Josh Le'Blanc (OL), Kyle Lewis (RB), Nathan Hilcz (DT), Jerome Kapingla (DE), David-Daniel Pendleton (HB)
Key Losses: Cam Morley, Cole Estabrooks
Number of returning starters – Offense: n/a
Number of returning starters – Defense: n/a
"X" Factor: n/a
If you would like your high school team previewed, please contact 

[email protected]

.
CLICK HERE FOR 2016 FINAL CFC50 RANKINGS
How is the #CFC50 evaluated?
The #CFC50 rankings considers all conference and non-conference games (in Canada and the United States) while scrimmages are not evaluated (there is no such thing as an exhibition game – those are non-conference games).
Leagues included in rankings: British Columbia AAA Varsity, Alberta Tier One, Saskatchewan 12-man 4A, Manitoba AAA Varsity, Ontario OFSAA Bowl AAA qualified teams, Quebec Juvenile Division 1, New Brunswick 12-man, Nova Scotia Tier 1.
The #CFC50 is a relative ranking that considers top tier leagues from all eight high school playing provinces (minimum one team represented from each province). The CFC Scouting Bureau consists of CFC Reporters, CFC Scouts, and also selected local reporters and scouts who submit local ranking results on a weekly basis. This is the eighth year that Canadafootballchat.com has ranked the top high school teams in Canada.
Join the conversation online #CFC50 #CFCteampreviews

Advocating for football prospects one story at a time.