All four Canadian teams beaten soundly by top programs in Columbus, Balitmore
The CFC10 rankings are school-based programs who do not play in the Canadian public school leagues and/or play most of their games in the United States.
That's a wrap from Dunbar… Panthers 41-0 over Canada Prep!Next Bishop Sullivan (VA) next Friday night at Patterson Park 7pm ???#PantherDen

— SFA Panther Football (@SFAfootball_MD) August 26, 2017
Canada Prep started the season with a shutout loss against St Frances Academy, who features the top defensive end prospect in the 2018 recruiting class, 6'5", 230 lbs. senior Eyabi Anoma and wide receiver Randy Fields, who has committed to West Virginia University.  The Raiders have a week off before traveling to Toledo to face Catholic Central.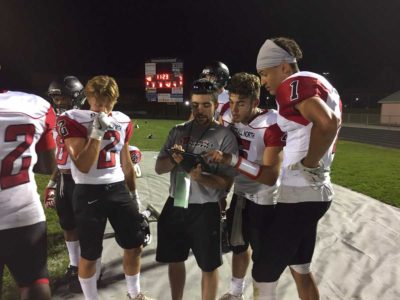 (photos: Clarkson FN Twitter)
Clarkson Football North started the game well however the wheels fell off mid-way through the second quarter as Pickerington North star QB Jimmy Weirick took over.  CFC100 Nick Mardner opened the game with a first play 72-yard pass and catch to put Clarkson up 7-0.  Unfortunately for Clarkson that was the end of their offensive prowess as they were limited to 6 first downs and 146 yards.  Pickerington North did not look back after scoring mid-way through the 2nd quarter to go up 20-7.  Final score was 40-7.  This week Clarkson travels to Cleveland Heights.
St. Joseph Football North competed for the first time in Ohio and were shown just how tough the competition can be in that state.  An efficient Olentangy Liberty pass game could not be matched by St. Joe's, as Liberty QB Mitchell Okuley threw five touchdown passes, four in the first half (16 for 25, 249 yards). Bright spots for St. Joe's included a 66-yard touchdown run by Jayden Simmonds and two tackles for loss by Lake Korte-Moore.  This week St. Joe's travels to Chardon.
RICC played St. Frances de Sales and were down early and often as the Stallions went up 24-0 at end of the first quarter and 44-0 at half.  The Knights offense started the game early with interceptions and fumbles in the first quarter, putting the team back on their heels, never able to recover.  This week RICC travels to Brook Hill.
RK
Last
Team/School
City, Prov
Overall
Last result
Next game
WK
Rec
1
1
Canada Prep Raiders
Welland, ON
0-1
lost 41-0 v. St Frances Acad. (MD)
Toledo Catholic (OH)
2
2
Clarkson Football North
Mississauga, ON
0-1
lost 40-7 v. Pickerington North (OH)
vs. Cleveland Heights (OH)
3
3
Upper Canada College Blues
Toronto, ON
0-0
vs. St. Michael's College
4
4
St. Andrew's College Saints
Aurora, ON
0-0
vs. Huron Heights (ON)
5
5
St Joseph Football North
Ottawa, ON
1-1
lost 49-14 v. Olentangy Liberty (OH)
vs. Chardon (OH)
6
6
St. Michael's College Kerry Blues
Toronto, ON
0-0
vs. UCC
7
7
Royal Imperial Knights
St. Catharines, ON
0-1
lost 50-0 v. St Frances de Sales (OH)
vs. Brook Hill (TX)
8
8
Trinity College Bears
Port Hope, ON
0-0
vs. SAC
PREVIOUS RANKING: Week 1

About #CFC10 Non-Public Rankings:
The #CFC10 Non-Public rankings are high schools that are not public schools and/or who do not play in Canadian public school leagues.  The rankings include and consider all conference and non-conference games.  Non-public teams who play in Canadian public leagues will be considered in the #CFC50 high school rankings.  All players must be enrolled in the public or private school for it to be considered a school team and eligible for these rankings.  Private schools must have a ministry of education identification number to be considered.
All USA scores must be approved by MaxPreps and opponents must be a Varsity team.  Competitions that MaxPreps does not consider games, like scrimmages and showcases, will not be considered.  USA team rankings change as the year progresses and this will be considered and updated in these rankings.  The rankings are published Tuesday mornings (unless holiday).
The Fox 40 Prospect Challenge (FPC) is a series of elite showcase games that feature the best tackle football players from across Canada aged 10-19 years. Tournaments are played in Central Canada (ON) and the West Coast (BC).
PRESS RELEASE (Naming Rights)
CLICK HERE Fox 40 Prospect Challenge (FPC) – Central Canada
CLICK HERE FOR #CFCPFC FACEBOOK PAGE – CENTRAL 
CLICK HERE Fox 40 Prospect Challenge (FPC) – West Coast
CLICK HERE FOR #CFCFPC FACEBOOK PAGE – WEST COAST
GET REGISTERED! GET COACHED! GET RANKED!
Advocating for football prospects one story at a time.