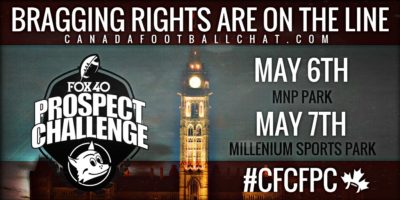 The Fox 40 Prospect Challenge will be wrapping up its extensive all-star matchups this year, with games taking place throughout Sunday May 7th, finally coming to a close after the final bout at 4:05 PM that afternoon. Prior to that however, will be the last Grade 7 age division contest, an engagement between the best players from Eastern Canada and their most formidable opponents hailing from the west coast.
The Head Coach of Team East will be Scott Boxall, a 2016 Coach of the Year nominee and a man with 10 years of coaching experience, with two years already taking part in all-star events that were put on in the past.
"I've been a Head Coach for 5 seasons. The most important lesson i have learned since the beginning is to surround yourself with good coaches and always communicate with your coaches. Good communication is the key to a successful team. I'm definitely a players coach. I listen to my players when they come to me with a suggestion. I have had a bunch of really good coaches that I looked up to and I just want to be like them. I have a lot of knowledge, but I'm always willing to learn new things and new ways to help the kids. As well, the coaching staff we have put together is a bunch of hard working guys that love the game and are willing to sacrifice their time to better these kids " Boxall said.
In terms of what to expect to see when the game rolls around, the head coach has some specific ideas in place to give both sides of his team's game an edge.
"I prefer a little old school 'I' formation – but with a twist. I have been blessed with a really good quarterback that allows me to air it out a lot. As for the defense, I like an aggressive defense that doesn't hold back. My regular defensive coordinator (Adam Boxall) does a great job with that," Boxall added.
An experience had by many a coach participating in the tournament, is the overcoming of obstacles that pop up in even the short amount of time that the teams are given to get themselves ready for their important matchup.
"Weather (has been the biggest obstacle) for sure. I can honestly say last years Ontario Prospect Challenge (OPC) game didn't have the best weather, but we were able to overcome it and pull out the win with less than two minutes to go in the game. Our weakness though, would be just not having enough time to properly get the offence all on the same page for the game. That is something we have to deal with when we only have two practices, " the Head Coach stated.
Despite the lack of practice time, Coach Boxall remains confident in his player's abilities and certain that they will provide an intense game for the Western Canada team this Sunday.
"We're passionate, all of these players love the game and bring 100 per cent every play. Our strength is definitely our defense. When a tackle is made it is not just one player making the tackle, it's five or six players making that tackle. So, we expect to dominate on defense and to control the game on offence. Our goal is to have all the kids enjoy their experience, and win the game of course," Boxall said. "Our focus has been on execution of the plays on offense and quickness off the ball on defense."
The Head Coach is well aware that by no means will it be an easy victory when it comes to these all-star games, but he has faith in his players to pull through when it comes down to crunch time.
"We expect to see well coached athletes that have the same passion and love for the game as we do. As long as we do our jobs we will be successful on Sunday. Our teams should match up really well as we have a lot of great athletes on our side," the Head Coach stated.
Kickoff is at 2:15 PM, EST, MNP Park and the game will be tape delayed.
HEAD COACH: Scott Boxall – Team East
PLAYERS TO WATCH: Justin Shibley (QB), Holden Samper-O'Connor (QB), Aldege Bellefeuille (LB), Ethan Boxall (LB), Hayden Lynds (RB), Nicolas Cerquozzi (SB), Luciano Diaz Padilla (DB), Jeremy Enyeka (RB),  William Bradford (SB), Matthew-Michael Assivero (LB), William Denis (DB), Malcom McDonald (DL)
Advocating for football prospects one story at a time.