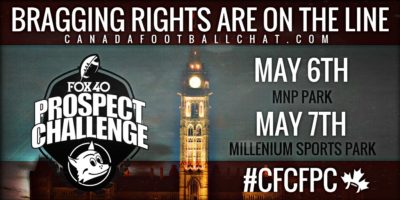 To say the Fox 40 Prospect Challenge (#CFCFPC) is growing is an understatement. This year, we will see two additional provinces participating in the largest Canadian football tournament ever. Both British Columbia and Quebec are sending teams to compete in this years CFCFPC. In addition, we saw an international minor team play in Hamilton this past weekend from Cleveland, Ohio.
That being said, on Sunday, May 7th at 4:05pm, the Grade 8 Team West will play against the Grade 8 Team East at Millennium Sports Park.
To have fun, create new friendships, and learn a whole bunch is what the head coach of Team West is hoping for for the #CFCFPC in Ottawa this weekend.
"Take in as much knowledge that you can and leave better than you came," says head coach Chris Kent. 
Team West has got plenty of speed and strength to pull of the 'W' this weekend along with the eagerness of the players to succeed. Coach Kent believes that this will be a very good matchup and it should be competitive.
"In games of this nature, you tend to work on systems more. You have a short time and you need them to be able to execute," he explained,"We keep a quick pace coaching the players up as we go, so they can improve and benefit from participating in this structure."
With this little time allotted to be able to prepare, pivot, Callum Wither is described as being mentally tough and a good leader. He also has good pose in the pocket and handles the pressure well. "He has good feet with a strong arm to boot," says Coach Kent.
While Wither is calling the shots on offense, he will need all hands on deck so that he can execute the game plan at the tempo they need to. The offensive line needs to give the playmakers time and space so that this game plan is successful.
On defence Coach Kent says, "we need our players to be able to read and react quickly to the ball. They also need to do their jobs and trust their team mates to do theirs."
Some players to keep your eye on on the offensive side of the ball are Tyler Putzu, wide receiver who has soft hands and runs great routes, and runningback Eric Laffin who is a hard, angry runner.
Defensively, look for safety Ethan Eveliegh who is a ball hog and is extremely fast and linebacker Kieth Agar who is a tremendous tackler.
This should be a good game folks, kickoff is at 4:05pm at Millennium Sports Park.
Advocating for football prospects one story at a time.