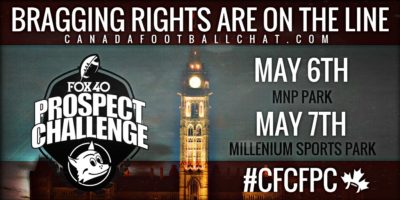 To say the Fox 40 Prospect Challenge (#CFCFPC) is growing is an understatement. This year, we will see two additional provinces participating in the largest Canadian football tournament ever. Both British Columbia and Quebec are sending teams to compete in this years CFCFPC. In addition, we saw an international minor team play in Hamilton this past weekend from Cleveland, Ohio.
On Sunday, May 7th at 8:45AM at the Millennium Sports Park, the Grade 7 Team Central will play against Team Halton-Peel. According to head coach Lawrence Hopper of Team Central, they are up for the challenge.
"I've been coaching football for seven years now, I am currently coaching with the University of Toronto and Toronto Junior Argonauts. This is my third year doing CFC all star circuit," he explained. "Most of my experience lies in coaching older age groups but the last few years coaching these games has given me a good idea of what needs to be done to give the kids an opportunity to both showcase their talent and have an overall positive experience."
While you may think that having a coach with this much experience would be a cake walk, this isn't the case. Coach Lawrence says that as this is his first time as head coach for this team he's already learning the challenges of coaching this age group. He also says that you have to be able to oversee the entire team and make sure that everything is being done correctly and efficiently. With very little time to be with the team as a whole, this becomes more important as game day gets closer.
"With not a lot of time to focus on installing specific schemes for the game we put an emphasis on keeping the playbooks simple and putting our players in the best possible position to be successful," he says. 
He goes on to say, "I feel as though our team has great athleticism as we have multiple guys with great speed that can pull away or close ground fast, and that are dangerous with the ball in their hands. I do wish we had more time to focus on the finer points of the systems, but that's to be expected when there's so little time to prepare."
On offense, Team Central will focus on execution and getting the ball to their athletes out in space. Defensively, though, this team is there to win. Expect them to be flying all over the field making plays.
The three quarterbacks for that will be leading the charge are Mason Lajoie, Kain Holness, and Peter Terzis.
"All three of our quarterbacks will be getting equal playing time but Mason Lajoie will be getting the start as he stood out as a leader during the practices and had a good grasp of the playbook," states Coach Lawerence. "Kain Holness brings athleticism to the position as a dual-threat quarterback who has the ability to make some big plays. Peter Terzis rounds out the group, he showed that he can make the reads and has some impressive accuracy."
Other players to keep your eye on are Omarion Martin, a "special" player according to Lawrence and has the ability to score every time he touches the ball and Eric Lofthouse, a big, physical kid who will play all over the field and will be crucial to Team Central's blocking schemes.
Also look out for Onochi Amuta who stood out during practice as a ballhawk and has great speed and Luca Baharmast who is a good all-around player and will be relied on to make a big impact.
"We are going into this game aiming to come away with the W, you never make the road trip up to Ottawa without that in mind. Goals for the game are simply to execute at a high level and score points on offence, while being physical and giving nothing on defence," says Coach Lawrence. "Halton-Peel is always a strong region with great coaching, I expect them to come out and play very physical and discipline football so we're going to have to bring our A-game if we want to compete."
In the end, Team Central is expecting to match up well with Team Halton-Peel.
"I'm most excited to get out there with the players and finally put what we've been practicing on the field. I know all the kids are looking forward to this game and it should be a great time watching them ball out," finishes Coach Lawrence. 
Kickoff is Sunday, May 7th at 8:45AM at Millennium Sports Park. This game will be tape delayed.
Advocating for football prospects one story at a time.