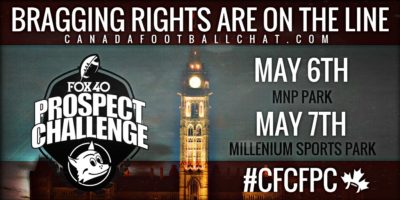 To say the Fox 40 Prospect Challenge (#CFCFPC) is growing is an understatement. This year, we will see two additional provinces participating in the largest Canadian football tournament ever. Both British Columbia and Quebec are sending teams to compete in this years CFCFPC. In addition, we saw an international minor team play in Hamilton this past weekend from Cleveland, Ohio.
On Sunday, May 7th at 12:25AM at the Millennium Sports Park, the Minor Team Central will play against Team East. Head Coach Eric Parent, for Team Central believes this evolution is great.
When we asked him what the overall goal was for the team for the CFCFPC, Coach Parent said, "The goal is as always; to make sure the kids have fun and enjoy the day. They certainly earned it! And if we can get a 'W' that would also not be so bad." 
And getting a win will be hard work against a strong Team East game, but Coach Parent is confident in his offense and defense as they have been preparing for this weekend and trying to remain focused. He feels that his team is ready and that they have the talent to be competitive with any team.
"We'll be focusing on fundamentals as well as coming together as a team. In this all star type formate with limited practices we have to focus a lot on installing our offensive and defensive schemes," he explained. "The athletes do a very good job of absorbing it all," when we asked about how practices have been up to this point. 
On both sides of the ball, Coach Parent is looking for every player to fulfill their assignments on each play. But he also wants his athletes to "enjoy the moment" and have some fun out there. He says, "They worked hard to get here."
Some of those hard working players are quarterback, Anthony Lu who is a great athlete that can make passes on the run and out of the pocket. Also, runningback Ashton Watson who Coach describes as a super athlete with a great attitude.
On defense, look for linebackers, Carter Frost and Ethan Gregorcic. 
"They're both big physical players who put in maximum effort at all times," says Coach Parent, "It has been an absolute pleasure to coach all four of these young men."
This game already sounds like it's going to have some bite. Kickoff is at 12:25pm on Sunday, May 7th at Millennium Sports Park.
Advocating for football prospects one story at a time.