Few players have overcome the challenge of switching positions, and are the backup of a champion before being able to make a name for them, but that is what Riley Clarke Geisler has accomplished.
"I started playing youth football as slotback and safety in my youth tackle league in 2014, I desired to become a quarterback and run an offense. During my first season of OMFL, I played as a quarterback for the Bantam North Bay Bulldogs," says Geisler.
As Geisler began playing quarterback, he received a lot of help from his coaches, Eric Morgan and Trevor Richardson. But, the biggest challenge Geisler would face was replacing an NDA (Nipissing District Athletics) Championship winning quarterback for the West Ferris Trojans.
Geisler can relate to what Dallas Cowboys rookie quarterback Dak Prescott went through this season. A young unheralded quarterback comes in to replace the beloved veteran and rolls with the starting gig.
"I would claim Dak Prescott as my football idol. Prescott burst onto the NFL scene with the Dallas Cowboys after Tony Romo's injury early in the 2016-2017 season. […] I look up to Prescott not just for his talent, but also for the way he shows leadership and initiative," says Geisler.
People love football for different reasons, fitness, fun, or fame, but for Geisler it is a means to become a better man. "My love for football comes from not only growing up with a family who watches football, but also as a way to better myself athletically and mentally," says Geisler. Improving as a quarterback is also one of Geisler's goal at the CFCFPC.
"My goals for the CFCFPC are firstly, to make the team and play giving me a chance to prove myself as a quarterback in front of family, friends, and scouts. Furthermore, I aspire to use the CFCFPC to help myself further develop as a quarterback and learn more about the game," says Geisler.
In the off-season, Geisler trains on both the physical and mental aspects of the game of football. "I workout with my friends and teammates focusing primarily on strengthening my legs, core, shoulders, chest areas. I keep my accuracy in shape by throwing routes to my teammates and using a target net in my backyard. I train for the mental aspect of football by watching game film, running footwork, and play drills at the base," says Geisler.
Riley Clarke Geisler (#1)
Position: quarterback
Height/Weight: 5'10, 145
Teams: West Ferris Trojans, North Bay Bulldogs
Grad: 2019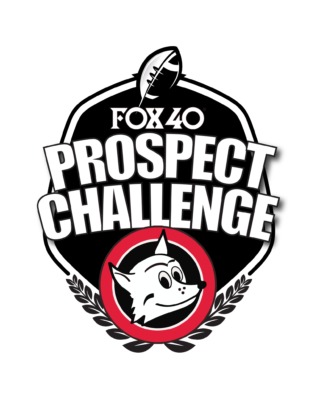 Register now for the 2016-2017 Fox 40 Prospect Challenge (#CFCFPC)
CENTRAL CANADA…REGISTER NOW 
WEST COAST….REGISTER NOW
Advocating for football prospects one story at a time.