Every week canadafootballchat.com (CFC) will be getting the scoop on what went down in high school football and what's coming up the following week. If you have a game recap or upcoming preview, please submit it to [email protected]. CFC50 teams will not be featured in the high school roundup.
CLICK HERE FOR #CFC50 GOTW RECAP (West/Atlantic)
John Potter Division (AAA)
Sturgeon Heights Huskies (21), Steinbach Sabres (23)
The Steinbach Sabres finish the season at 2-5 after defeating the Sturgeon Heights Huskies, 23-21. Sturgeon finishes with a record of 3-4. Steinbach jumped out to an early 6-0 lead off of a 57 yard touchdown pass from Sawyer Thiessen to Eric Adams. Sturgeon quickly answered back to make the score, 7-6. At halftime the score was 20-10 in favor of the Sabres. With 3 minutes left in the football game Steinbach trailed 21-20 until Eric Adams kicked the game winning field goal of 25 yards. Players who stood out on the Sabres were: Sawyer Thiessen completed 11 of 23 passes for 245 yards and 3 touchdowns and 2 interceptions, Eric Adams hauled in 4 passes for 134 yards and a touchdown, Sheycoy Selent received 3 passes for 41 yards and a touchdown and Tyler Buekcert was all over the field with 4 catches for 70 yards, 14 carries for 54 yards. Tyler also recorded 9 tackles, one interception and 2 passes defended on defense.
Sabres defeat @huskiesFB 23-21 in a nail bitter! Well done boys!

— SRSS Football (@srssfootball) October 19, 2017
Garden City Gophers (0), Dakota Lancers (28)
The Dakota Lancers ended their 2017 regular season with a shutout victory over the Garden City Gophers, 28-0. Dakota finishes tied for third with Vincent Massey at 5-2. Garden City ends the year at 2-5. Garden City's Kieran Cummings finished his senior year in the WHSFL tied for fifth in tackles with 33. Kieran added two fumble recoveries as well.
Sisler Spartans (15), Grant Park Pirates (12)
The Sisler Spartans won their game against the Grant Park Pirates 15- 12 to claim second spot in the Potter Division at 6-1. With the loss Grant Park is in fifth position at 4-2-1.
2nd Place 6 and 1 #buyin #WSD1takeover @chatfootball #rankme pic.twitter.com/7VmFY0sz3l

— Spartan Football (@SpartanFB) October 21, 2017
Players of the Week in the John Potter Division
Offensive- Cody Gushulak rushed the ball for 142 yards and a touchdown and added 1 reception for 16 yards in a loss to Sisler.
Defensive- Steinbach Sabres' Tyler Bueckert registered 10 tackles, 1 interception and two knockdowns to lead Steinbach over Sturgeon.
Eryk Bujalski from the Vincent Massey Trojans put up 13 tackles, 1 sack, 1 fumble recovery and 2 special teams tackles in a win against Oak Park.
Special- Grant Park Pirates' Luca Imbrogno kicked a 44 yard field goal.
Coming up this week in the Potter Division Playoffs…
On Thursday, the St. Paul's Crusaders will entertain the Garden City Gophers at 6:45 pm at St. Paul's.
Friday's action has the Vincent Massey Trojans hosting the Grant Park Pirates at 4:00 pm, the Sturgeon Heights Huskies will matchup with the Dakota Lancers at 4:00pm at Dakota and the Steinbach Sabres will travel to Winnipeg to take on the Sisler Spartans at East Side at 6:45 pm
Kas Vidruk Division (AA)
Crocus Plains Plainsmen (0), Neelin Spartans (40)
The Neelin Spartans get their 4th win of the season while shutting out the Neelin Spartans, 40-0. Neelin finishes the year at 4-3. The Crocus Plains Plainsmen end the year at 1-6.
Very proud of the boys grit and determination. One great team performance.

— Robert Cullen (@NHSSpartansftb) October 20, 2017
Miles Macdonell Buckeyes (12), River East Kodiaks (41)
The River East Kodiaks defeated the Miles Macdonnel Buckeyes 41-12 to improve their record to 4-3. The Buckeyes finish the season at 0-7. River East is in a tie at 4-3 with Neelin for 5th spot.
Big 41-12 win for the Kodiaks tonight. What a great game. A huge crowd was on hand to watch the team roll over the Buckeyes. #FearTheBear #NotQuiteBuckEnuf pic.twitter.com/Bhm8E0QBak

— River East (@kodiakathletics) October 20, 2017
Kelvin Clippers (31), Elmwood Giants (0)
The Kelvin Clippers dominated the Elmwood Giants 31-0 to end their season a perfect 7-0. With the victory over Elmwood, the Clippers will claim first spot in the Vidruk Division Playoffs. Elmwood ends their season at 0-7.
Dryden Eagles (7), Vincent Massey Vikings (19)
The Vincent Massey Vikings hand the Dryden Eagles their second loss of the season by a score of 19-7. The Vikings are now tied for third with Dryden at 5-2.
St. Paul's Crusaders (40), Portage Collegiate Trojans (13)
The St. Paul's Crusaders win big over the Portage Collegiate Trojans, 40-13. St.Paul's will head into the playoffs in the second spot. Portage finishes at 3-4 and in 7th place.
Players of the Week in the Kas Vidruk Division
Offensive- Guy Brosseau from the Dryden Eagles was a linebacker playing running back that earned 126 yards on 6 carries and a touchdown in a loss to the Vincent Massey Vikings.
Defensive- Kelvin Clippers Trey Garlinski had 5.5 tackles, a 33 yard fumble recovery for a touchdown, 1 pass knockdown while playing ½ of the game against Elmwood.
Special Teams- Ethan Nagler from the Kelvin Clippers kicked 3 converts, a 35 yard field goal and a rouge single in a win against Elmwood.
On tap this week in the Vidruk Division Playoffs…
On Thursday the St. Paul's Crusaders will host the River East Kodiaks at 4:40 pm.
Two games on Friday will have the Kelvin Clippers and Neelin Spartans at 4:00 pm at Kelvin, and at 4:30 pm the Dryden Eagles will clash with the Vincent Massey Vikings at East Side.
Andy Currie Division (A)
Churchill Bulldogs (21), Tec Voc Hornets (26)
The Tec Voc Hornets won their second game of the season against the Churchill Bulldogs, 26-21. Tec Voc ends their season with a record of 2-5. Churchill Bulldogs finish the regular season at 1-6.
West Kildonan Wolverines (7), Kildonan East Reivers (20)
The Kildonan East Reivers topped the West Kildonan Wolverines 20-7 and now sit in third place at 5-2. West Kildonan finishes 4-3 with St. John's and St. Norbert.
Beaver Brae Broncos (9), Daniel McIntyre Maroons (21)
The Daniel MacIntyre Maroons defeat the Beaver Brae Broncos 21-9 to hand the Broncos their first loss of the year. Daniel Mac sits in first place with a record of 7-0. The Beaver Brae Broncos are in second place at 6-1.
Excellent regular season! Best wishes to all in the playoff season! https://t.co/KGlBQNV8d8

— BBSS Athletics (@BBSSAthletics) October 21, 2017
Fort Frances Muskies (15), St. John's Tigers (37)
The St. John's Tigers earn a victory against the Fort Frances Muskies, 37-15. With the win the Tigers are 4-3. Fort Frances ends their season 2-5. CFC 100 Lineman Rain Slater ends his senior year with 10 tackles, 3 sacks, 1 forced fumble and 1 safety for the St. John's Tigers.
Maples Marauders (9), St. Norbert Celtics (23)
The St. Norbert Celtics ended their season with a win over the Maples Marauders, 23-9. St. Norbert ends their 2017 regular season 4-3. The Maples Marauders finish 0-7.
@JenPalichuk 4 in a row! Congratulations Coach Huntley and team! Way to go St. Norbert! Go Celtics! ? @csncOfficeInfo @The_WHSFL #mbpoli pic.twitter.com/Qzbhwi9MbB

— Jon Reyes, MLA (@jonreyes204) October 21, 2017
Players of the Week in the Andy Currie Division
Offensive – Sekina Scheibler from the Fort Frances Muskies carried the football 30 times for 294 yards while adding one reception for 22 yards in a loss to the St. John's Tigers.
Defensive- Churchill Bulldogs' Peter Orajekwe had 3 sacks to total 15 on the season and ties a single season 'A' record. Peter added 4 solo tackles and 247 yards on 19 carries and 2 touchdowns in a loss to the Tec Voc Hornets.
Special- Pah Hsaw from the Daniel MacIntyre Maroons had 6 punts in windy conditions for a total of 171 yards and was 1 for 1 in converts in a win against the Beaver Brae Broncos.
What's happening this week in the Currie Division Playoffs…
The first game on Thursday has the Kildonan East Reivers and Beaver Brae Broncos matching up in Kenora Ontario at 3:30 pm, at 4:00 pm the Daniel MacIntyre Maroons battle the St. John's Tigers at Daniel Mac and the Elmwood Giants will take on the Portage Collegiate Trojans in Portage La Prairie Manitoba at 4:00pm.
Friday's lone game has the Crocus Plains Plainsmen hosting the Miles Macdonell Buckeyes at 3:00 pm.
The Fox 40 Prospect Challenge (FPC) is a series of elite showcase games that feature the best tackle football players from across Canada aged 10-19 years. Tournaments are played in Central Canada (ON) and the West Coast (BC).
CLICK HERE FOR #CFCFPC FACEBOOK PAGE – CENTRAL
CLICK HERE FOR #CFCFPC FACEBOOK PAGE – WEST COAST
GET REGISTERED! GET COACHED! GET RANKED!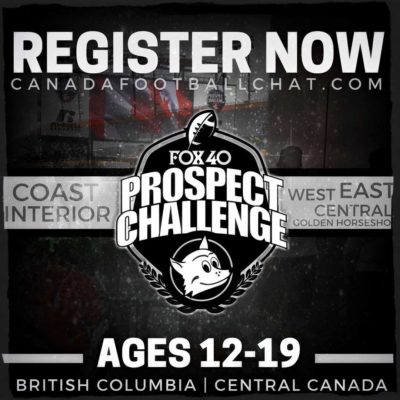 Advocating for football prospects one story at a time.