Every week canadafootballchat.com (CFC) will be getting the scoop on what went down in high school football and what's coming up the following week. If you have a game recap or upcoming preview, please submit it to [email protected].
Saskatoon 3A
North Battleford Vikings (26), Tommy Douglas Tigers (15)
North Battleford's dream season continues. The Vikings were crowned city champions on a snowy night in Saskatoon. The title which was North Battleford's first in the 3A Conference will allow the team to play host to the provincial championship game next Saturday. J.T. Lamb rumbled his way to 206 yards on the ground while finding the house twice. Lamb has now gone over the 200-yard mark in two straight games, as he continues to carry this offense to new heights in 2017. Meanwhile, star quarterback Damon Dutton provided yet another flawless performance under center, slinging the rock for 329 yards and two touchdowns. Dutton found senior receiver Zach Wolfe for 204 of those yards as the Tommy Douglas defense had no solution to stopping this dynamic duo. On the defensive side of the ball, Vikings DB Trevor Southgate tallied an impressive 25 defensive points, as he racked up 10.5 total tackles, a forced fumble, and a pass knockdown. The Vikings have been dominant all season long, and they are rewarded with the opportunity to host the provincial title in North Battleford, at Beaver Lions Field.
The North Battleford Vikings took home their first ever @sssad12 3A football title Friday night in Saskatoon. https://t.co/INXWXPvMcK pic.twitter.com/QEqTZERJyE

— Lucas Punkari (@lpunkari) November 4, 2017
THURS, OCTOBER 27
SEMI-FINALS
5:15
Evan Hardy 14
@
North Battleford 49
SMF Field
7:30
Tommy Douglas 51
@
Bishop James Mahoney 45
SMF Field
FRI, NOVEMBER 3
CITY FINAL
5:15
 Tommy Douglas 15
@
 North Battleford 26
 SMF Field
View the full Saskatoon schedule here
Moose Jaw & Regina Stewart Conference (3A)
Yorkton Raiders (24), Greenall Griffins (21)
It was a monumental victory for this Yorkton program that carries them into the 3A Provincial Final come Saturday. After dominating the MJHSFL all season long, the Raiders were in tough against the Griffins, who provided them with their first true test of 2017. Yorkton outscored their opponents 440-27 in 2017 but didn't panic under pressure as they were able to seal the deal and move on to the provincial final. The Raiders enter the provincial title game undefeated and will look to finish their season with a victory in what will be the biggest game of every one of these players young careers.
Saskatchewan 3A Provincial Championship Preview
It'll be a battle between two of the best quarterbacks in the province come Saturday afternoon in North Battleford. MJHSFL MVP and Yorkton quarterback Jordin Rusnack will lead his Raiders into Beaver Lions Field, as he looks to take down the North Battleford Vikings in the provincial championship. The Vikings are led by a talented quarterback of their own, Damon Dutton has been sensational in Saskatoon this season. Dutton has thrown for 1844 yards on 102-144 passing while adding 20 touchdowns to only one interception.
However, the conditions on Saturday will be difficult to throw the ball in. Temperatures are expected to be around the -8 degrees mark, which could lead to a ground and pound game. The Vikings are more than capable of moving the chains on the ground with star grade eleven running back J.T. Lamb. Lamb led his conference in rushing yards and touchdowns during the regular season, and he'll look to lead his team to a provincial title, in what would be the Vikings first since 1995. The Raiders, however, will be without her their two-way star Matthew Mundziak, who exited in the first quarter against Greenall with a shoulder injury. Mundziak lined up at receiver as well as safety, which will leave two gaping holes.
Despite the frosty weather, the town of North Battleford will be out in full force at Beaver Lions as they look to cheer on their hometown boys, as they continue their chase of greatness.The Vikings have proved all season long they're capable of playing with anyone in the province and should be considered the favorites on Saturday afternoon. Kickoff 1:30 pm in North Battleford.
Beaver Lions stadium will be ready for the @shsaasport 3A final on Saturday! Big thanks to the guys from the @citynb! @FootballSask pic.twitter.com/QO7W9xR5qv

— Mike Humenny (@mikehumenny) November 7, 2017
*CFC50 teams will not be featured here. You will find them in the #CFC50 GOTW Previews and Recap articles. Some information was not available at press time. It will be added as it becomes available. All quotes are obtained firsthand unless otherwise stated. Let us know if there are any inaccuracies in the reports below.

CLICK HERE for 2017 high school previews
CLICK HERE for 2017 high school scores with SCORESTREAM
CLICK HERE for 2016 Final Rankings
The Fox 40 Prospect Challenge (FPC) is a series of elite showcase games that feature the best tackle football players from across Canada aged 10-19 years. Tournaments are played in Central Canada (ON) and the West Coast (BC).
CLICK HERE FOR #CFCFPC FACEBOOK PAGE – CENTRAL
CLICK HERE FOR #CFCFPC FACEBOOK PAGE – WEST COAST
GET REGISTERED! GET COACHED! GET RANKED!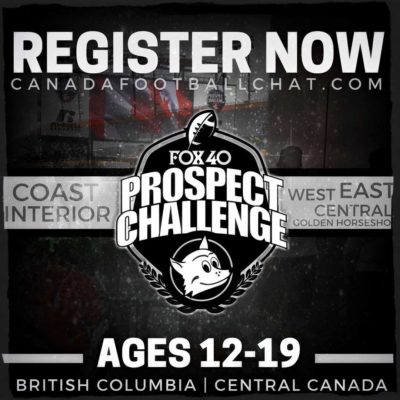 Advocating for football prospects one story at a time.