The Metro Mustangs are kings of the football field.
On Saturday morning at East Hants Sports Complex, the Mustangs topped the Timberlea Renegades to take the inaugural Nova Scotia Spring League Midget Championship.  The Mustangs won 18-15. The top seeded Mustangs were 4-0 during the regular season and including this championship were 2-0 during the playoffs (6-0 overall).  Meanwhile, the third seeded Renegades were 2-2 during the regular season and 1-1 during the postseason (3-3 overall).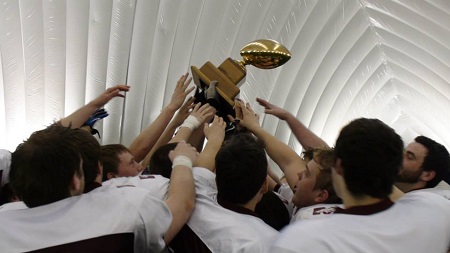 "It was a special season for sure," commented Mustangs head coach Greg Bayne after the victory.  "Going undefeated is always a great achievement but most of all I was proud of our players for staying in the close games and coming away with wins."
"Last year, we lost some key players throughout the season and lost in the finals to the Renegades so for us to have another shot and the title and to pull through in the end was very special.  It was our year and I am extremely happy with the win!"
Running back Taylor MacDonald (82 yards on 16 carries, two yards on nine receptions and 30 yard kick return) and receiver Ryan Keays (41 yards on five receptions, 65 yard carry, 62 yards on eight kick returns) scored majors for the Mustangs.  Quarterback Sean Muir had 12 completions in 22 attempts for 128 passing yards. Receiver Joe Doucet (82 yards on six receptions) and running back Matt Zwicker (17 yards on three carries) also contributed to the offensive unit's success on Saturday.
Kicker Colin Murney was successful on a conversion, a field goal attempt and booted two rouges for a total of six points.
Defensive back Andre Boudreault and linebacker Brad Bevan led the way defensively.  Boudreault (one solo tackle, one assisted) caught two interceptions while Bevan registered two solo and seven assisted tackles in the game.  Defensive backs Matt Bayne (four solo tackles, one sack) and Jacob Barton (three solo tackles) also caught interceptions for the victors.
Also making significant contributions for the Mustangs defense were defensive lineman Ben Ford (fumble recovery), linebacker Jesse Boudreau (five solo tackles, three assisted tackles), defensive back Will Chamberlain ( one solo tackle, two assisted tackles), defensive lineman Jay Hachey (two assisted tackles), linebacker Tyler Robichaud (one solo tackle, one assisted tackle), defensive lineman Kyle MacDonald (one assisted tackle), defensive lineman Dustin Buchanan (one assisted tackle), defensive lineman Trevor Howse (one assisted tackle), defensive back Chris Young (one assisted tackle) and defensive lineman Matt Zwicker (one solo tackle).
"Offensively, quarterback Sean Muir managed the game well, Taylor MacDonald ran very well getting a touchdown and Ryan Keays had several clutch catches and a huge rush for a touchdown," said Bayne in his postgame assessment.  "Defensively, the whole unit played disciplined and stayed in the game right til the end."
"Standouts were Andre Boudreault with two interceptions, Matt Bayne and Jacob Barton both with 1 Interception a piece.  Brad Bevan and Jesse Boudreau were all over the field making big tackles at critical times."
In his postgame assessment, Bayne pointed out four major turning points in this game which tipped the championship momentum over to the Mustangs.
"Ryan Keays 65 yard touchdown run to pad our lead to two scores," assessed Bayne. "Brad Bevan had a key tackle on third and 1 to deny the Renegades a first down."
"Andre Boudreault's two interceptions and Jacob Barton's Interception in the end zone was huge."
Ultimately, both the offensive and defensive units played a solid game and kept themselves in check when momentum shifts went the Mustangs way.
"I think our defense played extremely well and they stayed in the game making huge plays when they needed too," added Bayne.  "Jesse Boudreau's leadership on the field kept the unit together and focused."
"The defense had five takeaways while our offense only turned the ball over once. Offensively we needed our veterans to come up big and they delivered. We kept the penalties to a minimum and kept fighting remaining focused when momentum shifted."
The success that the Mustangs were able to achieve this season would not have been possible without the help of two individuals in particular.
"Special thanks to Coach Dave Kelly for coming over this year to take on the offense and provide his knowledge and experience," commented Bayne.  "A BIG thank you to our Team Manager Karrie-Ann Buchanan who kept everything well organized allowing the coaches to focus on coaching the players."
The Mustangs tipped their hat off to their opponents, the Renegades, whom the team has a lot of respect for in how they competed on Saturday.
"The Renegades have some very good athletes," said Bayne.  "They play hard and with passion."
"They fought hard to get past the Argos and didn't let up on us at all.  The teams were evenly matched both with strong defenses. It really came down to the wire."
Despite the loss, the Renegades gave props to the champions as well as the league.
"On behalf of the Renegades and Titans organization, we would like to congratulate the Mustangs on a well-deserved championship win," commented Wetmore.  "We would also like to commend Football Nova Scotia on executing a great Spring League."
In Wetmore's postgame assessment, he says the Renegades took far too many costly penalties.  As a result, not only did the Renegades lose focus but the Mustangs capitalized on the errors.
"As coach Bayne said in his pregame interview, "If you avoid penalties you have a chance to win," explained Wetmore.  "We talked about penalties all week as well but we ended up taking dozens of stupid penalties that just kept digging us into a hole – eventually the dirt caved in."
"They have great speed and if you give them space at any time bad things can happen to you.     The Mustangs executed about 3-4 more plays more than us and here we are, the runner ups. They played a better game with more focus and discipline and we lost. We will have to learn from it as players and coaches."
All in all, the Renegades had a successful season and now will focus their attention on the fall, when players will compete in the Nova Scotia Student Athletic Federation Football League (NSSAFFL).
"It was a great league and we are all happy that we were a part of it," added Wetmore.  "We are all looking forward to the fall and the high school season."
Photos courtesy of Joe Doucet:  Metro Mustangs Facebook Group Page
(twitter: http://twitter.com/vohra_ameeta)
Advocating for football prospects one story at a time.