The Ontario Prospect Challenge is an elite three phase event that culminates in an all-star game in the spring of 2016.  For more information CLICK HERE.  The TRYOUT SERIES begins in October and goes until the middle of January 2016.

Registration has begun for the 2015-16 Ontario Prospect Challenge…REGISTER NOW 

Positions:
Right Tackle, Defensive Tackle, Tight End
Height/Weight:
6'3, 215 lbs
Teams:
Forest City Thunderbirds (OFC)
Catholic Central Crusaders (high school: TVRAA)
Commitment:
None
Official Visits: 
None
Considerations:
Western, Open
Class:
2019
Prior to starting football, Dennis Larocque played baseball with the Ontario Expo organization.
Dennis' speed and agility coach, Mark Regan, at Centre Field Sports knew he always wanted to try football and recommended the London Minor Football Association (LMFA).
In the fall of 2013, he began his gridiron career in the LMFA with the peewee Red Storm.
Dennis was named a LMFA All Star in both his years with the Red Storm, and was asked to try out for the Ontario Football Conference's (OFC) Forest City Thunderbirds.
"When I made that team, I knew that this was the game that I wanted to play and have focused on it," said Dennis, who describes his experience so far as "fantastic."
He also started at both right tackle and defensive tackle all season for his high school team, the Catholic Central Crusaders of the Thames Valley Regional Athletic Association (TVRAA).
"I have played for some great coaches and have learned so much from them," continued Dennis. "I started my very first game and that just gave me a lot of confidence to build on."
The Crusader spends his offseason playing basketball for his high school, and weight training both at school and at home, as well as continuing his speed and agility training with Mark Regan.
The right tackle's goals for the Ontario Prospect Challenge (OPC) are to make the team again and contribute.
Last year he suffered a non-football injury, which kept him out of the OPC game last year and a large part of his summer football as well.
"I really want to have the opportunity to help lead Team West to another win," added Dennis.
In the future, he would like to see himself playing for Western, or one of his dream schools south of the border – Alabama or USC.
On the field, his role model is Clay Matthews of the Green Bay Packers.
"I admire the way he plays the game, his attitude towards the game and ultimately his physicality," explained the Crusaders standout. "I would love to play for the Packers someday."
Dennis loves the sport because of the leadership skills it has taught him, the brotherhood he feels with his teammates both on and off the field, as well as the constant support and encouragement.
"Football is a true team sport and it is a lot of fun," said the right tackle. "I like the game so much that this year I was a student coach for my former LMFA team."
"I want to take coaching courses so I can continue to coach and give back to the game."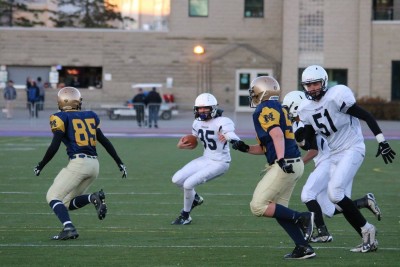 Advocating for football prospects one story at a time.