ONTARIO PROSPECT CHALLENGE…4 GAMES…8 TEAMS…GREAT PLAYERS
GAME INFO: CLICK HERE
WHERE: Guelph – University of Guelph Alumni Stadium – $10 general admission, all-day pass

WHEN:  Sunday May 4 – Kickoff times are 10am, 12:30pm, 3:30pm, 7:30pm
BROADCAST: Live on Canadafootballchat.com & tape delay on ROGERS TV
Yesterday we spoke with Coach Roberto "Bubba" Allen and got his take on the initial stages of the ONTARIO PROSPECT CHALLENGE tryout phase. Although they have had a limited amount of time to evaluate personnel, Coach Bubba was able to identify a couple of players, and a region, that have jumped out at him early
https://www.youtube.com/watch?v=CfTEETV1_Jo&feature=youtu.be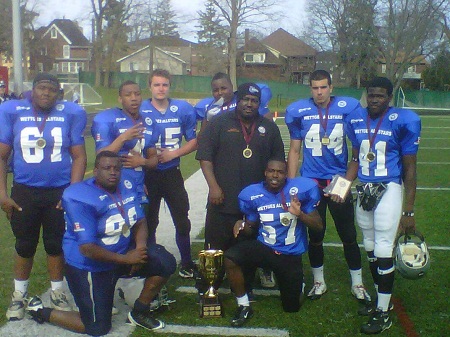 CFC: Now that you have had an opportunity to get the weekend evaluations under your belt are any particular strengths that you were able to identify?
COACH BUBBA: One of the things I love about coaching in a game like this is you get the opportunity to coach players that you normally wouldn't. I haven't had the pleasure of coaching some of the young men that have come to us from Peterborough and my initial impressions have been very good! They are well coached, have a good understanding of the game and the effort they have given has really been apparent.
CFC: Anyone from the "Peterborough crew" jump out?
COACH BUBBA: They all have, but one young man who is clearly going to be difference maker is going to be Cam Gilmore. We see him as being the main guy on our defence and the anchor on our D-Line. He's a FB/DE, his attitude is great and he has a motor that doesn't quit!
CFC: And on the offensive side of the ball?
COACH BUBBA: Keon Edwards, No doubt about it! Keon comes to us from the Metro Toronto Wildcats and we expect him to be a workhorse for us in the backfield this weekend.
Keon's early thoughts on the ONTARIO PROSPECT CHALLENGE
Make sure you follow up with us this week as we introduce both Keon and Cam to you.
Advocating for football prospects one story at a time.