The countdown begins to CanadaFootballChat.com Ontario Prospect Challenge on the May 1st weekend.  In the days leading up to OPC, CFC will preview the teams, coaches and players participating in the big event.
Throughout his gridiron career, confidence has equated into success for Jake Heydon.
"I am confident in my coaches that they will make the right decisions for myself and my teammates," elaborated the 6'1, 161 pound pivot.  "I am confident in my teammates that they will always give their 100 percent during the entire season to make our season successful and that our brotherhood like bond will last a life time."
"I am confident in our fans that they will be proud of us no matter if we win or lose.  And I am confident in myself that I will always be respectful on and off the field, I will always give my 100 percent during practices and games, and that I will dedicate myself so that I never let anyone down."
Heydon has built up this confidence as he played for several different teams.  That included time with the Essex Ravens where he played at the peewee level of the Ontario Minor Football League (OMFL) and bantam level of both the Ontario Varsity Football League (OVFL) and Ontario Varsity Fall Football League (OVFFL). Moreover, he has been involved with the Windsor Minor Football Association (WMFA) and Windsor Minor Football Association All-Stars for a combined 10 seasons.  He also represented FBU Team Ontario at the International Bowl.
"My best football moment of my career so far is when I was awarded the OVFL Bantam QB MVP All Star in 2014 which was my first year playing in the OVFL," recalled Heydon of the highlight of his gridiron career.  "I am very thankful for receiving this award, and extremely grateful to my teammates, coaches and family who helped me achieve this award."
"I have learned that it takes more than just yourself to be successful, it takes a whole team of support."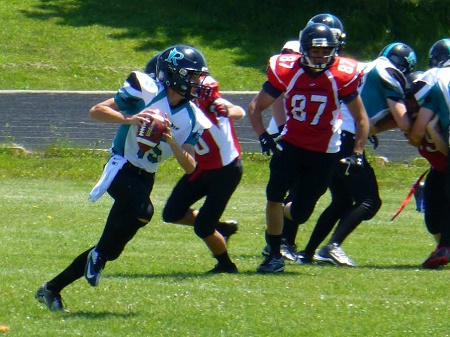 During these stints, his passion for playing the quarterback position grew over time.
"I play quarterback because I enjoy the discipline, responsibilities and challenges that come with this position," explained Heydon.  "It feels very natural to me, which helps me to be dedicated and to always give my 100 percent during practices and games."
Equally important are the specific things which the quarterback gets to execute on the field come day.
"What I like most about playing this position is the challenge of taking our coaches' plays and making them successful, calling plays to my teammates during practices and games, showing leadership at all times, and making my coaches, teammates, family and fans proud," added Heydon.
On the field, Heydon does not try to imitate an idol or professional role model. Instead, he stays true to his own game.
"I personally don't feel I model my game after anyone," said the Ontario standout, who llooked up to the playing styles of Marcus Mariota, Russell Wilson and Johnny Manziel.   "I truly am myself."
"I take the best from all those who have trained me and all the great quarterbacks that I have watched and work from there to make it my own style."
In 10 days, Heydon will have an opportunity to demonstrate his confidence as well as playmaking abilities on a bigger stage.  The pivot will represent Team West at the Ontario Prospect Challenge in the Underclassmen battle against team Halton-Peel.
For his part, being given the chance to compete in an elite game is something that he treasures.
"I am always looking for new goals and challenges," added the Team West pivot.  "When I heard about the OPC, I knew it would be a new goal to reach."
"Making the CFC 100 list is definitely an accomplishment that I am very proud of.  To make the OPC West team is an honour that I am very excited about."
Additionally, Heydon is grateful for all the instruction he has received thus far from the Team West Underclassmen coaching staff.
"It has been a great experience to work with the OPC coaches," expressed Heydon.  "They have been very informative, patient and dedicated."
"I am looking forward to working with them in the future and on our game day."
Overall, he is appreciative of the OPC process that he has experienced during the tryout phase as well as in the days leading up to the big game.
"The OPC experience has been an amazing journey so far," commented the Team West pivot.  "It has provided me the chance to meet other players and coaches from all over the province."
"It has given me the opportunity to experience another challenge in my life.  It is providing me the opportunity to show others my talent and sincerity for this game.   And it is creating many fantastic memories."
In terms of handling the pressure that comes with competing in OPC, Heydon knows he is in the driver's seat in how he does perform come game day but is taking measures to shore up his performance.
"Of course the pressure is on because we are playing against very talented players, but I will play in the OPC like I play in any regular season game," offered Heydon.  "I will give it my all and in return I will motivate my teammates so that they will do the same."
"This game is very important to me; I will be brining everything I have.  I have been doing core training all winter long with my Ravens teammates, participating in various activities to improve my athletic and football abilities. Most importantly, I am mentally preparing myself for game day."
Moreover, he anticipates teammates to motivate him to bring his best on the field as they square off against fierce competition.
"I am excited to compete with every player on the OPC West team," added the Team West pivot.  "I am looking forward to our upcoming practices and game together."
"I am most excited to compete against every player that gives our team a challenge."
Part of the pressure players participating in OPC will face is performing at their best with recruiters and scouts looking onto the field.  For Heydon, he is still a long time away from the recruitment market as he is only a Class 2019 pivot.
However, he has already given some thought about his career and academic aspirations. He would like to pursue studies at the post-secondary level in medicine with the hopes of gaining a job in that field or as a chiropractor.
"I would like to achieve recognition of my talent by achieving a Division 1 scholarship," said Heydon.
For the time being though, the Team West Underclassmen pivot's focus is on next weekend's game and the objectives he wants to work towards.
"My personal goal for the OPC is to bring everything I have onto the field on game day and to give it my all," commented Heydon.  "I want to make my coaches, teammates and fans proud of me for the effort I have given."
"At the end of this journey, I would like to be able to say that I was a big contributor to helping my team be successful in all aspects.  My team goal is for all the coaches and players to work hard together, put their best work forward, become a team together, and to be able to look back and say we did this together."
(twitter: http://twitter.com/vohra_ameeta)
Advocating for football prospects one story at a time.