The countdown begins to CanadaFootballChat.com Ontario Prospect Challenge on the May 1st weekend.  In the days leading up to OPC, CFC will preview the teams, coaches and players participating in the big event.
Brendan Carey has a knack for overcome challenges presented to him on the gridiron.
"Sometimes you just have to will yourself past adversity," expressed the 6'4, 218 pound pivot of his determination.
During stints with Southwood Sabres of the Waterloo County Secondary School Athletic Association (WCSSAA), Cambridge Lions of the Ontario Varsity Football League (OVFL) and Cambridge Wolverines of the Cambridge Minor Football Association (CMFA), Carey has grown passionate about playing at the quarterback position, including all the intricacies that come with it.
"I play quarterback because it is challenging," explained the Ontario standout.  "I have always had a strong throwing arm and I love the strategy associated with the position."
"I like the responsibility that comes with playing quarterback as you have to take control of the offense, read and react to the defense. It's like a live chess game, which I very much enjoy. Sometimes when things breakdown, it becomes pure adrenaline as you try to react and move the ball."
On the field, Carey tries to emulate his NFL idol, Tom Brady of the New England Patriots.
"Tom Brady might not always have the best tools but makes up for it with determination," added Carey.
This Friday night, the Ontario pivot will have an opportunity to showcase his determination as he will participate in the Ontario Prospect Challenge (OPC) as a member of Team West's Varsity squad.
"QB Canada Director Larry Jusdanis pulled me aside at our spring session and told me I should try out for the game," recalled Carey of his introduction to OPC.  "As I had not made a University choice yet, it seemed like a good way to advance my visibility for CIS scouts in advance of combines."
Over the course of the OPC process, the Team West pivot has benefitted from the interactions and instruction that he's received.
"It has been an awesome experience meeting with the new coaches and players," reflected Carey.  "Getting to know the Niagara coaches after the OVFL playoff game last year has been fun."
"The coaches have helped me out a lot, especially coming out of the offseason.  I felt rusty going to the first tryouts but the coaches have been excellent.  It should make playing against them this year a lot more special."
One thing Carey is confident about is handling the pressure of playing the big game.
"I have been lucky to win a few Championships playing football, basketball and that has helped me prepare for these types of events," said the Team West standout.  "I have worked with QB Canada for six years now."
"Larry Jusdanis has done a great job of getting me ready to compete."
Overall, Carey is looking forward to the moment finally when Team West meets Team Halton-Peel in the game under Friday Night Lights at Kiwanis Field at St. Catharines.
"It will be great to see a lot of the players that I have been playing with and against before we head off to the CIS," commented Carey.  "I'm excited to see everyone involved in the process."
"I have known some of these guys for a number of years now."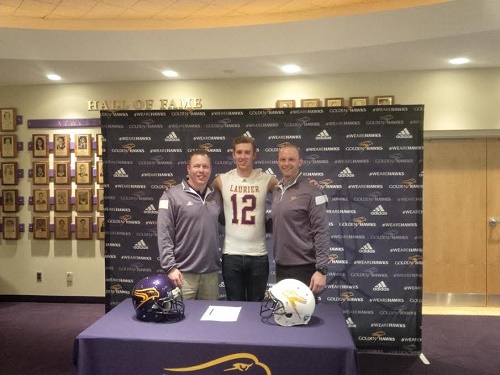 While many players participating in OPC will be making a splash in front of recruiters to help their cause in gauging interest, the Class 2015 pivot has already committed to Wilfrid Laurier Golden Hawks and will join the team for the fall season.
"After much discussion and visiting some of the schools, I have decided the proper fit for me is the Laurier Golden Hawks," stated Carey, who also considered Acadia, University of Toronto, Western and York.  "The program is fresh, young and I feel will be very dynamic with a great coaching staff."
"Coach [Michael] Faulds' approach and being a quarterback and CIS record holder played a large role in my choice. I have signed with Laurier and look forward to the challenge and opportunity of trying out for the team and getting a solid footing on academics."
Therefore, his personal ambitions for OPC are geared towards his spring gridiron season.
"My personal goal is to enjoy the game, use it as a springboard for the OVFL season as well as meet coaches and players from other teams," offered the Team West quarterback.
Ultimately, OPC will help Carey get one step closer to achieving a significant goal this summer.
"I want to bring an OVFL Varsity Championship to Cambridge Lions," expressed Carey.
(twitter: http://twitter.com/vohra_ameeta)
Advocating for football prospects one story at a time.