This past week in the Ontario Varsity Football League (OVFL), the top three teams cruised their way to victories in Week 4 action.
London Jr. Mustangs, Brampton Bulldogs and Ottawa Myers Riders won their contests decisively.  Additonally, Essex Ravens, York Region Lions, Niagara Spears, Cumlberland Panthers and SSM Sabrecats won their games.
Here are results for WEEK 4 OVFL and Week 3 OFC Varsity Divisions
(NOTE:  At press time not all stats/scored were received; therefore, this page will be continued to be updated as more information does become available)
ONTARIO VARSITY FOOTBALL LEAGUE (OVFL):
ESSEX RAVENS 20, CAMBRIDGE LIONS 11:
Under Friday Night Lights at Jacob Hespeler Field, Mike Herzog scored three touchdowns and rushed for 237 yards on 27 carries as the visiting Essex Ravens defeated Cambridge Lions 20-11.
The Ravens are 3-1 while the Lions slide to 1-3 this season.
Christian Fecteau added 2 PAT's in the win.
Defensively, James Hanlon recorded a solo sack, five solo and two assisted tackles.  Moreover, Leif Erickson caught an interception as well as registered two solo and six assisted tackles for Ravens.
Eric Stranz led the Lions with a 19 yard field goal, a single and a PAT. Trenton DaCosta recorded a solo sack, four solo and six assisted tackles in the loss.
YORK REGION LIONS 20, OSHAWA HAWKEYES 15:
At St. Maximillian Kolbe High School on Saturday afternoon, Jesse McQueen was on beast mode as he registered six solo and 16 assisted tackles as the York Region Lions got past Oshawa Hawkeyes 20-15.
The Lions now sport a 2-2 record while the Hawkeyes are 1-3.
Jack Campbell added five solo and six assisted tackles in the win.
Ron Boshoer rushed for 178 yards on 26 carries for the Lions.  John-Kurt Andreacchi added two PAT's.
As for the Hawkeyes, Stirling McNabb rushed for 82 yards on 15 carries.  Daniel Nyamiaka added a single and two PAT's in the loss.
Joey Lachance led the Hawkeyes defence with two solo and 10 assisted tackles.
LONDON JR. MUSTANGS 48, HAMILTON IRONMEN 0:
On Saturday afternoon at McMaster's Ron Joyce Stadium, Hayden Herlick tallied five majors and rushed for 99 yards on 12 carries as the London Jr. Mustangs crushed the Hamilton Ironmen 48-0.
The Jr. Mustangs remain perfect with a 3-0 record while the Ironmen fall to 4-0.
Ethan Martin completed eight passes in 12 attempts for 144 yards and a touchdown as well as rushed for 75 yards on three carries in the victory.
Giovanni Pierinelli racked up 64 yards on four receptions while Mohsen Jamal added six PAT's and a single for the Jr. Mustangs.
NIAGARA SPEARS 28. ETOBICOKE EAGLES 8:
At Michael Power/St. Joseph on Saturday afternoon, the Niagara Spears earned a 28-8 win over Etobicoke Eagles.
The Spears are 2-1 and the Eagles are 2-2.
Chase Osinga, Eric Neilson, Isaac McAlonan and Chase Bowden each scored a touchdown for the Spears. Defensively, Eddie De La Garza was the top performer with eight solo and four assisted tackles.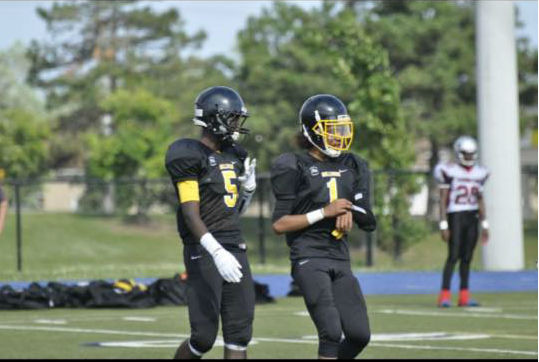 BRAMPTON BULLDOGS 56, MISSISSAUGA WARRIORS 14:
On Saturday afternoon at Loyola Catholic Secondary School, Shaye Wynter completed six passes in 11 attempts for 266 yards and five touchdowns as the the Brampton Bulldogs cruised to a 56-14 victory over Mississauga Warriors.
The Bulldogs are 3-0 while the Warriors remain winless at 0-3.
Joseph Walker tallied two majors and amassed 89 yards on two receptions.  Juwan Jeffrey added a score and rushed for 144 yards on 17 carries.  Retsen-Taeshawn Daley scored two touchdowns (1 rushing, 1 receiving), including an 83 yard touchdown reception as well as rushed for 82 yards on two carries.
Clark Barnes also scored and racked up 82 yards on two receptions for the Bulldogs.Antonio Webb was successful on six conversion attempts.
For the Warriors, Austin Reid completed 12 passes in 23 attempts for 168 yards and two touchdowns.  Nathan Longley scored a touchdown and had 78 yards on four receptions in the loss.
Luke Tejerina added three singles and four PAT's in the game.
OTTAWA MYERS RIDERS 52, KINGSTON GRENADIERS 9:
At Loyalist Collegiate and Vocational Institute on Saturday afternoon, #CFCOPC James Keenan completed seven passes in 10 attempts for 185 yards and four touchdowns as the Ottawa Myers Riders kept their perfect record intact by defeating Kingston Grenadiers 52-9.
The Myers Riders are 4-0 while the Grenadiers slip to 3-1 on the season.
#CFCOPC Hono Iloki scored a touchdown off a punt return and had 74 yards on three receptions.  Terrell Brown also tallied a major and racked up 88 yards on three receptions in the win. Aiden Arnott-Smith added six PAT's.
#CFCOPC pivot Ben Maracle completed 15 passes in 29 attempts for 169 yards and a touchdown for the Grenadiers.  Tyrus Bromley had 63 yards on four receptions while Nigel Legood added 49 yards in four receptions in the loss.
Connor Rafferty was successful on a conversion attempt.  Defensively, Griffin Chenier registered six solo and three assisted tackles.
CUMBERLAND PANTHERS 28, WEST DURHAM DOLPHINS 0:
On Staurday afternoon at Pine Ridge Secondary School, the Cumberland Panthers blanked the West Durham Dolphins 28-0.
The Panthers move to 1-2 while the Dolphins slide to 1-2.
(NOTE: Stats were not available at press time for this game)
SSM SABRECATS 35, TORONTO THUNDER 0:
At Superior Heights Collegiate on Saturday evening, Jordan Robinson-Wright completed 13 passes in 27 attempts for 167 yards and two touchdowns as the SSM Sabrecats shut down the Toronto Thunder 35-0.
The Sabrecats improve to 2-1 on the season while the Thunder are an even 2-2.
Skylar Premo-Miceli tallied a major and amassed 67 yards on four receptions.  Parker St. Onge rushed for 90 yards on 15 carries.
Defensively, Nick Fowler led the way with two fumble recoveries as well as five solo and four assisted tackles in the win.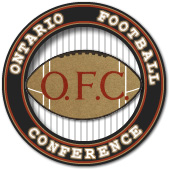 ONTARIO FOOTBALL CONFERENCE (OFC):
FOREST CITY THUNDERBIRDS 48, SARNIA STURGEON 14:
On Saturday, the Forest City Thunderbirds dismantled the Sarnia Sturgeon 48-14.
The Thunderbirds are now 2-1 on the season while the Sturgeon are still winless with an 0-3 record.
(NOTE: Stats were not available at press time for this game)
PETERBOROUGH WOLVERINES 44, SUDBURY GLADIATIORS 7:
Source: Peterborough Wolverines 
The Jr. Varsity Wolverines were able to dominate the very physical Sudbury Gladiators and scored a 44-7 victory in recording their third straight win.
The Wolverines were again lead by a great defensive effort and a good offensive performance.
Scoring for the Wolverines was Keegan Cough with 3 TD's and he concerted on 5 PAT kicks. Also scoring TD's were Kyle Milburn, Blake Dalgarano and Kyle Cooper. Quinn Clancey added a convert PAT Kick and the defense recorded a team safety.
The Wolverines will also travel on Saturday to face the Titans in a 12:30 pm game in Oakville.
HURONIA STALLIONS 20, OAKVILLE TITANS 4:
On Saturday, the Huronia Stallions defeated the Oakville Titans 20-4.
The Stallions move to 3-0 and the Titals slide to 1-1.
(NOTE: Stats were not available at press time for this game)
TWIN-CITIES PREDATORS 63, GUELPH JR GRYPHONS 61:
On Saturday, the Twin-Cities Predators escaped with a 63-61 win over Guelph Jr. Gryphons.
The Predators are 2-1 while the Jr. Gryphons are 0-2.
(NOTE: Stats were not available at press time for this game)
VAUGHAN REBELS 8, TORONTO JR. ARGOS 7:
On Sunday, the Vaughan Rebels edged the Toronto Jr. Argos 8-7.
The Rebels improve to 1-2 while the Jr. Argos are 0-2.
(NOTE: Stats were not available at press time for this game)
BURLINGTON STAMPEDERS 56, BRANTFORD BISONS 7:
Source: John Metcalfe
The Junior Varsity Stamps kept their record unblemished as they overwhelmed Brantford 56-7.
Nathan Langley and Connor Irwin Lewis led the Stamps with 2 rushing majors each while Malik Henry (1 yard run), Josh Munoz ( 1yard run), Connor Potocki (59 yard reception) and John Nikolovski (1 yard run) hit the score sheet for the victors.
Nikita Buzynskyy was perfect on his 8 convert attempts.
Justin Riley scored Brantford's lone major on a 32 yard reception from Brandon Caputo which was converted by Tucker Almert.
Stamps move to 3-0 while the Bison drop to 1-1.
Advocating for football prospects one story at a time.