There will be a new varsity champion crowned this year in the Ontario Football Conference (OFC).  #CFC100 Jordan Lyons guided the Burlington Stampeders to a victory over defending league champions Hamilton Hurricanes.  Additionally, the Guelph Jr Gryphons, Peterborough Wolverines and Toronto Jr Argos also won their playoff match-ups.
In the OVFL, the London Jr Mustangs, Kingston Grenadiers, Cumberland Panthers and Cambridge Lions have all advanced to the next round of the playoffs.
Here are the results from the first round of the varsity playoffs in both the OVFL and OFC:
ONTARIO VARSITY FOOTBALL LEAGUE (OVFL):
LONDON JR MUSTANGS 48, MISSISSAUGA WARRIORS 35:
On Saturday early evening at TD Waterhouse Stadium, #CFC100 Tristan Arndt completed 14 passes in 21 attempts for 247 yards and three passing touchdowns as the London Jr Mustangs defeated the Mississauga Warriors 48-35.
Cole Kussmann scored two touchdowns and rushed for 154 yards on 16 carries.  Mark Devlin also had two scores and racked up 78 yards on five receptions.
Brentyne AndersonBrown tallied a major and had 118 yards on 14 carries in the win.  Noah Olynyk amassed 67 yards on five receptions while Sebastian Vanin had 50 yards on two catches for the Jr Mustangs.
Neil Garrity added two field goals (27 yards, five tards) and six PAT's.
Pivot Kevin John led the Warriors as he completed 24 passes in 35 attempts for 348 yards and five passing touchdowns in the loss.
Kian Schaffer-Baker tallied three majors and racked up and 231 yards on 11 receptions. Kadeem Hemmings racked up 57 yards on six receptions. Merrick Sproule was successful on three conversion attempts.
On defence, #CFC100 Jack Cassar was in beast mode as he registered three solo and 17 assisted tackles for the Warriors.
KINGSTON GRENADIERS 29, OSHAWA HAWKEYES 7:
AT LCVI on Saturday afternoon, Harry Robinson scored a touchdown and rushed for 165 yards on 13 carries as the Kingston Grenadiers cruised to a 29-7 win over Oshawa Hawkeyes.
Carter Matheson also tallied a major and amassed 116 yards on five receptions.  Jeremy Pendergast also added a score and racked up 44 yards on three catches in the win.  Mike Bashall added four PAT's.
Damon Fair caught two interceptions, including one that he converted into a touchdown score.  He also had three solo tackles in the game.  Lance Cellini also caught an interception as well as registered three solo and six assisted tackles. Additionally, Devon Parris had an interception, a solo and an assisted tackle. He also had three solo and five assisted tackles. Cameron Hebert added a solo and an assisted tackle as well as three solo and four assisted tackles for the Grenadiers.
As for the Hawkeyes, Dawson Odei tallied the lone major and rushed for 171 yards on 23 carries.  On defence, Drue Moore registered five solo and six assisted tackles in the loss. Brendan Whitney added a PAT.
CUMBERLAND PANTHERS 22, METRO TORONTO WILDCATS 3:
On Saturday early evening at Millenium Park, Jarryd Rushford caught two interceptions including one which he converted into a touchdown score as the Cumberland Panthers scored a 22-3 victorry over Metro Toronto Wildcats.
Rushford recorded a solo and an assisted sack as well as a solo and two assisted tackles.  Dan Basambombo scored a touchdown, registered six solo and four assisted tackles in the win.
Paul Debe rushed for 86 yards on 12 carries for the Panthers.  #CFC100 Kurleigh Gittens added three PAT's and a rouge.
CAMBRIDGE LIONS 48, SAULT (SSM) SABRECATS 14:
At Jacob Hespeler Field on Saturday night, Mark Christopher completed 18 passes in 28 attempts for 149 passing yards, 75 rushing yards on 13 carries and three touchdowns (two rushing, one passing) as the Cambridge Lions coasted to a 48-14 win over visiting Sault (SSM) Sabrecats.
Nathan McLean tallied a major and racked up 48 yards on three receptions in the win.  He also added two field goals (27 yards, 20 yards) and six PAT's.
On defence, Jared Beeksma caught an interception, recorded a solo sack, two solo tackles and an assisted one.  Klay-Christian De-Gannes caught an interception and ran it into the end zone for a touchdown. He also registered two solo and three assisted tackles in the win.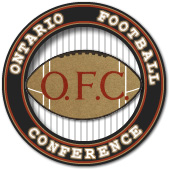 ONTARIO FOOTBALL CONFERENCE (OFC):
BURLINGTON STAMPEDERS 33, HAMILTON HURRICANES 23:
GAME RECAP AND SUMMARY BY JOHN METCALFE
#CFC100 Tailback Jordan Lyons was too much for the two time defending Champion Hurricanes as the Stampeders ended the Hurricanes reign with a 33-23 victory.  Lyons scampered for 310 yards on 21 rushes that included touchdown runs of 25, 1, 67 and 10 yards.  Stamps kicker Adam Precoanin booted a 36 yard field goal as well as four converts and the Stamps earned 2 points on a conceded safety touch.  For the Hurricanes, pivot Liam Putt was 19 for 35 in the air for 293 yards which included scoring passes to Tyson Middlemost for 15 yards and Michael Ciavarella from 16 yards out.  Nicholas Baldini had an 11 yard rushing major while kicker Jack Beattie was 2 for 2 on converts and added a 36 yard field goal of his own.  Stampeders will now move on to face the Guelph Jr. Gryphons in Guelph for the South Division crown on August 1st.  When these two squads met on July 11th in Guelph, the Griffs were 35-28 winners.
2015 Summer Hamilton Hurricanes
Varsity Game Summary – July 25th   
Burlington Stampeders                       33     at     Hamilton Hurricanes                      23
Stampeders advance to South Division final at Guelph on August 1st
Qtr.        Team     Time                      Play                             Convert                         Running
2nd        Burl     2:46     Jordan Lyons, 15 yard run                              Adam Preocanin         Burl 7-0
2nd        Ham    9:13     Tyson Middlemost from Liam Putt, 15 yds.  Jack Beattie                 7-7
2nd        Ham    12:37   Jack Beattie, 36 yard field goal                      n/a                               Ham 10-7
2nd        Burl     14:11   Jordan Lyons, 1 yard run                                Adam Preocanin         Burl 14-10
3rd        Burl     3:27     Adam Preocanin, 36 yard field goal               n/a                               Burl 17-10
3rd        Ham    7:09     Michael Ciavarella from Liam Putt, 16 yds.   Jack Beattie                 17-17
3rd        Burl     7:24     Jordan Lyons, 67 yard run                              Adam Preocanin         Burl 24-17
3rd        Burl     8:54     Safety touch, conceded                                  n/a                               Burl 26-17
4th        Burl     5:44     Jordan Lyons, 10 yard run                              Adam Preocanin         Burl 33-17
4th        Ham    8:56     Nicholas Baldini, 11 yard run                         2 pt no good                Burl 33-23
TEAM STATS
Burlington                                          Hamilton
Rushing (att.-yds.)                  44-417                                                 19-98
Passing Yards                         94                                                        293
– Team Losses                         -39                                                       -7
Net Offence                            471                                                      384
First Downs                            27                                                        23
Return Yards                          35                                                        121
Fumbles-Lost                          0-0                                                       0-0
Interceptions by                      0                                                          0
Penalties-Yards                       11-85                                                   5-56
INDIVIDUAL STATS
STAMPEDERS                                HURRICANES
Rushing (atts.-yds.)                  Jordan Lyons 21-310, 4 tds                Nicholas Baldini 6-44, td
Dominic Mandalfino 23-105              Nicholas Petermann 6-27
Receiving (cat.-yds.)                Matt Orr 2-55                                      Clark Adams 5-102
Nick Casola 4-27                                Billy Olds 7-72
Passing                                    Mason Brown 7-11-0-0                       Liam Putt 19-35-2-0
(comp.-atts.-tds-int)
GUELPH JR GRYPHONS 30, BRANTFORD BISONS 21:
GAME RECAP BY BRAD WARD
BISONS SEASON ENDS WITH PLAY OFF LOSS TO GUELPH
The Brantford Bisons 2015 football season came to an abrupt end on Saturday when they suffered a 30-21 loss to the Guelph Gryphons in the Ontario Football Conference semi-final play off game.
The Bisons had the better field position in the first quarter led by the hard running of runningback Kevin Cann, including a 35 yard romp that put the Bisons in scoring position. Unfortunately the Bisons could not get the ball into the end zone and had to settle for a single point on a missed field goal by Andre Toic. This score held up until the second quarter with the Bisons defense containing the Gryphon offense, giving them little opportunity to move the ball. In the second quarter, the Gryphons took the lead for the first time when they scored a touchdown midway through the quarter. The Gryphons scored again with 24 seconds to go in the half to take a 14-1 lead. The lead could have been more except for last week's defensive leader, Alix Dufrat, intercepting a Gryphon pass at the Bisons 10 yard line late in the quarter.
The Bisons stormed out of the gate in the third quarter, completing a long drive with a 22 yard touchdown by runningback Tristan Almas. Toic converted to cut the Gryphon lead to 14-8. Capping off a strong quarter by the Bisons, quarterback Matt Krason completed a 44 yard screen pass to Almas that gave the Bisons a first down at the Gryphons nine yard line. Cann then punched it in for a touchdown and, with the Toic convert, the Bisons took a 15-14 lead heading into the fourth quarter. The Gryphons took over the game in the fourth quarter, scoring 16 unanswered points for a 30-15 lead before the Bisons scored a touchdown on a pass from Krason to Almas on the last play of the game. The two point conversion failed and the season was over for the Bisons with the 30-21 loss.
"We had our chances to win this game but came up just short of the victory. Even though our season is over, I am very proud of our team. The players did the best they could but Guelph is a great team and were just a little bit better than us on Saturday." said Kelly Ireland, head coach for the Bisons.
PETERBOROUGH WOLVERINES 26, HURONIA STALLIONS 8:
GAME RECAP BY PETERBOROUGH WOLVERINES
In the SV game the Wolverines were able to defeat a good Huronia Stallions team in a well played defensive game. The Stallions opened the scoring with a team safety and the Wolverines came back to take a 11-8 lead at the half. In the second half the Wolverines took control and the defense shut down the Stallions for the 26-8 win. It was a great day for Devin Claypole who had three pass interceptions with one for a 51 yard return for a TD. He also had two field goals, two singles and converted two PAT kicks. Also scoring a TD was Michael MacNeil. A great win for the Wolverines and they look forward to the game against the Jr. Argos who edged the Wolverines with a last minute TD in their regular season game.
TORONTO JR ARGOS 40, SUDBURY GLADIATORS 8:
GAME AND PLAYER STATS NOT AVAILABLE AT PRESS TIME
Photo credits: Burlington vs Hamilton photos – Jennifer Silvestri
Advocating for football prospects one story at a time.