*****UPDATED JUNE 23st @ 08:00AM EST*****
Only two team remain undefeated in the Ontario Varsity Football League (OVFL) after five weeks of play.
Both the Niagara Spears and York Regions Lions are the only teams with perfect records still intact.
The Cambridge Lions and Essex Ravens earned shutout victories.  Other Week 5 winners include Toronto Thunder, Cumberland Panthers, Kingston Grenadiers, Oshawa Hawkeyes and London Jr. Mustangs.
In the Ontario Football Conference (OFC), Hamilton Varsity Tiger Cats, Burlington Stampeders and Peterborough Wolverines are still perfect this season,  Other Week 4 winners are North Halton Crimson Tide, Sudbury Gladiators, Brantford Bisons and Toronto Jr. Argos.
Here are results for WEEK 5 OVFL and Week 4 OFC Varsity Divisions
(NOTE:  At press time not all stats/scored were received; therefore, this page will be continued to be updated as more information does become available)
ONTARIO VARSITY FOOTBALL LEAGUE (OVFL):
TORONTO THUNDER 14, METRO TORONTO WILDCATS 12:
On Saturday afternoon at Birchmount Stadium, the Toronto Thunder got pass rivals Metro Toronto Wildcats 14-12.
The Thunder move to 4-1 while the Wildcats are still winless at 0-4.
A silver lining for the Wildcats in their loss was the performance of Fernando Fuller who scored a touchdown and rushed for 162 yards on 18 carries.
Marcel Grant racked up 83 yards on three receptions.
Defensively, David Weldon led the way for the Wildcats with four solo and two assisted tackles in the loss.  Additionally, Jomar Biggs had a batted ball, a forced fumble and four solo tackles.  Kulvir Singh registered four solo and three assisted tackles.
CUMBERLAND PANTHERS 48, CORNWALL WILDCATS 28:
At Joe St. Denis Field on Saturday evening, the Cumberland Panthers cruised to a 48-28 victory over Cornwall Wildcats.
The Panthers improve to 2-2 while the Wildcats are 0-4.
Despite the loss, Blade Best turned in a stellar performance as he tallied two majors and rushed for 111 yards on 18 carries.  Braden Clarke scored a touchdown and rushed for 49 yards on seven receptions. Alexander Zarifi amassed 63 yards on four receptions for the Wildcats. Jordan Millward added four PAT's.
KINGSTON GRENADIERS 23, WEST DURHAM DOLPHINS 14:
On Satutday evening at Pine Ridge Secondary School, the Kingston Grenadiers bounced back and won their contest against West Durham Dolphins 23-14.
The Grenadiers are now 4-1 while the Dolphins are still searching for their first win this season at 0-4.
Caleb Goodfellow, Harry Robinson and Matt McDonald each had a major in the win.  Pivot Tanner DeJong amassed 162 passing yards and a touchdown.
OSHAWA HAWKEYES 21, OTTAWA MYERS RIDERS 14:
At Beckwith Sports Park in Saturday evening, the Oshawa Hawkeyes pulled off a major upset as the team scored a 21-14 win over Ottawa Myers Riders.
The Hawkeyes move to 2-3 while the Myers Riders slip to 4-1.
(NOTE: Stats were not available at press time for this game)
LONDON JR. MUSTANGS 55, ETOBICOKE EAGLES 7:
Under Saturday Night Lights at TD Waterhouse Stadium, Tazie Vang Bell scored three touchdowns and rushed for 99 yards on eight carries as the hosts London Jr. Mustangs crushed the visiting Etobicoke Eagles.
The Jr. Mustangs improve to 4-1 while the Eagles are 0-5 on the season.
Brentyne AndersonBrown rushed for 159 yards on 12 carries.  Noah Johns tallied a major and racked up 46 yards on three touchdowns.
Pivot Jake Pow completed seven passes in nine attempts for 115 yards and two touchdowns in the win.  Tyler Cejvan added two field goals and six PAT's.
As for the Jr. Mustangs defence, Tyler Hourie registered five solo and four assisted tackles.  #CFC100 Daniel Valente caught an interception and converted it into a 95 yard touchdown score and added five assisted tackles.
ESSEX RAVENS 56, SSM SABRECATS 0:
At University of Windsor Alumni Stadium on Saturday night, Braeden Braccio tallied three majors and rushed for 190 yards on 24 carries as the Essex Ravens blanked the visiting SSM Sabrecats 56-0.
The Ravens even their record to 2-2 while the Sabrecats are also 2-2.
Nick Langley completed 13 passes in 16 attempts for 197 yards in the victory.  Vito Pipitone was successful on a 29 yard field goal attempt and added seven PAT's for the Ravens.
CAMBRIDGE LIONS 43, BRAMPTON BULLDOGS 0:
On Saturday night at Jacob Hespeler Field, Jack Hinsperger racked up an assisted and eight solo tackles as the Cambridge Lions earned a 43-0 shutout victory pver Brampton Bulldogs.
The Lions now sport a 3-1 record while the Bulldogs are 0-4.
#CFC100 Justin Jelacic recorded a solo sack as well as an assisted and four solo tackles.
NIAGARA SPEARS 54, HAMILTON IRONMEN 7:
At Kiwanis Field on on Saturday night, Tre Ford completed 14 passes in 15 attempts for 269 yards and three touchdowns as the Niagara Spears dismantled the visiting Hamilton Ironmen 54-7.
The Spears are 5-0 while the Ironmen fall to 1-4.
Dan Seravalle scored a touchdown and amassed 71 yards on three receptions.  Keaton Bruggeling tallied a major and had 56 yards on three receptions while Joseph Jones added a score and 56 yards on two receptions.  #CFCOPC Austin Pilato racked up 50 yards on two receptions. Owen Charnock added a 36 yard field goal and seven PAT's.
#CFC100 and #CFCOPC Teddy Mansell led the Spears defence with an assisted sack as well as two solo and six assisted tackles in the win.
As for the Ironmen, Alexander DiPietro completed 13 passes in 22 attempts for 128 yards and a touchdown.  Austin Papalazarou amassed 91 yards on seven receptions while David Benedetti added a PAT in the loss.
Anthony Bellardini and Jaxon Ciraolo each registered four solo and five assisted tackles.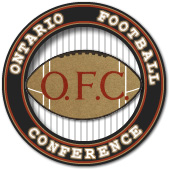 ONTARIO FOOTBALL CONFERENCE (OFC):
HAMILTON VARSITY TIGER CATS 12, GUELPH JR. GRYPHONS 3:
Source: John Metcalfe
A decidedly defensive affair as the Cats prevailed 12-3 over Guelph to remain unbeaten at 3-0.  The only touchdown in the game came as a result of a fumble return for the major to end the first half.  Jacob Patten Bothelo's field goal attempt was wide, on the return, Patten Bothelo managed to pop the ball loose and Wyatt Croucher scooped it up and went 5 yards for the touchdown.  Patten Bothelo added the convert and also a 35 yard field goal while the defence forced a conceded safety touch.  Gabriel Siemieniec accounted for the Gryphons only points with a 25 yard field goal as Guelph saw their record drop to 2-1.
NORTH HALTON CRIMSON TIDE 36, VAUGHAN REBELS 10:
Source: Jim Kardash
The Crimson Tide played exceptionally well considering the conditions. The Defence lead the way with another shutout performance while the Offence and Special teams took advantage of a Vaughan team that looked like the conditions got to them.

The Crimson Tide Defence played a fundamentally sound game with great coverage, pursuit, pressure and tackling. Vaughan was challenged all game long to put together sustained drives. 5 Tide players recorded 5 or more tackles in the game. Leading the way were Andy Melo and Ben Gray with 6 a piece while Josh Bowler, Owen Barlow and Garrison Pyle chipped in with 5 tackles each. Also having an impact on the game were Malcolm Fellows and Daniel Catalli who stepped in front of intended Vaughan targets to intercept passes and get solid returns that set the Tide up in good scoring positions.

Offensively , it was all about the big play for the Tide. There were 5 plays of 40 yds or more in the game. Lucas Scully had 4 TD's on the day with 3 of them being of the big play variety. Matt McDonough had the other 2 TD's with one of the big plays on the day. Eric Rasmussen had the 5th big play of the game with a scamper of 81 yds.

PETERBOROUGH WOLVERINES 40, OAKVILLE TITANS 0:
Source: Peterborough Wolverines
The Wolverines Sr. Varsity team was able to extend their impressive defensive play in shutting out the Titans 40-0 to run their unbeaten streak to 4-0.
The Wolverines were able to use a balanced offensive attack along with their defense in controlling the game.
Ryan McNamara lead the scoring with 3 TD's with one a spectacular 66 yard run. Nick Clarkin scored a TD on an exciting 80 yard pass play from QB Ryan Astrom.
Nick also recorded 5 convert kicks and was successful on a field goal. Emerson DeCarlo also scored a TD and the defense scored a team safety.
SUDBURY GLADIATORS 37, NIPISSING WILD 7:
On Saturday, the Sudbury Gladiators coasted to a 37-7 win over Nipissing Wild.
The Gladiators improve to 3-1 while the Wild fall to 0-4.
(NOTE: Stats were not available at press time for this game)
BRANTFORD BISONS 22, CHATHAM KENT COUGARS 18:
On Saturday, the Branford Bisons escaped with a 22-18 win over Chatham Kent Cougars.
(NOTE: Stats were not available at press time for this game)
TORONTO JR. ARGOS 23, HURONIA STALLIONS 16:
On Sunday, the Toronto Jr. Argos scored a 23-16 victory over Huronia Stallions.
The Jr. Argos are now 3-1 on the season while the Stallions are 2-2.
(NOTE: Stats were not available at press time for this game)
BURLINGTON STAMPEDERS 42, TWIN-CITIES PREDATORS 11:
Source: John Metcalfe
The defending champs once again rode behind the legs of #CFC100 Dominic Mandalfino as they ran over the Twin Cities Predators 42-11 to stay unbeaten at 3-0.  Mandalfino had touchdown runs of 1, 27, 4 and 2 yards along with 172 yards rushing on 18 carries to lead the way.  Dominic currently leads the OFC Varsity loop with 10 touchdowns and 437 yards on the ground.  Other Stamps scores came from Ayden Amestoy on a 5 yard run and Ramar Lloyd on a 15 yard reception.  Patrick Whelan added 6 converts.  The bright spot for the Predators was Brenner Strickland who had 2 kick returns for 168 yards including a 102 yard return to the house to open the 2nd half!  Robel Berhane added the convert and a 33 yard field goal for Twin Cities.  Stamps record improves to 3-0 tied with Hamilton atop the South Division while the Preds drop to 1-3.
Advocating for football prospects one story at a time.