Can anybody beat the Niagara Spears or the York Region Lions?
The Spears have emerged as one of the top teams so far this season in the Ontario Varsity Football League (OVFL).  This past weekend, the team earned a 32-0 shutout victory over SSM Sabrecats. Same case for the Lions who defeated the Cumberland Panthers 25-13.
Kingston Grenadiers and Toronto Thunder also blanked their opponents this past weekend.  Other Week 6 winners include Brampton Bulldogs, Cambridge Lions, Cornwall Wildcats and Essex Ravens.
In the Ontario Football Conference (OFC), the Peterborough Wolverines and Toronto Jr. Argos escaped with wins.  Additionally, North Halton Crimson Tide, Nipissing Wild and Hamilton Varsity Tiger Cats earned shutout victories while Burlington Stampeders remained perfect.
Here are results for WEEK 6 OVFL and Week 5 OFC Varsity Divisions
(NOTE:  At press time not all stats/scored were received; therefore, this page will be continued to be updated as more information does become available)
ONTARIO VARSITY FOOTBALL LEAGUE (OVFL):
KINGSTON GRENADIERS 21, METRO TORONTO WILDCATS 0:
On Saturday afternoon at Birchmount Stadium, Caleb Goodfellow scored two touchdowns and rushed for 81 yards on 21 carries as the Kingston Grenadiers earned a 21-0 shutout victory over Metro Toronto Wildcats.
The Grenadiers improve to 5-1 while the Wildcats are basement dwellers with a 0-5 record.
Nikolas Reyes had 47 yards on three receptions in the win.  Shawn Miller added three PAT's.
Defensively, Taylor Stalkie recorded a solo sack, three solo and four assisted tackles for the Grenadiers.
For the Wildcats, Fernando Fuller rushed for 47 yards on 13 carries in the loss.
BRAMPTON BULLDOGS 45, ETOBICOKE EAGLES 44:
At Michael Power/St. Joseph High School, the Brampton Bulldogs edged the Etobicoke Eagles 45-44.
The Bulldogs move to 1-4 while the Eagles are winless with an 0-6 record.
(NOTE: Stats were not available at press time for this game)
CAMBRIDGE LIONS 48, MISSISSAUGA WARRIORS 7:
On Saturday evening at Loyola Catholic Secondary School, Brandon Metz tallied a major and rushed for 217 yards on nine carries as the Cambridge Lions dismantled the Mississauga Warriors 48-7.
The Lions are 4-1 while the Warriors are 3-2 on the season.
Riley Boersma scored two touchdowns and had 74 yards on five receptions.  Ryan Isenor added a score in the game.  Dieng Chuol racked up 82 yards on two receptions while Kaden Jespersen amassed 80 yards on two receptions for the Lions.
Pivot Jackson White completed 10 passes in 12 attempts for 190 yards and three touchdowns in the victory.  Nathan McLean was successful on six conversion attempts.
NIAGARA SPEARS 32, SSM SABRECATS 0:
At Superior Heights Collegiate on Saturday evening, Jordan Terrio scored three touchdowns to guide the Niagara Spears to a 32-0 victory over hosts SSM Sabrecats.
The Spears remain perfect with a 6-0 record while the Sabrecats slide to 2-3.
For the Sabrecats, Ryan Jost rushed for 92 yards on 14 carries while Jacob Fecteau led the defence with a solo sack as well as two solo and six assisted tackles.
In Saturday's game, the Sabrecats were without two of their top players as Tristian Marshall was nursing an injury and pivot Michael Byron did not dress for the game.
CORNWALL WILDCATS 31, OSHAWA HAWKEYES 21:
On Saturday evening at Joe St. Denis Field, Tanner Eaves caught an interception and ran it into the end zone for a 115 yard score as the Cornwall Wildcats won their first game of the season, 31-21 over Oshawa Hawkeyes.
The Wildcats improve to 1-4 while the Hawkeyes slip to 2-4.
Terry Dogbey also converted an interception into a 43 yard score.  Jordan Millward tallied a major and was successful on a field goal attempt while Blade Best added a score.  Moreover, Kevin Mutombo-Ngandu had an inteception to steer the Wildcats defence.
Jelani Yorke scored a touchdown for the Hawkeyes in the loss.
YORK REGION LIONS 25, CUMBERLAND PANTHERS 13:
At Millenium Park on Saturday evening, #CFCOPC Noah Craney completed 21 passes in 35 attempts for 238 yards and two touchdowns as the York Region Lions defeated the Cumberland Panthers 25-13.
The Lions remain undefeated with a 5-0 record and the Panthers fall to 2-3 on the season.
Majeed Zabsonre tallied two majors and amassed 100 yards on 10 receptions.  Vincent Reale had 117 yards on eight receptions in the win. Marc Liegghio added three PAT's for the Lions.
Alex Jafs led the Lions defence as he had a fumble recovery and ran it into the end zone for a score.  He also had a batted ball as well as three solo and three assisted touchdowns.  Cole Verlinde had a forced fumble, batted ball, an assisted anf five solo tackles for the Lions.  Tucker Rozeboom had a forced fumble as well as an assisted and two solo tackles.  He also registered a solo and three assisted tackles in the game.
ESSEX RAVENS 40, LONDON JR. MUSTANGS 27:
On Saturday night at University of WIndsor Alumni Stadium, the Essex Ravens snapped the London Jr. Mustangs four game winning streak with a 40-27 victory.
The Ravens move to 3-2 while the Jr. Mustangs drop to 4-2.
For the Jr Mustangs, Jake Pow completed 15 passes in 27 attempts for 247 yards and three touchdowns.  Pow also rushed for 54 yards on nine carries.
Jack Kys scored a touchdown and had 97 yards on five receptions. #CFC100 Daniel Valente tallied a major off a punt return.
Tyler Cejvan amassed 81 yards on two receptions and added a PAT.  Sean Gough was successful on two conversion attempts in the loss.
Brentyne AndersonBrown rushed for 58 yards on 12 carries.
On defence, Brent Quiring led the way with a solo and an assisted tackle.  Furthmore, Quiring had two solo and 12 assisted tackles. Braydon Kaufman registered six solo and six assisted tackles.  #CFC100 Spencer Hood recorded an assisted tackle as well as a solo tackle and 13 assisted tackles for the Jr. Mustangs.
TORONTO THUNDER 23, WEST DURHAM DOLPHINS 0:
At Pine Ridge Secondary School on Saturday night, Emmanuel Beals caught three interceptions including one he converted into a touchdown as the Toronto Thunder blanked West Durham Dolphins 23-0.
Beals also had four solo tackles in the game.
The Thunder improve to 5-1 while the Dolphins fall to 0-5.
Raign Harris talied a major and racked up 74 yards on six receptions for the Thunder.  Kino Barrett also added a score.
#CFCOPC Kavantye Bailey rushed for 69 yards on 11 carries while Daynar Facey had 69 yards on four receptions as well as two PAT's for the Thunder. Isaiah Marcus was successful on a conversion attempt.
Defensively, Donte Shanghie registered five solo and three assisted tackles in the win.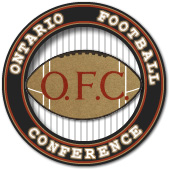 ONTARIO FOOTBALL CONFERENCE (OFC):
NORTH HALTON CRIMSON TIDE 41, OAKVILLE TITANS 0:
On Friday, the North Halton Crimson Tide earned a 41-0 shutout win over the Oakville Titans.
The Crimson Tide are 4-1 on the season while the Titans slide to 1-4.
(NOTE: Stats were not available at press time for this game)
NIPISSING WILD 38, VAUGHAN REBELS 0:
The Nipissing Wild gained their first win of the season as the team blanked Vaughan Rebels 38-0.
The Wild are now 1-4 while the Rebels are 0-5.
Riley Gravelle led the Wild as he had three passing majors in the game.  Kyle Regimbald tallied two majors while Brandon Bagley added a score.
BURLINGTON STAMPEDERS 50, GUELPH JR. GRYPHONS 16:
The Burlington Stampeders continue to be unstoppable as they earned a 50-16 victory over Guelph Jr. Gryphons.
The Stampeders remain perfect with a 5-0 record while the Jr. Gryphons slip to an even 2-2.
(NOTE: Stats were not available at press time for this game)
HAMILTON VARSITY TIGER CATS 57, CHATHAM-KENT COUGARS 0:
Source: John Metcalfe
The Varsity Cats offence regained their scoring touch in a 57-0 shutout of the Chatham Kent Cougars.  Sammy Restivo led the Cats offence scoring on catches of 5 and 24 yards from #CFC100 pivot Connor Carusello and busting a 63 yard run for the major.  Carusello also hooked up with Christian Sirko from 31 yards away to start the scoring while Nicholas Petermann added scoring runs of 5 and 6 yards.  Jordan Rimac hooked up with Justin DiPietro from 21 yards out and Brandon Eddie rumbled in for a 5 yard score.  Jacob Patten Bohtelo was 8 for 8 on convert tries and added a rouge from a missed field goal.  The Cats share top spot in the South Division with Burlington at 4-0 while the Cougars sit at the bottom at 0-4.
PETERBOROUGH WOLVERINES 29, HURONIA STALLIONS 23:
Source: Peterborough Wolverines
The Wolverines Sr. Varsity squad continued their winning ways with a 29-23 victory over the Stallions to remain undefeated at 5-0. It was a hard fought contest with the Stallions leading at the half 14-8. The Wolverines out played the Stallions in the second half and were able to record their 5th straight victory. Scoring for the Wolverines on TD passes from QB Rylan Gwyn were Nick Clarkin with two and Joel Lausen with one as well. Ryan McNamara scored a TD on a run and Nick Clarson converted four convert kicks. Chase Batley scored a single point off a point through the enzone. The Wolverines will have a Bye this week and will prepare for their next OFC opponent, the Toronto Jr. Argos on July 9th.
TORONTO JR. ARGOS 23, SUDBURY GLADIATORS 21:
On Sunday, the Toronto Jr. Argos gave the home crowd something to cheer about as the team escaped with a 23-21 win ver Sudbury Gladiators.
The Jr. Argos improve to 4-1 while the Gladiators are 3-2.
For the Gladiators, Graeme Stevens and Noah Skuse each scored a touchdown.
Advocating for football prospects one story at a time.