****UPDATED 8:15AM EST***
The past few days have been pretty good ones for the Charles P Allen Cheetahs of the Nova Scotia Student Athletic Federation Football League (NSSAFFL).
This past Friday, the Cheetahs got redemption as the team handed the defending NSSAFFL Provincial Tier 1 Champions, Sir John A MacDonald Flames their first defeat of the 2014 season.  The Cheetahs scored a 31-14 victory over the Flames in front of a sold out crowd at CPA Turf.
Will Chamberlain scored two touchdowns and rushed for 89 yards.  Garet Jewers also tallied a major and racked up 113 yards on five receptions.
Pivot Duncan Patterson had nine completions in 18 attempts for 194 passing yards in the win.
On defense, Matt Bayne caught an interception and registered nine tackles.  Additionally, Brad Bevan had eight tackles while both Tim Ellis and Andre Boudreault each caught interceptions.
In his postgame assessment, Flames Head Coach Steve Majury evaluated what went wrong for the team.
"SJA played a very undisciplined game amassing over 150 yards in penalties," commented Majury.  "The Flames defence played physical football but consistently shot ourselves in the foot with senseless penalties."
"Offensively, we did not answer the physical challenge put forward by CPA as they were much more physical than we were and deserved to win the game. Malcolm Hyde was a dominant force at D-Line for CPA as were linebackers Matt Bayne and Brad Bevan.  We struggled mightily in several aspects of this football game and it was an extremely disappointing performance from our football team. We will have to work hard to improve our performance going forward."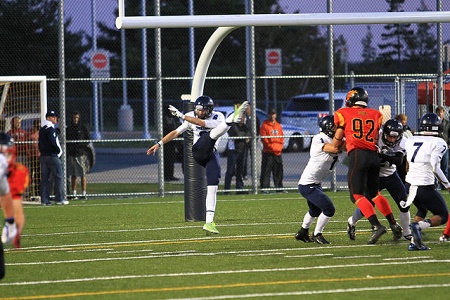 With the win, the Cheetahs bounced the Flames off the CFC 50.  In yesterday's rankings, the Cheetahs are ranked 43rd.
The Cheetahs will now host the Citadel Phoenix on Friday September 25th at CPA Turf.  Kickoff is 7:00pm.  Meanwhile, the Flames will look to get back into the win column as they travel to Wolfville to face the Horton Griffins on Saturday September 26th at 8:00 at Raymond Field.
Here are the rest of the results from this past week's action in the NSSAFFL:
NOVA DIVISION (TIER 1):
CITADEL PHOENIX 41, HORTON GRIFFINS 0:
At Mainland Commons, Tyler Martin scored two touchdowns and rushed for 221 yards as the Citadel Phoenix earned a 41-0 shutout victory over the Horton Griffins.
Pivot David Luke connected with Ian Farrell for 25 yard touchdown reception.  Tyrique Dixon Bowden also rushed into the end zone for a 12 yard touchdown score.
"This was a big learning experience for our team," said Phoenix Offensive Coordinator Jon Dyer after the win.  "The score was not indicative of the game; Horton played hard and well but it didn't show on the scoreboard."
"It was a windy game and our passing game struggled. We relied on our run game led by Tyler Martin behind another strong performance from our offensive line.   Our defense played very well as a unit. No one individual stood out but our front seven were able to stop the run and get off the field quickly forcing Horton to take some safeties or give our offense good field position."
Now the focus for the Phoenix turns to their opponents this upcoming week, a team that gave them their first defeat in 46 consecutive games last year. For the Phoenix, the team knows the Charles P Allen Cheetahs will be a tough challenge.
"We have our biggest game of the year Friday night against another undefeated team, CP Allen," expressed Dyer.  "We need to improve in every facet of the game if we are going to walk away with a win."
"It's a big week of practice coming up."
The Citadel Phoenix will battle Charles P Allen Cheetahs on Friday September 25th at 7:00pm at CPA Turf.  As for the Griffins, the team will host Sir John A MacDonald Flames on Saturday September 26th at 8:00pm at Raymond Field.
AUBURN DRIVE EAGLES 14, PRINCE ANDREW PANTHERS 7:
Stats not available at press time
COBEQUID EDUCATIONAL CENTRE COUGARS 39, HALIFAX WEST WARRIORS 3:
At James MacPherson Stadium, Cobequid Educational Centre Cougars gave the home crowd something to cheer about as the team scored a 39-3 victory over the visiting Halifax West Warriors.
For the Warriors, Aergus Lund and Connor Grant were the standouts in the loss.
"We are a young team who are learning the game as we go along," commented Warriors Head Coach Dave Kelly.  "If we want to improve we can't keep making the same mistakes that lead to points for the other team."
Cobequid Educational Centre Panthers will host the Prince Andrew Panthers on Sunday September 28th at James MacPherson Stadium.  Kickoff is 1:00pm. As for the Halifax West Warriors, the team will face the Auburn Drive Eagles on Monday September 29th at Burnside Turf.  Game start is 6:00pm.
SCOTIA DIVISION (TIER 2):
SACKVILLE HIGH KINGFISHERS 46, DARTMOUTH HIGH SPARTANS 0:
At Wanderers Grounds, Tyler Robichaud scored three touchdowns and rushed for 74 yards as the Sackville High Kingfishers earned a 43-0 shutout win over the Dartmouth High Spartans.
Tyrell Young and Kyle Conrad each tallied a major for the Kingfishers.  Ben Dwyer caught an interception and converted it into a touchdown score.  Jalen Loppie rushed for 69 yards.
On defense, Cameryn Robichaud  led the way with 7.5 tackles.
"We started out a bit flat but came together late in the first quarter," assessed Kingfishers Coach Rob Morgan after the win.  "They have a young team with some talented and classy athletes and will develop well as time progresses."
"We have to get better on ball possession and work on special teams to become fully rounded."
As for the Spartans, Head Coach Blair Sampson evaluated the team's performance after the loss.
"DHS just haven't been able to get their offence going with their very inexperienced players this year," said Sampson.  "The defense started strong with the linebacker core leading the way but spending too long on the field took its toll by the second half."
Sackville High Kingfishers will battle JL Ilsley Judges on Thursday September 25th at Burnside Turf.  Start time is 5:00pm.  Meanwhile, Dartmouth High Spartans will meet Lockview Dragons on Thursday September 25th at Burnside Turf.  Kickoff is 8:00pm.
LOCKVIEW DRAGONS 38, SYDNEY ACADEMY WILDCATS 0:
At Lockview, Adam Doucet scored four touchdowns and was successful on two conversion attempts as the host Dragons crushed Sydney Academy Wildcats 38-0.
"The key to the win is that we are getting the team to step up," commented Dragons Head Coach Mike Korecki.  "That means more than one person would lead us."
"The defense played very well today and they are buying in to the system that we are trying to lay out for them."
Lockview Dragons will battle Dartmouth High Spartans on Thursday September 25th at Burnside Turf.  Kickoff is 8:00pm.  As for the Sydney Academy Wildcats, they will host Cole Harbour Cavaliers on Sunday September 28th at 3:30pm.
COLE HARBOUR CAVALIERS 28, JL ILSLEY JUDGES 0:
Stats not available at press time
DIVISION/TIER 3:
AVONVIEW AVALANCHE 6, WEST KINGS WOLVERINES 3:
Stats not available at press time
NORTHEAST KINGS TITANS 46, DR. JOHN HUGH GILLIS ROYALS 6:
Stats not available at press time
Charles P Allen Photo Credits:  Joe Chrvala
(twitter: http://twitter.com/vohra_ameeta)
Advocating for football prospects one story at a time.