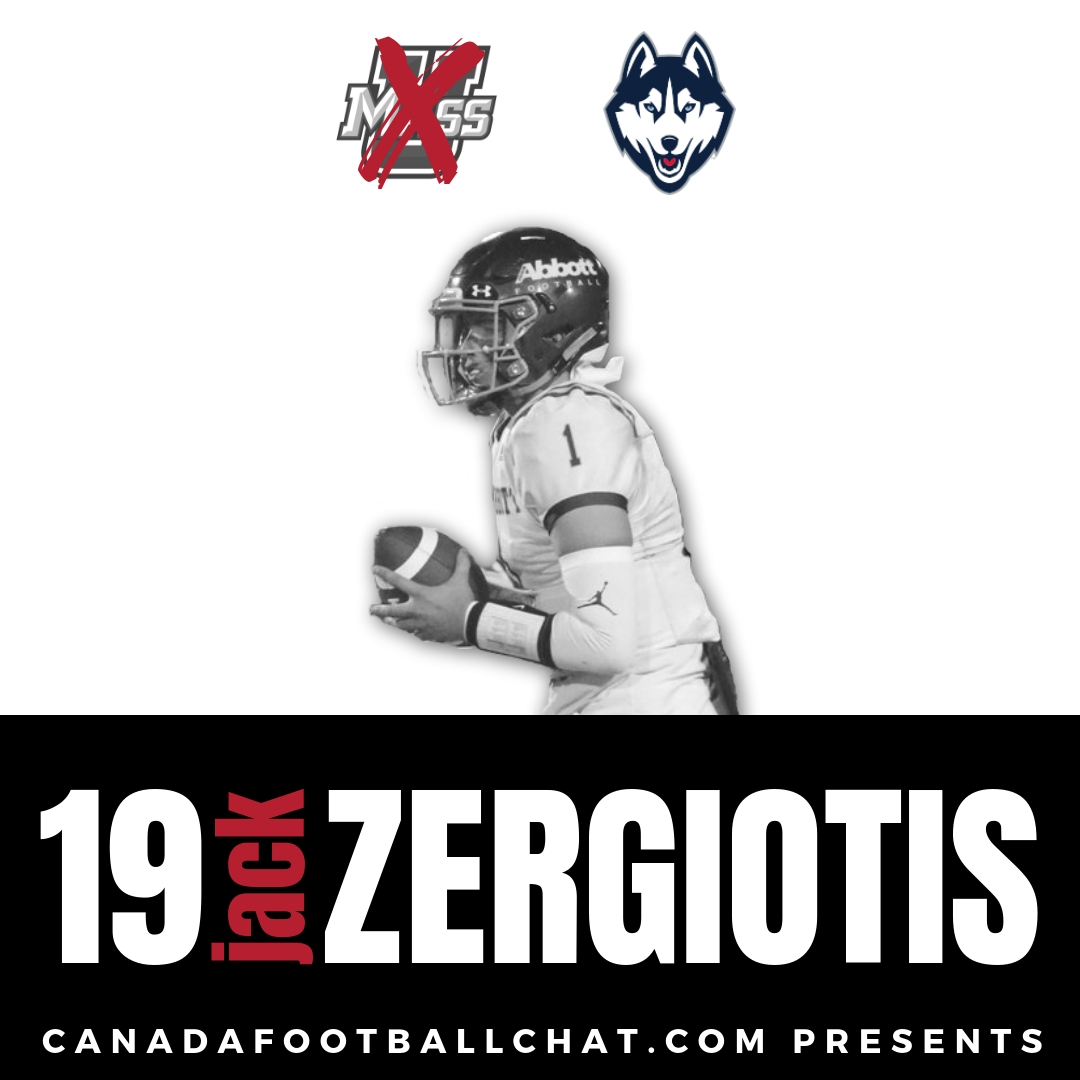 There's always an obsession with Canadian quarterbacks north of the border, so naturally it should be exciting news for fans to hear we've got another rising star on our radar. CFC60 Jack Zergiotis didn't get the same type of publicity on the CEGEP10 playing for DII John Abbott, but that didn't stop UConn from sealing the deal on Early Signing Day.
NCAA EARLY SIGNING DAY TRACKER
Any Canadian receiving NCAA attention is in rare territory, but you really need to standout if you're the one calling signals under centre. It's an obstacle that will always exist due to population alone, but Jack Zergiotis is the next in line to prove doubters wrong. The John Abbott product flourished this season leading his squad to a 6-2 record and berth in the DII Bol d'Or for the second straight season, but unfortunately there wasn't a magical ending to his CEGEP career. Still he put up impressive numbers the past two years throwing for 4424 yards, 45 touchdowns and just 10 interceptions, which when coupled with his 6'1″ frame is going to attract at least an inquiry from some NCAA schools.
Our next signee is Jack Zergiotis. Welcome to #UConnNat19n, Jack!#NSD19 pic.twitter.com/puOCtcEsg7

— UConn Football (@UConnFootball) December 19, 2018
Zergiotis says he enjoyed the atmosphere on campus during his visit last week, and is excited to carry on the Canadian tradition,
"The visit was great, we toured the campus and the training facilities. We even saw a men's basketball game." he explains.
"The coaches are great! Although many D1 schools are somewhat afraid to offer Canadian athletes, UConn is definitely not as they already have quite a few Canadians on the team."
The Canadians he's referring to would be CFC100s Hergy Mayala, Lwal Uguak, Terrence Ganyi and Michael Tarbutt, who were all top rated prospects during their respective recruiting classes. Although Mayala has definitely left his mark on campus, nobody could have a bigger impact than Zergiotis if he's given a true chance to compete for the starters job at some point in his career.
UConn are members of the American Athletic Conference, and are looking for any type of traction after the program has fallen on hard times.
Advocating for football prospects one story at a time.