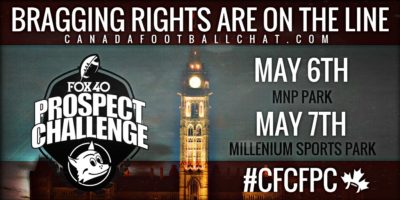 To say the Fox 40 Prospect Challenge (#CFCFPC) is growing is an understatement. This year, we will see two additional provinces participating in the largest Canadian football tournament ever. Both British Columbia and Quebec are sending teams to compete in this years CFCFPC. In addition, we saw an international minor team play in Hamilton this past weekend from Cleveland, Ohio.
That being said, on Sunday, May 7th at 4:05pm, the Grade 8 Team East will play against the Grade 8 Team West at Millennium Sports Park.
An overall thread to the weekend is excitement as it is also the 150th National celebration of Canada and one that many kids will be able to take in as they have not been to Ottawa before. Coach Ron Raymond for Team East echos this sentiment.
"We think it's great to grow the game of football from coast to coast and play other teams from other parts of the country, which allows the players to travel and see parts of the country, as some of these players have probably never left their city."
When we asked Coach Raymond what his overall thoughts were on the upcoming game, he said that his team and coaching staff feel good about their matchup. "We look forward facing TEAM WEST, as it's the only team we haven't played yet since the beginning of the prospect challenge," he explains. "The strength of our team will be our front 4 and they should be a handful to control."
Leading the squad are pivot's, Noah Lachance and Hughes Picard. Lachance played in last year's FPC with Team East and also plays fro the College Bourget program. He is a mobile QB who throws an accurate ball and has a good understanding of the playbook says Coach Raymond.
Picard on the other hand, is from Quebec and has driven the four hours for each practice and tryout session. Like Lachance, he is returning the the FPC for a second year and is more of a pocket passer with a strong arm. Coach Raymond says that Picard has shown great improvement from last season.
That being said, during the practices that the team has been able to have in this short time, various skills and drills have been expanded upon.
"During our practices, we provided our players with a very structured practice that focused on safe contact, working on their skill sets and working on timing and execution of the plays," says Coach Raymond. "I was very impressed on how quickly this group of players were able to pick up both the offensive and defensive systems."
Being able to get every player involved in the game is always a challenge with an all-star game. However, that is the main goal of Team East; to make sure all players are involved and that they build a strong team environment.
"Obviously, everybody is competitive, but giving these players a great experience was our mandate," expands Coach Raymond. "Offensively, we will want to establish a strong run game and defensively, we want to eliminate any big plays that are 20+ yards or more."
Players to watch for Team East are Nathan Lecuyer, a player from Symmes on the Quebec side of the river who has been impressive since day one and Milton Jr. Roman from the Ottawa Sooners. 
"Nathan has great catching skills and if we can get him the ball in open space, he will be tough to catch," says Coach. "Defensively, our Milton Jr Roman is playing free safety for us in this game, he plays with the Ottawa Sooners in the summer and has great range and very physical."
Overall, Coach Raymond is excited to be involved for a third year in a row with this coaching staff and is hoping to give the players a great experience.
"Actually, this will be our 3rd year for the coaching staff and like I stated above, we want to give these players a great experience and hopefully they've picked up and learned a lot of skill position technique, which they can take over to their home club and have a great safe season."
Kickoff is at 4:05pm on Sunday, May 7th at Millennium Sports Park.
Advocating for football prospects one story at a time.