Every week canadafootballchat.com (CFC) will be getting the scoop on what went down in high school football and what's coming up the following week. If you have a game recap or upcoming preview, please submit it to [email protected].

The final week of playoff action in the Nova Scotia School Athletic Federation High School Football League saw the #CFC50 Citadel Phoenix complete a perfect season, walking away with their fourth straight championship after a hard-fought victory against the CPA Cheetahs.
The CEC Cougars clawed their way from behind to win the Tier 2 Championship against the Halifax West Warriors, showing tremendous resilience while finishing the season on a three-game winning streak.
Citadel Phoenix (15), CPA Cheetahs (9)
The #CFC50 Citadel Phoenix completed a perfect 10-0 season with their close win against the Cheetahs in the Tier 1 Championship game last weekend. The game was a tough battle between two incredibly talented and well-coached teams, so it was no surprise that the game was a close contest throughout.
Undefeated. #4Peat pic.twitter.com/BomEaVBKH5

— Citadel Athletics (@CitadelAthletic) November 19, 2017
"We definitely expected a tight game and that's what it was," said Citadel co-head coach Jon Dyer. "CPA is a football team with a good coaching staff and some of Nova Scotia's best players."
The Cheetahs held the lead entering the fourth quarter, but the Phoenix rallied around their defence and running game to find a way to win.
"The game was back and forth. With the weather being the way it was, both offenses were in tough to find any sort of consistency," Dyer said. "There were a lot of turnovers of both sides of the ball and the defences held strong."
With the win, the Phoenix claimed their fourth consecutive championship title, and the unstoppable football powerhouse has now won nine of the last 10 provincial championships. While Citadel bids farewell to many talented seniors every year, the team's consistent success continues as a result of the culture that sets the tone for the entire program.
"Our success is completely driven by our culture of accountability, expectations and commitment," Dyer said. "We are always competitive regardless of who we lose because of the commitment our returning players and coaches make year after year."
A HUGE congratulations to our ? team for completing the undefeated run & capturing the Provincial banner with a 15-9 win over CPA! #PhoenixPride

— Citadel Athletics (@CitadelAthletic) November 19, 2017
This season was particularly impressive for the Phoenix, as the team went undefeated despite facing some very tough opponents throughout the season. Citadel managed to squeak by the talented SJA Flames in a low-scoring road game in Week 5, winning by a single point.
Citadel also handed the Auburn Drive Eagles their first loss of the year in the final week of the regular season, holding one of the league's most productive offences to just a single touchdown. Nothing came easy for the Phoenix this season, and they they earned everything they accomplished.
"I thought our team was very resilient this year," Dyer said. "We played in some close games, some with horrible weather conditions. We were down in games, we had injuries and we asked guys to play positions that may not have been in their own best interest. But each and every time the kids stepped up and continued to battle through.
"Perfect seasons are rare. You either have a very dominant team and/or you get a few lucky breaks along the way," Dyer said. "This year was a little bit of both. I thought we had a dominant defence all year, and our offence was able to do enough in a few of our tight games this year to ensure the victory."
Looking ahead to the off-season, Dyer knows the departing seniors will leave some holes that need to be filled on offence and defence. But senior defensive lineman Aidan John is the type of athlete who does not come along very often, and overcoming the loss of such a talented player will be a particularly difficult challenge for the coaching staff.
"Aidan John is someone that can't be replaced," Dyer said. "He's a game changer and the most dominant player in our league this year. I know he's being aggressively recruited by schools across the country. He's a kid that became a Canada Cup All-Star and member of Team Canada after only playing 12 football games in his life. He's got a lot of room to grow, and his future is very bright."
Dyer also mentioned offensive lineman Kirklen Spicer, linebacker Tristan Reece and quarterback Carter Posavad as players who will be greatly missed next season. But with a strong group of returning players, the Phoenix are more than ready to compete for another title in 2018.
"We have 43 kids coming back next year, so there are plenty of players looking to take the next step," Dyer said.
The Phoenix have been ranked in the #CFC50 all season long, finishing the year in the 20th spot. The team has shown once again why they are the most successful program in Atlantic Canada, and why they are one of the top programs in the entire country. But for Dyer and the coaching staff, Citadel's success is about much more than victories on the field.
"It's certainly an honor to be recognized among the elites," Dyer said. "There are historic programs across the country who are competitive every year. But we only worry about what we can control and that's what goes on here in Nova Scotia.  Mike Tanner alongside Jeff Lawley built this program into a juggernaut over the last few decades. I don't know what the exact number is, but Mike Tanner now has something like 26 Provincial championships. However, it's much more than championships and victories, the culture they built will last for many years to come and the benefits the kids receive go far beyond a shiny medal at the end of the season."
 CEC Cougars (28), Halifax West Warriors (20)
The Cougars finished their 2017 season on the ultimate high note, winning three straight games and coming from behind in the Tier 2 Championship to defeat the Halifax West Warriors.
— CEC Cougar Football (@CobequidFBall) November 19, 2017
Cougars head coach Brent MacPhee saw his team bounce back after Halifax West got off to a strong start on both sides of the ball. It was the first time the two teams had met all season.
"We started slowly, and defensively weren't able to control the gaps on their run plays," MacPhee said. "Their defence was obviously well prepared, and was able to beat us to our zones.  Honestly, the physical nature and well preparedness of Halifax West put us off-balance."
CEC also had to overcome some major adversity, as star playmaker Riley Gabriel left the game with an injury in the second quarter. Gabriel led the Cougars' offence all season long as an option quarterback, and he contributed 76 rushing yards on just four carries before the injury. The team was forced to make some significant adjustments on offence to overcome the loss.
"Riley is a massive key to our offence due to his explosiveness, versatility and poise, and West knew that and were ready for him," MacPhee said. "When he left the game, we couldn't run the same option-style offence and instead had to line up and play a more conventional lead style; It seemed to work. Our defence started to trust their keys, and were aggressively flying to their gaps."
Halifax West had a 20-7 lead at halftime, but MacPhee reminded his team just how long the road to the championship had been, and that they should empty their gas tanks and make the most of the opportunity.
"We reminded our players that to work so hard for so long, they did not want to regret their effort on the last game of the season or maybe even their lives," MacPhee said.
Comebacks are one of the best things in football! 21 unanswered? Awesome! Well done COUGARS!

— CEC Cougar Football (@CobequidFBall) November 18, 2017
The Cougars' rushing attack prevailed and made the difference, just as it has all season long. Regardless of who was carrying the ball this season, the Cougars were always able to find holes in the opposing defence and sustain drives on the ground.
"Good ball carriers and dedicated blockers," MacPhee said when asked about his team's rushing success. "The difference between a good run and a tackle for a loss may be simply the speed at which a blocker gets off the snap, where his head is on the block, or maybe a good fake. Our players buy into those notions and execute well."
Running back Andrew Floyd stepped up with a huge performance on the ground for CEC, racking up 169 yards and two touchdowns on 20 carries. Floyd also caught two passes for 22 yards and a touchdown, rising to the occasion and making big plays in the absence of Gabriel.
Mike Adams showed his tremendous versatility for CEC by throwing a 20-yard touchdown pass to Floyd, kicking all four converts and adding two interceptions on defence.
The Cougars' defence was led once again by linebacker Jordan Waller, who registered four tackles and recovered a fumble for a touchdown. Linebacker Dylan Benoit added six tackles, and defensive end Mackie Hart chipped in two sacks and a forced fumble. Defensive tackle Tyson Ferguson did his part at the line of scrimmage with four tackles.
Like all successful programs in the NSSAFFL, the Cougars are set to lose some major talent this off-season. Among those is Gabriel, who will almost certainly bring his talents to a program at the next level.
"We will miss all of our graduating students," MacPhee said.  "Grade 12s bring a particularly fervent enthusiasm for football. Our most likely player to make a splash in U Sports is Riley Gabriel.  His skill set, smarts and high energy will no doubt find a home wherever he chooses to go."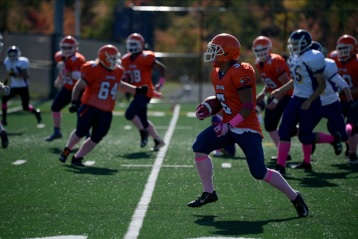 While the Cougars finished the season with a championship title, the season was more about overcoming adversity than it was about dominating the competition. CEC held a 2-5 record after losing a tough game at home in Week 7 to the eventual Tier 1 Champion Citadel Phoenix. But the team overcame numerous injuries throughout the season and found a way to win every single game after that loss, rolling to three straight wins on their way to claiming the Tier 2 title.
"Our season overall was great, but that's not to say it was smooth," MacPhee said.  "We started well, despite a devastating injury to one of our best players before our first game, and then another significant injury in the CPA game really backed us up against the wall.  There were a few other injuries, and once we lost to Horton we knew we were out of the Tier 1.  It was a very low point for all of us, but in true Cougar fashion, we met as a team, set new goals, corrected some issues that needed fixing and we were off.  Winning our last three games I think was a reflection of our renewed focus."
CLICK HERE for 2017 high school previews
CLICK HERE for 2017 high school scores with SCORESTREAM
CLICK HERE for 2016 Final Rankings
The Fox 40 Prospect Challenge (FPC) is a series of elite showcase games that feature the best tackle football players from across Canada aged 12-19 years. Tournaments are played in Central Canada (ON) and the West Coast (BC).
For more information CLICK HERE
CLICK HERE FOR #FPC FACEBOOK PAGE – CENTRAL
CLICK HERE FOR #FPC FACEBOOK PAGE – WEST COAST
GET REGISTERED! GET COACHED! GET RANKED!
[button type="link" link="https://www.canadafootballchat.com/fpc-tryout-signup/" size="btn-lg" variation="btn-success" block="btn-block"]"I'm In" – Click Here to Register for Fox PC 2017-18[/button]
Advocating for football prospects one story at a time.