In a world where 'win at all' costs seems to be the mantra of many, if not most, sports, you are hard pressed to find inspirational stories where sport becomes a vehicle for a much deeper and impactful meaning to all those who participate and create opportunities within it. That's just what happened on Friday, October 27 in Kelowna, British Columbia where the Kelowna Owls high school football team would fulfill the dreams of their team manager, Parker Begg.
Parker has Downs Syndrome and is a huge part of the athletic teams there. CFC100 Kyle Zakala, Marcus Athans, and Quinn Large came up to head coach, Chris Cartwright, and asked if they could give Parker the opportunity to run the ball into the endzone in their upcoming home game against the Mission Roadrunners.
"Absolutely, I think it would be a fantastic idea," said Coach Cartwright. Parker is a vital member of the Owls as a support to the team on the sideline, filling the water bottles and other various tasks that the team may need help with.
"I like football a lot.  I like watching football and I want to be like the pro players," Parker explained. "I like being with my friends and having fun."
The members of the team wanted to thank him for his contribution to the team and thought that this would be a perfect way to honour him in his efforts.
"I felt pretty awesome that the boys would consider Parker as a member of the team, and I was excited for him," said Parker's father, Jeff Begg, when I asked how he felt once he learned about what the team wanted to do and was approached first with the idea. Jeff is a teacher at Kelowna Secondary high school as well and a huge football fan.
"I had no hesitation at all, I knew he was in good hands with coach Cartwright and the boys."
Parker is a grade 12 student at KSS and this would be his last homecoming game. Coach Cartwright got on the phone and spoke with the head coach of the Mission Roadrunners, Dan Jakobs, and explained what the team was wanting to do and would the Roadrunners help them with it.
"Absolutely," said Coach Jakobs, "tell me what we need to do".
At lunch the week before, Coach Cartwright found Parker and explained to him that some of the team members wanted to speak with him. Kyle and Marcus told Parker that he was going to run the ball into the endzone at the Homecoming game.
"We felt really great about the idea and it was so rewarding to see how Parker's face lit up when we told him," said Zakala.
According to Coach Cartwright, Parker was stunned."I felt very good, and very excited," Parker said. On their way to the equipment room to get him the right equipment, Parker stopped in the doorway of his Dad's classroom and said,"Dad, I'm playing on Friday".
Parker then practiced with the team a few times, ran the play, and familiarized himself with what was going to happen. "I was a little nervous, but after watching him at practice with the boys he would do fine!" said Jeff.
Zakala said, "Parker has been such a big help on the sidelines and this experience made me realize just how important he is – we all see him as a part of our team." Marcus added, "I felt that I was positively impacting his life because as coach said it was a life changing experience for Parker".
On game day, he did the warmup with the team and then was on the sideline doing his team manager tasks as well as supporting his team. "I felt like part of the team (I was a little nervous because it was my first time)," said Parker. At the end of the second quarter, at halftime, that's when it all went down and the Owls got to be a part of a very special night for Parker.
If we look a bit deeper at how this all came about, Coach Cartwright has been trying to influence his kids to be good members of society. "Our number one job here is to develop young men," he said. "We want to make sure they use football for that. To be kind, to be inclusive."
The Owls philosophy is one that Cartwright was developing along with two other coaches while he was coaching junior varsity at Hugh Boyd. T.O.U.G.H is what he is trying to build his program at KSS around.
"We need to define 'tough' differently, what does that mean?" mused Cartwright.
He came up with;
Team – you have to do everything for your team
Ownership – you have to own everything you do, the positives, the negatives, everything – you own it
Universal – strive to be universal person. Don't fall into the stereotypes, express yourself as best you can, be involved in everything you can
Growth – always show growth in what you do
Heart – be passionate and have heart in all that you do
What Cartwright does on the field, he does the same in the classroom. He not only talks the talk, he walks it too. His coaching staff has bought into this. The team participates in various community initiatives which show their commitment to the culture and philosophy that Cartwright is trying to build. "It's really cool to see how the team has really bought into this."
When I asked Kyle how he felt about the team's T.O.U.G.H. philosophy, he responded, "It has changed our football team's perspective on the game for the better. Last year at this time our team was 0-7 and this year we are 3-3 and going into the playoffs. We are a more focused and cohesive team."
"His philosophy is exactly what a football team should be and we're always striving to be 'TOUGH'," echoed Marcus.
KSS Football bagging groceries from 1PM-3PM #tough #goowls #community @BCHSFB @kssowls pic.twitter.com/3iEma8KOSL

— KSS Owls Football (@KSSowlsFootball) September 9, 2017
When the coaches watched the video of the Homecoming game, he explained that football can be an excellent vehicle to be able to achieve the T.O.U.G.H philosophy. "This is what it's all about, this is life. We helped change a guy's life and you guys helped to do that. That's what football can do," he said. "And that's what football can do for you in the future."
He goes on to say that the skills and values that the coaches are placing an emphasis on, are having an impact, as shown by the young men who took the initiative to think of someone else and how they could thank him, not only for the hard work and commitment that he had shown to the team, but to realize someone else's dream and how could they help him achieve that.
"The 3 boys that came to coach Cartwright to ask if Parker wanted to play are spectacular young men. They made Parker and I feel very special and loved.  I truly believe they are the best that KSS has to offer" said Jeff.
Coach Cartwright commented, "you have to give kids the opportunity to show they have heart, that's what our job is".
Football gives some perspective to his kids that they have an opportunity to play football where not everyone has that opportunity. Many high schools or communities don't have a football team or they are folding their teams. He tries to emphasize how much of a privilege it is to be able to play football. He uses this perspective to allow kids to give back to the community. You learn that through the sport and being part of a team. It's about being a part of something that's bigger than yourself.
"I feel football/sport is a great vehicle to expose young people to all the differences in the world. I believe that students/players who interact with someone with special needs learn patience and understanding on a completely different level," said Jeff on how football (and sport in general) can foster incredible bonds and teach young people how to view others from a different perspective. "The boys on both teams are better young men after experiencing something so special."
"I feel like this whole night will be one I will remember for the rest of my life. Parker's touchdown inspired the team to take the win in the end," exclaimed Marcus.
What was the immediate impact on this small, but huge gesture of thanks? Jeff mentioned at the end of our chat with him, "It was truly his dream come true! I believe Parker will remember this for the rest of his life.  He is very lucky to have such good friends at KSS!!" and Parker added, "I will continue to watch football with my dad, and I feel happy and lucky to be a part of a team!"
That night when Parker ran it into the endzone, helped to shape many lives and create a much larger narrative as one young person achieved a goal with the support of much larger football community who learned a valuable life lesson. Who says football's not important for shaping young people!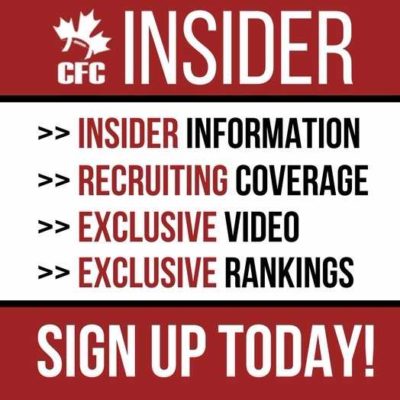 Advocating for football prospects one story at a time.